Okay, today lets talk about something often overlooked in erotic romantic fiction – 'maschalophilous'. You maybe don't know what it means but I bet a rather high proportion of you would appreciate a little more literary dedication to it. Here's a clue…
Guessed it? Maschalophilous is the word for armpit lust, and boy do I have that going on. Big time. There's just something about this often overlooked part of the male anatomy that hits all the right buttons in me. The underarm is a secret place men don't even know is secret, and when they strip off their tops, material covering their eyes for the briefest, most stolen of moments, we get to feast on their deliciously manly pits – and they don't know anything about it!! How cool, or rather, hot is that?
My resident hunk (Mr H) has a delectable underarm, pale skin untouched by the sun, dark, wispy hair, the softest on his body, and a scent of pheromones that's to die for. Unfortunately, being that he's consumed by the urge to pull away giggling whenever I try and caress this part of his body, means I'm in somewhat of an armpit drought.
Perhaps this is why I found myself thinking about underarms and looking out for underarms with an unhealthy regularity this summer. And summer, let me tell you, is definitely the time to indulge if you suffer from this debilitating condition – debilitating I hear you cry. Yes! Debilitating. There have been times I've had to stop, sit down and let out a string of Mmm's and Ahhh's when a particularly perfect underarm has flashed my way in the park. And walking past a construction site on a hot day, jeez, that can take my feet from under me, leave me with no option but to stop and stare from the nearest bench or wall or hood of a car. Once (I'm on a roll now) on the treadmill at the gym, right in front of me a beefy hunk started pressing weights in just a pair of ripped off shorts – Phwoar! - I flew off the back and landed in a twist of limbs. All that brawn and bicep surrounding a tantalizing lick of sweat laced hair was too much and with absolutely no inhibition about flashing it at me either. I didn't stand a chance, it took me a week to heal the burn mark on my knee and work up the courage to go back to the gym. From then on I made sure I hit the stop button if a hottie started showcasing pits in the weight section. I came up with a plan to stand still, wipe my head and drink from my water bottle whilst I took in the free sights.
I blame Top Gun for my obsession, in fact, I probably should be suing. Remember the scene on the beach? Volley ball, thumping music, hot, sweaty guys whacking a ball over the net.
Each time they lifted their arms my young, innocent eyes were treated to stretched tight torso's and acres of rarely seen skin. Each guy has slightly different coloured underarm hair - hair that I now know would be soft and silky to touch, skin that would be warm and delicate, more so at the very centre of the dip, and a scent that would be devastatingly masculine, if only I could just nuzzle in and… oh, er…there I go again!
So you see, maschalophilous can be hard to live with, but it is also a delight to be afflicted with and searching out the perfect pits can be arduous and dangerous but also very rewarding.
Here you go, one last pic to feed the habit, and yes, I am doing my bit to raise awareness and adding yummy descriptions of sublime pits into my stories including my latest novella – SPICING IT UP - in the OVER THE KNEE anthology. Yum, yum….

Thanks for reading
Lily x
Lily Harlem lives in the UK with a workaholic hunk and a crazy cat. With a desk overlooking rolling hills her over active imagination has been allowed to run wild and free and she revels in using the written word as an outlet for her creativity. Lily's stories are made up of colourful characters exploring their sexuality and sensuality in a safe, consensual way. With the bedroom door left wide open the reader can hang on for the ride and Lily hopes by reading sensual romance people will be brave enough to try something new themselves? After all, life's too short to be anything other than fully satisfied
Website | Facebook | Twitter | Google+ | Pinterest | Goodreads | Blog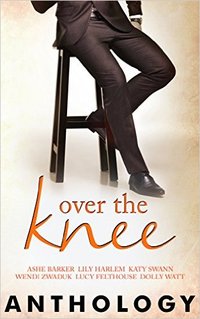 IN THE EYES OF THE LAW by Ashe Barker
She's still his wife, in the eyes of the law. But is she still his submissive? His to spank?
SPICING IT UP by Lily Harlem
Heat from a spanking ensures that Cassandra simmers with pleasure in a way she never would have imagined.
KNEEL FOR YOU by Katy Swann
Should she agree to be spanked? Just the once? It would all be in the name of research, of course…
SILK AND DECADENCE by Wendi Zwaduk
There is always fun in the club, but taking the fun outside and into life might be exactly what's needed for a lifetime of passion.
PROPERLY, OR NOT AT ALL by Lucy Felthouse
How will a husband and wife cope when they're told one of their favourite kinky pastimes is temporarily off the menu?
A PRIVATE EDUCATION by Dolly Watt
Archivist Emma Willoughby learns a lesson in kinky lust when she's invited to assess the ninth Earl of Folchester's private library.
No comments posted.