Okay, so I have a confession to make. Sometimes I read the ending of a book or a chapter near the end to make sure everything is going to turn out okay! LOL.
So I don't do this ALL the time, but there are some books that I've read where I get worried about characters I love and I need to double check to see if they've made it to the closing chapters. Or I might thumb ahead several chapters to see if a love interest is still in the picture, especially in books with love triangles. When you fall into a good story, you find yourself caring about characters and what they're going through. And at the first sign of something not going right, I feel like I need to know how things are going to turn out.
That being said, I really hate it when bad stuff happens to characters I like. But I know you can't have a good book without conflict or the protagonist having to go through stuff, but it doesn't make it any easier.
I remember when I read the Twilight series for the first time. I was team Jacob and I wanted Bella to pick him. In book 2, I ended up reading ahead toward the end (but I didn't read far enough) LOL. So I kept thinking, she's going to "pick him" hahaha. And I also read ahead in The Hunger Games , Throne of Glass, Splintered, Girl of Fire and Thorns, and quite a few other books.
As I writer, I always know my ending before I start a book, but that doesn't mean I'm not taken by surprise by my own characters some times. For instance, for those of you who've already read THE WINTER PEOPLE, Gareth was never meant to have a big role in the book. He was supposed to be this background static character. But as I wrote him, he took on a life of his own. And again, for those of you who've read the book, you know he ended up playing a big part in it—thus changing my original vision for the book. So even as writers, we're surprised by our own books at times.
What about you, do you ever read the ending first? Or do you skip ahead a few chapters to check on characters you love or hate?
Rebekah Purdy grew up in Michigan, where she spent many late nights armed with a good book and a flashlight. When not hiding at her computer and getting lost in her stories, she enjoys reading, singing, soccer, swimming, football, camping, playing video games and hanging out with her kids. She loves the unexplainable like Bigfoot, the Dogman, and the Loch Ness Monster (lots of good story material)! She admits to still having all the books she bought throughout her childhood and teen years, and she may or may not have an obsession with anything chocolate…
Website | Facebook | Twitter | Pinterest | Blog | Goodreads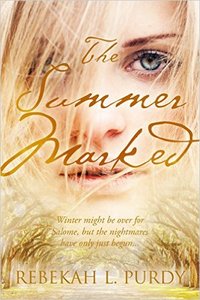 Salome left humankind behind to be with her boyfriend, Gareth, in the Kingdom of Summer. But now forces of darkness are rising. Her happily-ever-after is coming apart, and the Kingdom is on the brink of war.
Newly-single Kadie Byers is on her way home for Thanksgiving, imagining a visit filled with hot chocolate, a hot guy for a little rebound action, and some girl time with her bestie, Salome. Except she receives a message from Salome with two important words: PLEASE HURRY.
When Kadie rushes to help Salome, she's ripped from the human world and pulled into the kingdoms of Faerie, where she's shocked to learn that Salome's monsters are real, and that she's now at the mercy of one extremely vengeful Winter Queen...
Now both Salome and Kadie must find a way to survive the deadly chaos...or lose themselves to Winter's deadly, icy grasp.
4 comments posted.