Nicole Galland talks modern marriages or convenience, adorable pets, and what we can look forward to from her in the future!
Jen: Hi, Nicole. Thank you for joining us at Fresh Fiction! STEPDOG immediately caught my attention, not only because of the adorable cover, but because of the modern take on the marriage of convenience. I love this romance trope in historical novels and really enjoy reading it contemporary stories. How is a marriage of convenience in historical novels different than in contemporary romance or is it?
Nicole: I love this question because the issue had never crossed my mind– kudos for taking me by surprise. I'd say in historical novels, as in real history, marriages of convenience fairly commonplace (there's at least one in 4 of my 5 historical novels). Such marriages were not only normative in the culture, but they were for very specific, political, and usually public reasons. In modern romance, such a marriage, because it is not normal, is more subversive, which makes it more intriguing. People marry for convenience these days for personal advantage or need, in defiance of a culture where one is expected to marry for love. 800 years ago, the Powers That Be expected marriages of convenience; today, they are innately suspicious. And yet, although the act is more subversive now, the stakes are generally smaller. Rory isn't trying to (for example) secure the future of the Holy Roman Empire, or prevent his nation from being attacked by erstwhile enemies. He's just trying to, y'know, get a job. As with the difference between historical and contemporary fiction, the contemporary version tends to have more personal stakes.
Jen: Rory O'Connor is an actor on the verge of his big break. You also have experience with theater and film. How has the world of performing a story shaped how you tell a story?
Nicole: Because of growing up around theatre, I think in terms of dramatic structure as naturally as poets think in terms of meter and verse. I don't think about it consciously or deliberately but I'm wired for dramatic structure, character arcs, and other things that anyone from Stanislavsky to Robert McKee might go on about. It was a lot of fun, though, to have excuses to throw in references to various theatre genres – Shakespeare, Beckett, Gilbert & Sullivan, and so on.
Actually, what I noticed in STEPDOG more than any other novel I've written is that my experience studying Comparative Religion really helped. I know that sounds strange but stay with me a moment on this: I studied Joseph Campbell, the hero's journey. I studied Mircea Eliade and Claude Levi-Strauss. Most cultures have a coming-of-age story in which a character must go through separation, ordeal and reintegration. STEPDOG, of all my stories, is the one story that most literally follows that model. I did not realize that until after I'd written it, but while I was writing it, it felt satisfying on a visceral level, more than "a book about a dog" really should. It's because I was writing that myth, in a contemporary and somewhat absurdist setting.
Jen: Sara loves her dog, Cody, but Rory is not a pet lover, which creates a lot of tension between them. I have to say that I'm a bit more like Rory than Sara, but Cody is very much a character in the story with a personality quirks. Is Cody based on a specific pet or a combination of pets you've had in your life or known?
Nicole: Cody is lifted almost hair for hair from my Portuguese Water Dog, Leuco. The premise of the novel is autobiographical – and so is the dog. Leuco is so lovable that my friends have been known to argue with each other over who gets to keep her for a weekend if I'm away traveling. (These are mature grownups with kids and careers, who hardly have time to take on an extra responsibility.) One friend who is not-a-dog-person – who spent 15 years telling his family they will never be a dog-owning family – has fallen so in love with her, he recently asked if he could adopt her if anything ever happened to me. Another friend wrote me while reading the book to say she found it distracting that the fictional dog looked different from my real dog but was otherwise so precisely like her. The "tarty dog" pose in particular is trademark Leuco – she is constantly seeking excuses to fall on her back and show her belly, because she knows that usually gets her adoring, cooing attention.
Jen: STEPDOG is a laugh-out-loud funny book. What is the last book you read that made you laugh out loud?
Nicole: Thank you! And that's an easy question: whatever I read by Christopher Moore makes me laugh out loud. I think the most recent is THE SERPENT OF VENICE (which gets bonus points with me for the Shakespeare references). I would love to be as funny as Chris Moore.
Jen: Can you give us a sneak peek at what's coming next for you? Will you continue with contemporary romance, go to historical novels, or try something new?
Nicole: My next project is a collaboration with another author (Neal Stephenson) and all we're saying about it is that it's historical. However, long-term, I'd love to try another contemporary comic novel (I have some ideas, one of them going all the way back to college). I also would love to dabble in other genres – there's a futuristic YA story dancing about in my head, and something sort of semi-mystical, semi-Neil-Gaiman- esque. There's a "serious literature" novel that's been brewing for years. And I have an idea for a historical series, set in Elizabethan London and involving Shakespeare's acting company. By the time I finish the project with Neal, I imagine one of those will have emerged as the Story Most Needing To Be Written Next.
Jen: Thank you so much for joining! It's always fun to be surprised!
Nicole Galland's life has meandered as broadly as the Potomac River. She hails from Martha's Vineyard, off the coast of Massachusetts, and graduated with honors from Harvard University, where she spent most of her time doing theater and secretly penning unfinished novels, although she was officially getting a degree in Comparative Religion. After that, go figure.
Moving to California, Nicole co-founded a theater company for teens that premiered at the Edinburgh Festival Fringe. She was awarded a full fellowship to pursue a PhD in Drama at UC Berkeley, where she showed great promise at pretentious performance art. Before academia could entirely seduce her, however, she withdrew from the program and split the next several years between the Bay Area and New York City, eking out a glamorous living in theater, writing, editing, and temp work.
After winning an award for her screenplay The Winter Population, Nicole somewhat recklessly moved to Los Angeles, where she spent a few years as a starving screenwriter and learned how to play the banjo (quite badly). In April 2002, she rediscovered the unfinished outline to The Fool's Tale, which she'd begun while sitting in a boring lecture class at Harvard. She was about to delete it from her hard drive when she decided, just for fun, to see what would happen if she finished it instead.
After a high concentration of serendipity, the book was completed in early 2003, by which time she'd fled LA to return to the Bay Area to write her second novel. The Fool's Tale was published to critical acclaim in early 2005, and Revenge of the Rose followed in 2006.
After a year and a half as Literary Manager/Dramaturg for Berkeley Repertory Theatre, Nicole left the Bay Area and spent a while living largely out of a backpack, traversing the Mediterranean researching and drafting her third novel, Crossed: A Tale of the Fourth Crusade. Finally, after 20-odd years away, she moved back to Martha's Vineyard. She currently resides there with her husband, actor Billy Meleady, and her Portuguese Water Dog, Leuco.
With actress Chelsea McCarthy, Nicole recently co-founded Shakespeare for the Masses, a semi-insane troupe pf actors who, with a single day of rehearsal, pull off gonzo script- in-hand performances of adapted Shakespeare plays. To their delight and bewilderment, they have developed a small cult following on Martha's Vineyard, and hope to subject the rest of the nation to their work in due time. In two and a half years, they have staged productions of 19 of the Bard's plays.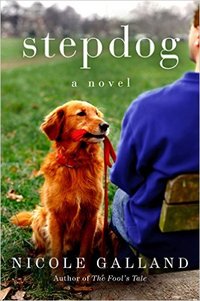 What's the difference between puppy love and dogged devotion?
When Sara Renault fired Rory O'Connor from his part-time job at a Boston art museum, and in response, Rory—Irishman, actor, musician, reformed party-boy— impulsively leaned over and kissed her . . . she kissed him back. Now, as Rory's visa runs out on the cusp of his big Hollywood break, Sara insists that he marry her to get a green card. In a matter of weeks they've gone from being friendly work colleagues to a live-in couple, and it's all grand . . . except for Cody, Sara's beloved dog from her troubled previous relationship. Sara's overattachment to her dog is the only thing she and Rory fight about.
When Rory scores both his green card and the lead role in an upcoming TV pilot, he and Sara (and Cody) prepare to move to Los Angeles. But just before their departure, Cody is kidnapped —and it is entirely Rory's fault. Desperate to get back into Sara's good graces, Rory tracks Cody and the sociopathic dognapper to North Carolina. Can Rory rescue Cody and convince Sara that they belong together—with Cody—as a family? First they'll need to survive a madcap adventure that takes them through the heart of America.
1 comment posted.