I have a serious addiction. I absolutely love fiction that surrounds organized crime. As horrific as it can be in real life, there's something about the contrasts that show up in fiction that have always fascinated me. It's from that fascination that The O'Malleys series was spawned, and there are a handful of shows and movies that I found particularly inspiring.
- The Departed – When I first saw this movie, it completely blew my mind. Layers within layers within layers. Leonardo DiCaprio gives one of my favorite performances as an undercover cop working his way up in the Irish mob in Boston. And Jack Nicholson is scary and charismatic and WOW as a mob boss. The fact that he's totally okay with doing seriously bad things and then has a sort of strange loyalty to his people…Yeah, it's a really great movie.
- The Blacklist – Okay, so technically this isn't an organized crime show. James Spader plays Red, who's both a very bad man and a very compelling one. But he's got ties to crime of all natures, so I'm counting it! But what really gets me is that you can have this character who's done admittedly awful things—and continues to do very bad things—but he's got obvious affection for his people and his favorite FBI agent, and that strange balance somehow makes it impossible to look away when he's on screen.
- Eastern Promises – The Russian mob has such a fascinating culture as presented in this movie. In addition to the almost mythological aspect of the tattoos they have—a knowledgeable person can look at a Russian mobster's body and basically know his life story, at least as far as his crimes go—family is the end-all-be-all. You have men who will run prostitution rings and murder people, and then attend family dinners with their wives and children. And in the midst of that, you have this man (Viggo!) who's cold and cruel and yet has an honorable streak that can't be broken.
- History of Violence – Another Viggo movie. This one's focus isn't on the mob itself—it's on the man trying to escape his past with them. You see him fighting so hard to be "normal." He's got his wife and kids and a small town job that he seems to enjoy. But then his past comes calling because, let's be honest, once the mob has its hooks in you, it's not inclined to let you go. So this man who swore off that part of himself is forced to embrace it one last time to protect the people he loves.
- Sons of Anarchy- Okay, confession—I stopped watching this show in the third season. Considering how the later seasons went, I'm pretty okay with this decision (Opie is my one true love and as far as I'm concerned, he lives on). But in the first few seasons you follow Jax as he struggles with the vision his dead father had for their motorcycle club and the reality that is how his step-father runs it. That struggle—doing bad things while still trying to be honorable, dealing in guns but protecting their community from predators—is arresting in the best way possible.
As you can see, it's a somewhat of an eclectic list. There are a few common threads that run through the whole thing, though. I love watching the conflict of bad men who aren't all bad. A man like that…He might just be a hero if given the chance. And that's the theory I applied to my O'Malleys series. None of my heroes are one hundred percent good men, but they're trying to be—while still surviving the realities of the world that they live in, which means being good might be a death sentence.
Katee Robert learned to tell stories at her Grandpa's knee. Her favorites then were the rather epic adventures of The Three Bears, but at age twelve she discovered romance novels and never looked back. Now living in Eastern Washington, she spends her time--in between ogling men and planning for the inevitable zombie apocalypse--writing speculative romance novels.
KateeRobert.com | Twitter | Facebook | Goodreads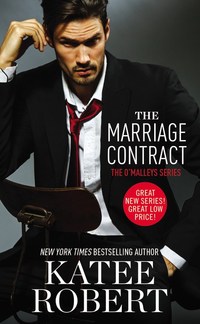 New York Times and USA Today bestselling author Katee Robert begins a smoking hot new series about the O'Malley family-wealthy, powerful, dangerous and seething with scandal.
Teague O'Malley hates pretty much everything associated with his family's name. And when his father orders him to marry Callista Sheridan to create a "business" alliance, Teague's ready to tell his dad exactly where he can stuff his millions. But then Teague actually meets his new fiancée, sees the bruises on her neck and the fight still left in her big blue eyes, and vows he will do everything in his power to protect her.
Everyone knows the O'Malleys have a dangerous reputation. But Callie wasn't aware just what that meant until she saw Teague, the embodiment of lethal grace and coiled power. His slightest touch sizzles through her. But the closer they get, the more trouble they're in. Because Callie's keeping a dark secret-and what Teague doesn't know could get him killed.
1 comment posted.