I don't write at a desk. I have a desk…a very beautiful, oak, roll-top desk. But I tend to roam around the house when I write. Now that warmer weather has finally arrived, I love writing outdoors.
We have a small screened-in porch. It's so peaceful to work out there and watch the birds and hear the wind in the trees. This is my view across my yard and into our neighbor's yard. The ridge in the background is one of the foothills of the Great Smoky Mountains. Just out of the left side of the frame are several bird feeders my husband keeps filled faithfully. As I'm writing, I often see brilliant yellow finches, ruby-throated hummingbirds, and several varieties of woodpeckers from the very petite ones to the super-sized ones who make a real racket.
The natural world, for me, feeds my creativity and helps keep me focused.
JANICE MAYNARD knew she loved books and writing by the time she was eight years old. But it took multiple rejections and many years of trying before she sold her first three novels in 1996 and 1997. After teaching kindergarten and second grade for sixteen years, Janice turned to writing full-time in the fall of 2002. Since then she has written and sold over twenty-five books and novellas.
Her publishers include Kensington, Penguin/NAL, Berkley, and Harlequin. Janice lives in east Tennessee with her husband, Charles. They love hiking, traveling, and spending time with their daughters, Caroline and Anna, sons-in-law, Jamie and Chris, three granddaughters, Anastasia, Ainsley, and Allie, and the newest addition to the family, Levi.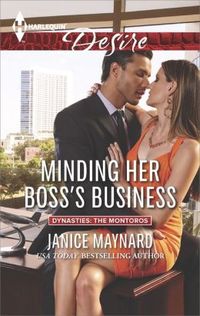 Can a boss on a royal mission mix business with pleasure?
Diplomat Alex Ramon's Miami mission is on the rocks. Convincing the exiled Montoros to give up their American life and return to Alma's throne has become personal. Not only is his trusted aide Maria Ferro flirting with a potential prince, but Alex is actually jealous! So jealous, he might sabotage his goals so he can take Maria to his bed…a prize more tempting than any commission from the crown.
But Alex doesn't know that Maria has a longtime crush of her own—and it isn't on the playboy prince…
No comments posted.