Anna Sugden | Bring Me Flowers ... Just Not Red Roses!

February 5, 2014
With Valentine's Day around the corner, the shops and the media world are full of what you need to do to be romantic. Cards galore, special boxes of chocolates, sexy lingerie and, of course, red roses.
I'll be honest here and say that I prefer my romance to be a little less commercialized. Sure, it's lovely to get a romantic surprise on Valentine's Day - and go out for a nice meal at a favourite restaurant - but a romantic surprise 'just because' is more likely to steal my heart!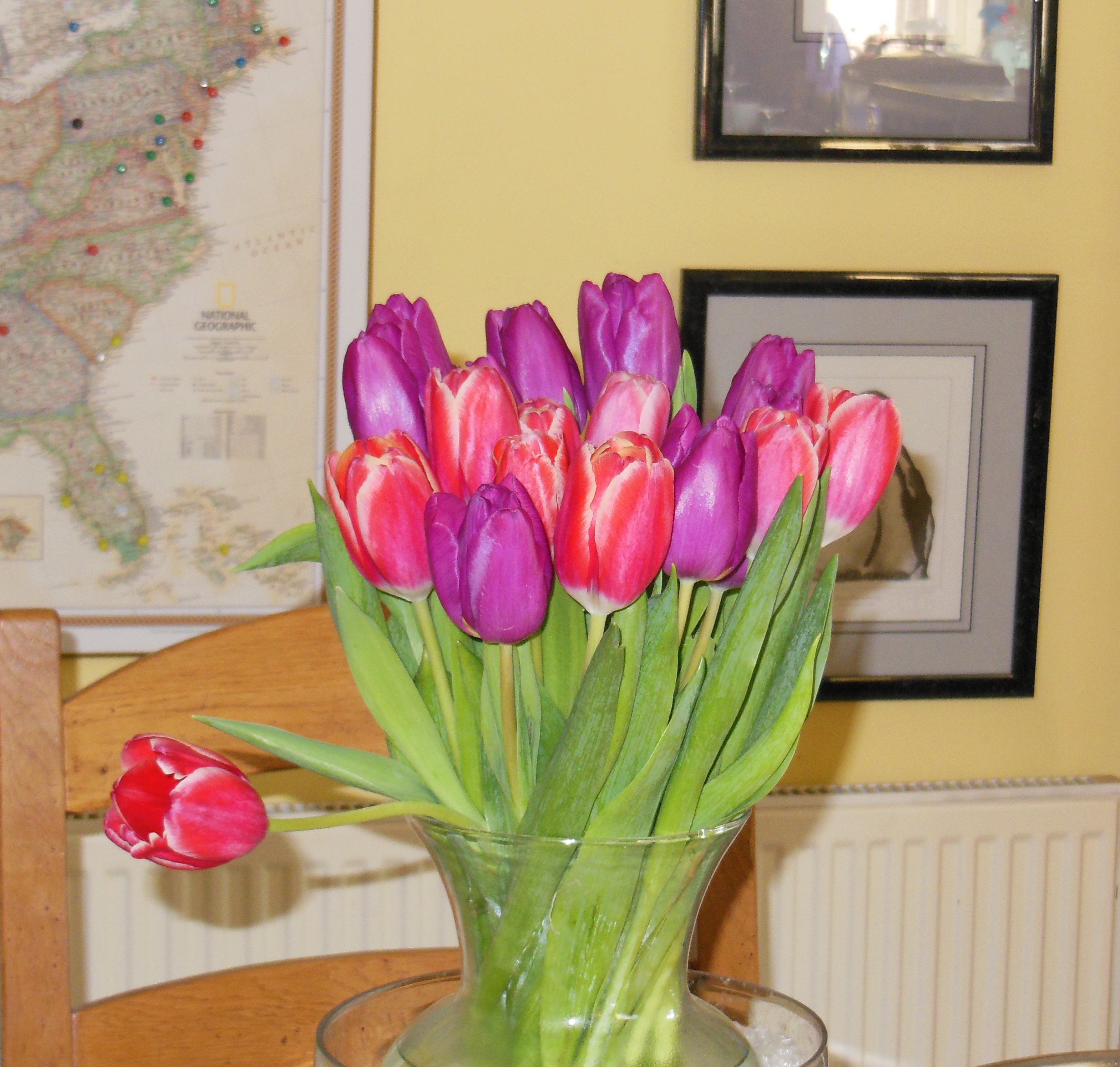 The same is true when it comes to flowers. I love getting flowers! I'm very lucky in that my lovely husband, Doc Cambridge, is a flower giver. He is also a 'just because' flower giver, which is even better <happy sigh>. He knows too that the way to my heart is not a bouquet of red roses! Don't get me wrong - I think roses are a lovely flower and we have many rose bushes in our garden. Pink and yellow and white and peach roses. There is even one rambling dark red rose.
I just don't think red roses are especially romantic. I'm not especially fond of them, even though my favourite colour is red!
My favourite flowers are gerbera daisies. So bright and cheerful. A bouquet with gerbera daisies in them will definitely make me happy. A bouquet of red gerbera daisies ... gorgeous.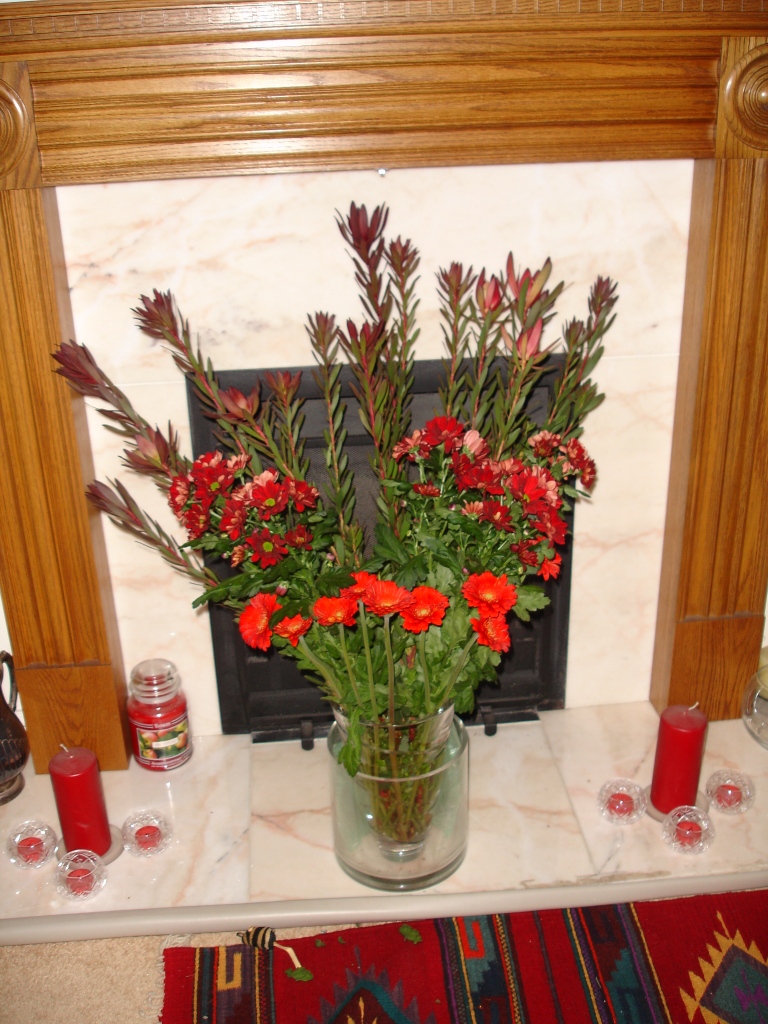 But, so is a bouquet of vibrantly coloured flowers of all sorts. Or a bunch of daffodils on a spring day. Or a handful of candy-coloured tulips. Or even roses - of different colours!
Really, it's the thought that counts. That someone has chosen some flowers for me and not just gone along with the expected red roses - that's special!
What about you? Do you celebrate Valentine's Day? What's your favourite flower? [And, by the way, if your favourite flower is a red rose, that's great too!]
Comments
9 comments posted.
Re: Anna Sugden | Bring Me Flowers ... Just Not Red Roses!

I'll be lucky if my hubby evens remembers Valentine's Day. But he usually gets some candy for 50% off the next day. LOL My favorite flowers are daffodils and jonquils.
(Marcy Shuler 5:46pm February 5, 2014)
Don't really celebrate it.
(Cheryl McEwen 7:20pm February 5, 2014)
I think all flowers are beautiful but my husband is not the flower giving kind.
He usually gives me a pretty card. One year he wrote a little verse on
notebook paper. I have it framed and hanging on the wall.
(Melanie Backus 10:56pm February 5, 2014)
Lavender and lilies are my favorite flowers. I just discover the glow touch. I need to find a nursery that sells them.
(Kai Wong 12:15pm February 6, 2014)
My hubby hasn't remembered to do anything for Valentine's Day in years and years---but I usually get him something anyway.
(Sue Farrell 10:43am February 6, 2014)
We celebrate Valentine's Day if we have the funds to do so at the time, but it also falls the same week as our Anniversary, so it's more of a mulit-celebration when we're able to go out. My Husband is full of surprises, and tries to do at least something a little special that week, so the day doesn't just "pass by." By that I mean both our Anniversary as well as Valentine's Day. We prefer to clump it all into one day, and make it a little more special. This year it's going to be 31 years, and it really doesn't seem like it's been that long. Time marches by in the beginning, then as you get a little older, it tends to fly. My flowers won't come until he'll be able to pick them from the wild. My days of Purple Roses (my favorite) or mixed bouquets are over due to funds, so I'll have to wait until Spring, when he'll go outside for a walk, and pick a bouquet of wildflowers as a surprise. I hope you have a wonderful Valentine's Day, and that your Husband really surprises you this year!!
(Peggy Roberson 11:26am February 6, 2014)
Don't really celebrate it. peonies
(Carol Woodruff 7:14pm February 7, 2014)
Love flowers myself. Pastel in color and delicate. Thanks for the giveaway.
(Kathleen Beale 8:17am February 8, 2014)
My favorite flower is freesia, which fragrances an entire
room with the blooms. It's more of a springtime flower from
a bulb and comes in white, yellow or purple delicate
flowers. I don't tend to celebrate Valentine's Day, except
when off a diet the chocolate M&M's around any holiday are
scrumptious and fresh with fun colors.
(Alyson Widen 6:27pm February 25, 2014)
Registered users may leave comments.
Log in or register now!