Have you ever been intrigued by mystical characters? By supernatural beings? I always had vivid imagination. So I brought to life a man named Leo, who was in love and on the verge of getting married. But then, by a stroke of bad luck he turns into a vampire.
And he finds that his beloved was accused of being a witch and about to be burned. Therefore, he uses his vampire power for good and sprints his beloved away albeit a century later to a boat and they set sail for an exotic island. Still he wouldn't burden her, so he steps aside to let her get on with her life. After all he was immortal, yet she was a mortal who would die while he would remain same. Years later, he falls in love again, but after a night of passion with Eve, can he step aside again? Then Eve finds a secret so explosive that it would rock his world.
What would happen if you fall in love but for some reason you have to sacrifice your love? Would you do it?
Amazon is doing a special promotion of my ONE BITE LEADS TO ANOTHER. It's completely FREE for today, so please go and download!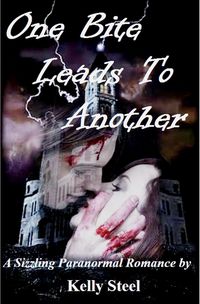 After a spate of violence on his home island, Leonardo D'Silva returns home to find chaos on Lenuka Island. Who is responsible for this? And is the intriguing schoolteacher, Evelyn Hathaway connected to any of it? Face to face with Eve, Leo is taken back to the memory of his first love. Who was Eve? Was she a witch? And when Leo turns to his real vampire self after a night with Eve, will she still accept him?
Evelyn Hathaway is intrigued by the handsome Leonardo D'Silva, the benefactor of her school, whom she's met for the very first time. Handsome, sophisticated and oh, so gentlemanly, she can't get him out of her mind. She's never met him before, yet she senses a strong connection, a feeling that they've met somewhere before, in another time and place. Who is this Leonardo D'Silva, with the hint of a demonic glint in his eye? Can it be possible...?
About Kelly Steel
Kelly Steel was born and brought up in the South Island of New Zealand. After her father's retirement, her parents moved to warm and tropical Fiji, where she continues to reside. She loves her adopted home and thrives in the warm friendly environment, both of the climate and of the people.
1 comment posted.
I think sacrifice is the biggest way that we can do to show how much we love someone. Not only just 4 couples. I'm talking about love in universal meaning. Example, if our kids get sick, as a mother we would do anything to replace them, to make them ok
(Rina Darmayanti 2:40pm September 21, 2013)