After all the turkey is eaten, and the relatives are gone, take a moment to sit down and enjoy these new and upcoming paranormal releases.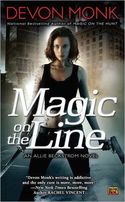 MAGIC ON THE LINE by Devon Monk (Roc, 11/1/2011, $7.99, Allie Beckstrom)
Allison Beckstrom has willingly paid the price of pain to use magic, and has obeyed the rules of the Authority, the clandestine organization that makes-and enforces-all magic policy. But when the Authority's new boss, Bartholomew Wray, refuses to believe that the sudden rash of deaths in Portland might be caused by magic, Allie must choose to follow the Authority's rules, or turn against the very people for whom she's risked her life. To stop the plague of dark magic spreading through the city, all that she values will be on the line: her magic, her memories, her life. Now, as dead magic users rise to feed upon the innocent and the people closest to her begin to fall, Allie is about to run out of options.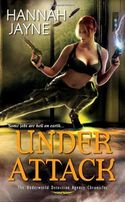 UNDER ATTACK by Hannah Jayne (Kensington, November 2011, $7.99, The Underworld Detection Agency Chronicles)
The second book in Hannah Jayne's imaginative new urban fantasy series starring Sophie Lawson, a woman with a vampire roommate, a werewolf boss, and a desk job tracking the undead! Sophie Lawson is a human immune to magic, which comes in handy for helping paranormal beings transition into everyday life. But fallen angel Alex Grace and his search for the Vessel of Souls is one curse she never saw coming. Suddenly an unexplainable string of killings and destruction has even San Francisco's demons fearing for their immortal lives. And Sophie isn't about to trust Alex's all-too-vulnerable charm or his secret agenda. Now their hunt is revealing dangerous secrets about Sophie's past, and a malevolent power hellishly close to turning one irreverent human into the ultimate supernatural weapon.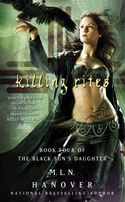 KILLING RITES by M.L.N. Hanover (Pocket, 11/29/11, $7.99, The Black Sun's Daughter)
Jayné Heller has discovered the source of her uncanny powers: something else is living inside her body. She's possessed. Of all her companions, she can only bring herself to confide in Ex, the former priest. They seek help from his old teacher and the circle of friends he left behind, hoping to cleanse Jayné before the parasite in her becomes too powerful. Ex's history and a new enemy combine to leave Jayné alone and on the run. Her friends, thinking that the rider with her has taken the reins, try to hunt her down, unaware of the danger they're putting her in. Jayné must defeat the weight of the past and the murderous intent of another rider, and her only allies are a rogue vampire she once helped free and the nameless thing hiding inside her skin.
Enjoy- Sara Edmonds
1 comment posted.