Excerpt from WHITE HEATHER by Jaclyn Reding
Then came king Arthur unto Galahad, and said, Sir, ye be welcome, for ye shall move many good knights to the quest for the Sancgreal, and ye shall achieve that never knights might bring to an end. Then the king took him by the hand, and went down from the palace to shew Galahad the adventures of the stone.
"Catriona?"
Catriona MacBryan abruptly raised her head from the small circle of light given off by the single tallow candle she'd been using to read by. She glanced quickly around the shadowed room, her heart thumping in her chest as she half expected to see King Arthur himself standing there before her, swathed in rich velvets, grumbling her name.
But he wasn't there. No one was.
The room was dark and she was sitting with legs akimbo on the floor, feet tucked neatly beneath her woolen skirts. The book she'd been reading, the Malory, lay open on her lap while others were scattered around her like fallen leaves from a grand oak tree. The quill and paper she used to scribble her notes rested somewhere among them, lost beneath the burgeoning pile of literature. No, she wasn't in Camelot, and there wasn't a knight anywhere to be found. She was in the library at Rosmorigh and she'd gotten lost in the reading again, instead of doing what she'd come there to do.
"Catriona?" came the query again, wafting like a chill wind from somewhere in the distance.
Catriona squinted against the darkness that shrouded the far reaches of the room, then took up the small pocket watch from the place where she wore it, attached to her skirts with a fibula. It had been given to her by the Colonel, and it was one of her most prized possessions. She still remembered the day he had gifted it to her. He had tweaked her nose with his crooked forefinger and told her he hoped it would help her to stop losing track of the time as she so often did.
Everyone knew Catriona was easily distracted, especially when it came to books...or animals. And as she gazed onto the small timepiece now, illuminating it in the light from her candle, she couldn't believe it was already eight o'clock. Surely the faint light had played a trick on her weary eyes. She was so certain she had only just sat down, at least it seemed so, yet the sky outside the leaded casement windows had indeed darkened, the sun's last purple-gray light barely peeking over the distant hills of Skye, signaling that, in fact, three hours somehow inexplicably had passed. Three hours, and she'd only managed to weed through a handful of the other books, her notes barely covering half of one page. The Colonel, she thought, frowning, was not going to be pleased with her.
Catriona looked beside her to the open passageway from whence the voice had called. It was silent now, except for the distant sound of the sea echoing beyond the darkness. Perhaps, she thought, she'd left. Perhaps she could steal another hour. If she could but stay just one more hour, she would be that much closer to finding it. And then the Colonel wouldn't know the truth, that she had spent all her time reading again, and not searching as she should have been. She glanced toward the passageway again. Perhaps, if she didn't answer, Mairead would just go away.
Catriona set Malory's book aside, still open to her place should she find she might return to finish reading the rest of the passage later. She grabbed the next book closest to her and began leafing through its vellum pages. Her sister, however, stubbornly refused to oblige her that longed-for hour.
"Catriona? Are you up there?"
Catriona continued on, jotting a notation on her page before moving on to the next book. She suddenly wished she had never shown Mairead the hidden entrance to the castle.
"Catriona MacBryan, I can hear your scribbling and I can see your candlelight fluttering off these moldy castle walls. Now get you out of there afore you bring us more trouble than you already have." Mairead paused. "Lest you forget, Da's coming home today. You know he warned you against coming here anymore."
At this mention, Catriona hesitated, the page of her book at midturn. She'd forgotten about Da, which was odd really, for he was usually foremost in her mind when she came to the castle. Angus MacBryan never missed an opportunity to warn his oldest daughter against the dangers of this old keep, the perils that would befall her should she ever be found there. He wouldn't be pleased with her when he found her gone, more than likely guessing to where. But, Catriona reasoned, since he would already be angry with her anyway, she might as well linger as long as she could. With Da having come home, it would be weeks before she'd find the chance to return, putting her that much further behind in her quest.
Her bossy sister wasn't of the same mind.
"I'll give you three more seconds afore I come up there to get you myself," Mairead persisted.
A moment.
"One..."
"Meddlesome Mairead," Catriona muttered to herself, tucking a small bit of ribbon in the crease of the page she'd been reading to mark her place. It didn't appear she'd be getting back to it again this night.
"Two..."
She began quickly gathering up the other books, sliding them back into place on the shelves.
"Catriona, if you force me to come up there, I swear I will..."
"All right!" Catriona finally exclaimed. "You sound just like old Miss Grimston peering down at me with her beady black eyes while I was at my lessons. Go on ahead with you now and start back for home. I'll be coming right behind you."
Minutes later, Catriona was reluctantly pushing the last of the books, the Malory, onto the shelf, her fingers lingering on its embossed leather binding. Such a pretty book, and for a moment, she thought to take it with her. Even if someone happened to come to the castle before she could return, how would they ever notice this one small book missing out of all the many rest of them? They filled every wall of the room.
But even as she thought this, Catriona knew she could never dare to take the Malory home with her. Reading the books while she was here was one thing. Taking them, even if for but a short time, would be too much like stealing.
Catriona stepped back to survey the shelves, one last glance to make sure none of the books looked out of place lest anyone notice they'd been moved. But that was silly, really—few souls ever came to the castle, and even when they did, their visits were scarce and far between. Many of the books lining these shelves looked never to have been read at all, still Catriona's one fear was that she would one day be found out. And were that to happen, her visits to Rosmorigh would be forever at an end, and with them her secret quest. Da might be angry with her for coming, but he would always leave for the coast again, and she would always thus return to Rosmorigh. But if the laird ever discovered that she came to his castle...
Catriona didn't want to think of what the Sass'nach would do to her if he ever learned of her clandestine visits. Especially should he ever discover why.
Catriona gathered up her papers and ink, shoving them into the small wooden box she kept them in, before slipping her feet into her shoes. She turned to leave, and when she did, she caught sight of his portrait in the candlelight. As always, she found herself pausing a moment to stare.
He hung on the paneled wall, ostensibly placed between the two towering sets of book-lined shelves that flanked his image on either side. An ancient-looking carved chest, which might have been exceptional were it not overshadowed by him, was set beneath. Catriona often thought a rich red carpet would have been far more appropriate. His image was framed in brilliant gold, which glimmered in the flickering of her candle. The rich colors stroked over the canvas seemed to take on dimension in the shadows that moved around him.
She studied him now, as she often did. His eyes had been the feature which had first drawn her attention to him. They continued to capture her every time she looked at him. Penetrating, intelligent, indomitable, they were blazingly golden brown, the eyes of a hawk. One dark brow was raised at a skeptical slant, his dark hair tousled around his rugged shaven face. His mouth was firmly set above a determined jaw.
He wore a glorious red uniform that set off broad shoulders, his long legs set slightly apart, standing boldly atop the boulder he had surmounted. Behind and around him, a battle raged from which he was removed and yet he still remained a part of. Every time she saw him, his image, Catriona realized an undeniable pull, a profound allure that seemed almost to reach out and catch hold of her. She didn't know his name, but she had invented an image of him having been a brave commander of a victorious army championing the cause of good against evil. He was her guardian when she would come to the castle late at night, her knight watching over her and protecting her from the shadows. Oftentimes she would talk to him, laughing at herself when she seemed to await his response, as if a man such as he had ever walked among mortals.
She didn't know his name, had never met him, and never would, but he was the man whose face filled her dreams at night.
He was, quite simply, magnificent.
An original.
And she loved him.
"Good night," she said, smiling softly to him as she tucked a stray bit of her coppery brown hair behind one ear before turning to leave.
Copyright © Jaclyn Reding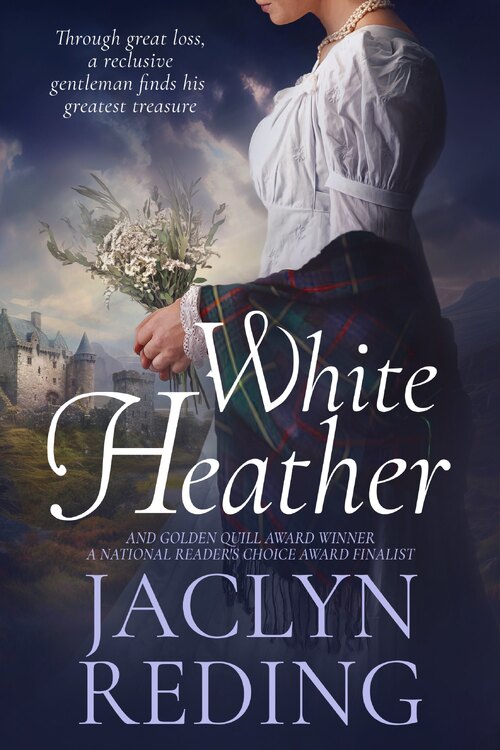 Robert Edenhall, the Duke of Devonbrook, had once been a dashing second son, a man without a worry or care, before a terrible tragedy took nearly everything from him. Retreating to a remote castle in the Scottish Highlands, he thinks to live out his days in broken solitude. But he never expected he would soon discover a mysterious young woman trespassing in his home.
Catriona MacBryan has spent a happy childhood in the Scottish Highlands, raised on legend and lore, never knowing the true circumstances surrounding her birth. When she unexpectedly stumbles upon the new laird of Rosmorigh, what she sees is a man in torment, a torment she instinctively seeks to heal. But soon, a chance meeting threatens to reveal a long-hidden truth, and Catriona finds she must bravely face the efforts of those who threaten her. Will the truth prevail...and, perhaps, even lead to love?
Romance Historical [Oliver-Heber Books, On Sale: October 31, 2023, e-Book, / ]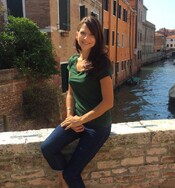 Jaclyn Reding's award-winning, bestselling historical and contemporary romance novels have been translated into nearly a dozen languages. A National Readers' Choice Awards finalist, and Romance Writers of America RITA Award nominee, she is the proud, proud mom of two grown sons, and willing minion to an elderly cairn terrier and a tuxedo cat. Home is with her family in New England, in an antique farmhouse that she suspects is held together purely by old wallpaper and cobwebs. A lifelong equestrian, she spends her free time in the saddle, going over plotlines and character arcs with her confidant and toughest critic, a very opinionated retired racehorse named Brunello.
No comments posted.