Jennifer Vido: What inspired you to co-write EMERGENCY CONTACT?
Lauren & Anthony LeDonne: This was one of those "gift from the muse" stories! The idea of a woman waking up after a concussion and coming face-to-face with her ex-husband, all because she forgot to update her Emergency Contact information was an idea that just wouldn't let go.
Jen: How would you describe your writing process?
Lauren & Anthony: It was a bit atypical, actually! Because we wrote this as a screenplay first (very much a collaborative effort), when it came time to write the novel version, we had what was basically, the best, most robust outline ever in the form of a script! We weren't particularly organized it; every day our goal was just "get more words down." We'd write as much as we could individually, and then read over what the other had written and make tweaks. The end result is a manuscript that ended up feeling very layered in terms of voice. There are no "Lauren sections and Anthony sections." Each of us took so many passes at every single sentence, that the prose reads a bit differently than either of us writing individually.
Jen: Let's talk about Katherine. What's going on in her life?
Lauren & Anthony: Ohhh Katherine. Quite honestly, she was a delight to write simply because we didn't give into any pressure to make her "soft and likeable." We had Sandra Bullock's character from The Proposal in the back of our minds a bit. Someone who was confident, strident and ambitious, and didn't feel the need to apologize for being so simply because she was a woman. But that doesn't mean she's without vulnerabilities. While she is fully capable and driven in her career, her personal life has paid the price, and she's well aware of that. She holds a lot of pain, both from the passing of her father, as well as her "failure" as a wife to Tom years ago.
Jen: How does Tom, Katherine's ex, plan on spending the holidays?
Lauren & Anthony: Tom's a traditionalist. He likes things the way they've always been done, the way they're "meant to be done." He's headed back to Chicago, looking forward to all of the usual family traditions, with one big change this year: He's about to propose to his girlfriend.
Jen: What happens that throws these exes temporarily back together?
Lauren & Anthony: A few days before Christmas, Katherine gets into a car accident. When she wakes up in the hospital, they've called Tom, who's still listed as her emergency contact.
Jen: What do you hope readers take away from this novel?
Lauren & Anthony: Honestly? We just hope it makes you smile. You know those "feel good" movies that so many of us crave during the holiday season? That's what we set out to create here. An escapist story with plenty of witty banter, Christmas spirit, and happily-ever-after.
Jen: Any plans to co-write again? I hope so!
Lauren & Anthony: No set plans, but we're definitely not opposed to it if the mood strikes again. We're both big believers in letting the muses work their magic. Our job is to stay open to new ideas and inspirations when they strike.
Jen: What's on your TBR stacks?
Lauren & Anthony: Neither of us is much for a TBR! The second we get a stack or list of books to be read in the future, it starts to feel a bit like homework. We're mood/impulse readers! If we're in the mood for something specific, we'll go do a bit of research to find something to scratch that itch. If we come across a book that calls to us, we buy that and read it then and there!
Jen: Besides being a fabulously funny co-writer, Anthony is a stand-up comedian. Any upcoming appearances you'd like to share with our readers?
Anthony: Absolutely! My show schedule is constantly changing, but I'm pretty good about keeping it updated on my website.
For those not here in NYC, I also post highlights from my show on Instagram!
Jen: Lauren, which romance series was your favorite to write and why? I am a huge fan of The Central Park Pact series.
Lauren: I love hearing that! Central Park Pact was so fun and different; a light-hearted rom-com series that started at a funeral?! A bit of a challenge, but ultimately so worth it. As far as favorites, looking at my backlist, I'm realizing that my favorite writing experiences are always the standalones! The Prenup and To Sir With Love stand out especially. I enjoyed writing the series too! But it's always a bit of a challenge as the series progresses to figure out how much "page time" characters from the prior books should get. This was especially true of the Stiletto/Oxford books which went on for nine books. By the last one, I was juggling 18 fairly prominent characters!
Jen: What's the best way for readers to stay connected with both of you?
Lauren & Anthony: We're both on Instagram! Anthony more than Lauren, though she's trying to get better at that.
Jen: Thank you for sharing an inside peek into the writing of EMERGENCY CONTACT. Best of luck with your laugh-out-loud holiday romcom!
Lauren & Anthony: Thank you so much for having us!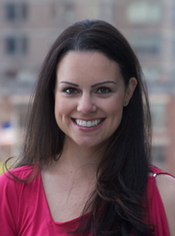 Lauren Layne is a New York Times bestselling author of more than forty love stories. With millions of books sold worldwide, Lauren has been featured on Inside Edition, The Wall Street Journal, BuzzFeed, TheSkimm, Oprah Magazine, PopSugar, and Cosmopolitan magazine. She lives in New York City.
Anthony LeDonne is a New York City-based stand-up comedian, actor, and author. Originally from Tacoma, WA, his comedy reflects his experience growing up in a small city, trying to make it in a big one, marrying his high school sweetheart, not having kids, and playing dad to an overweight Pomeranian.
You can catch him on TV in Chambers, The Marvelous Mrs. Maisel, Evil Lives Here, The Good Cop, and Billions, and in the movies Starcade, Girls Getaway Gone Wrong 2, and Birth/Rebirth. He's been featured on Amazon Prime, Hulu, Showtime, Tubi, and Epicurious, where tens of millions have watched him cook doughnuts and answer viewer questions about how many chocolate chips is too many (no such thing). He also does commercials where he plays roles he's unqualified to play in real life, like a dad.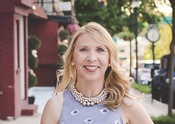 Jennifer Vido writes sweet romances set in the Lowcountry filled with southern charm and hospitality. In between chapters, she interviews authors for her bi-weekly Jen's Jewels column on FreshFiction.com. Most mornings, she teaches an arthritis-friendly water exercise class for seniors before heading to the office to serve as the executive director of a legal non-profit. A New Jersey native, she currently lives in Maryland with her husband and two rescue dogs and is the proud parent of two sons who miss her home-cooked meals. To learn more, please visit her website.
No comments posted.