What is the title of your latest release?
What's the "elevator pitch" for your new book?
He made her the villain of his novel…and she's about to read all about it. Two former best friends-turned-enemies reunite and sparks fly!
How did you decide where your book was going to take place?
A few years ago, while driving through Indiana, I saw a sign for a "Blossom Glen" housing community and laughed, thinking that was an awesome name for a romantic small town! I had never done a family of sisters and that was really fun too.
Would you hang out with your heroine in real life?
I love Viv because she is real – she has had failures and is working to turn them around into successes, and is finding herself along the way.
What are three words that describe your hero?
Brooding but sweet and funny.
What's something you learned while writing this book?
Where the state/county/local fair treat of elephant ears came from.
Do you edit as you draft or wait until you are totally done?
Edit, edit, edit everywhere all the time.
What's your favorite foodie indulgence?
Ice cream.
Describe your writing space/office!
Chaotic on deadline, but small and contained and a place where I can feel safe and unbothered.
Who is an author you admire?
So many! I relate to the optimism and tongue-in-cheek of Katherine Center. Lisa Kleypas does all the emotions like no one else.
Is there a book that changed your life?
Lisa Kleypas's Seduce Me at Sunrise (the Hathaways). The romance between the once-frail Win and the untamed, yearning Kev set a bar for me for the emotional impact of great writing!
Tell us about when you got "the call." (when you found out your book was going to be published)
I was driving my son and his friend to volleyball practice and I had to pull over because I started crying. And they weren't 16 yet so I was the only licensed driver. His poor friend was like, WTH???
What's your favorite genre to read?
All genres and types!
What's your favorite movie?
2005 Pride and Prejudice
What is your favorite season?
Spring and summer. I live in northern Ohio where our winters are cloudy and loooong.
How do you like to celebrate your birthday?
With my family and my mom's classic banana cake recipe that my husband has taken over making for me!
What's a recent tv show/movie/book/podcast you highly recommend?
I've read Oprah and Reese books this year, but the book I've enjoyed most was Katherine Center's Hello Stranger. Clever, fun, all the feels.
What's your favorite type of cuisine?
Ice cream (Is that a cuisine? Haha. It is to me!)
What do you do when you have free time?
Of course, I love to read. I also love biking in the parks. And I'm into orchids! And this year, I grew Kentucky pole beans in my garden (delicious!). And I do some volunteer work at a local nursing home.
What can readers expect from you next?
I'm working on a Christmas book for next year and some other fun projects that are early in process. Thank you for having me!
Estranged friends reunite only to realize they're something more, in this next installment in the Blossom Glen series from bestselling author Miranda Liasson.
Photographer Viv Montgomery's dreams were bigger than her small hometown of Blossom Glen. Following them meant leaving everything and everyone behind—including her sweet and funny best friend, Logan Matthews. Now, twelve years later, the town's "sweetheart" is back, broke, and…well, working in the town's famous Christmas store until she figures out her next move.
Enter her former best friend who she hasn't seen or talked to in years. Only the cute, funny guy she remembers is gone—replaced by a famous, bestselling author who seems aloof, jaded, and is much, much hotter than any book nerd she's ever seen. Seeing him in the news is one thing, but up close and person? Whewf, it's warm in here.
Now he's offered her a job she desperately needs (blissfully free of Santas), and suddenly it's like no time has passed at all. Their friendship is just like it was…with one very unexpected difference. Because somewhere between the blossom festival and snuggling in front of a crackling fire, their friendship is definitely turning into some more. Only, Logan's been hiding the secret of his enormous success…and the sweetheart of Blossom Glen is about to read all about it.
Romance Contemporary [Entangled: Amara, On Sale: October 24, 2023, e-Book, ISBN: 9781649374936 / eISBN: 9781649374936]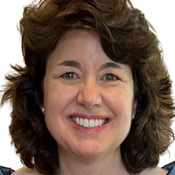 Miranda Liasson is a bestselling author whose heartwarming and humorous romances have won numerous accolades and have been praised by Entertainment Weekly for the way she "deals with so much of what makes life hard . . . without ever losing the warmth and heart that characterize her writing." She believes we can handle whatever life throws at us just a little bit better with a laugh. A proud native of Northeast Ohio, she and her husband live in a neighborhood of old homes that serves as inspiration for her books.
No comments posted.