1--What is the title of your latest release?
2--What's the "elevator pitch" for your new book?
When Samantha Davies finds a murdered man—crushed beneath a 2,000-pound pumpkin! - her upstate New York fall suddenly turns very chilly. And when her good friend and owner of the local cafe becomes the police's prime suspect, Sam takes it up on herself to find the real killer. With her faithful dachshund, Porkchop, by her side, can Sam get to the truth... before the killer gets to her?
3--How did you decide where your book was going to take place?
I lie in an area in Upstate New York that is dotted with small towns. I thought what better place than Wings Falls where just about everyone knows who you are to have murders happen.
4--Would you hang out with your protagonist in real life?
Absolutely. She loves to do many of the same things I do—rug hook, write, wear yoga pants, owns a dachshund. A girl definitely after my own heart.
5--What are three words that describe your protagonist?
Loyal, spunky, and determined
6--What's something you learned while writing this book?
To let my characters lead the way. This being book 4 in my Samantha Davies Mystery series by now they have a mind of their own, so I have to let them just voice their opinions whether I like them or not.
7--Do you edit as you draft or wait until you are totally done?
I try to wait until it is completed to edit so I can get the book finished, but sometimes the editing bug bites me, and I can't resist.
8--What's your favorite foodie indulgence?
Dark chocolate, definitely dark chocolate.
9--Describe your writing space/office!
Small-A smallish desk in a small corner of a small bedroom.
10--Who is an author you admire?
I'll have to mention two—Catherine Bruns and Amy Patricia Meade. They not only write fabulous series, but they take my breath away with the multiple series they write.
11--Is there a book that changed your life?
I can't think of any one particular book. I've enjoyed so many over the years.
12--Tell us about when you got "the call." (when you found out your book was going to be published)/Or, for indie authors, when you decided to self-publish.
Oh, my. I remember that email from Gemma Halliday as if it was yesterday. My fingers literally trembled when I hit the button to open the email. Then when I read it, I had to remember to breathe.
13--What's your favorite genre to read?
I guess it's predictable, but I love to read cozy mysteries.
14--What's your favorite movie?
Dirty Dancing. Who wouldn't love Patrick Swayze in that movie. His dance moves, what more can I say.
15--What is your favorite season?
Summer. I love the warm weather. It helps me get through the cold winters we have in Upstate New York.
16--How do you like to celebrate your birthday?
A quiet dinner at home with my hubby, kids, and grandkids.
17--What's a recent tv show/movie/book/podcast you highly recommend?
I love the British murder mysteries, especially Mid-Sommers Murders. They have such a unique way of doing away with people.
18--What's your favorite type of cuisine?
Italian. Love the pastas and sauces.
19--What do you do when you have free time?
Like the main character in my series, Samantha, I love to rug hook. The mindless pulling of wool loops relaxes me.
20--What can readers expect from you next?
Book 5, CHILLED TO THE DOGGONE BONE, is in the works. Samantha and her sleuthing cousin, Candie, get involved in trying to solve a murder at a winter carnival in Upstate New York.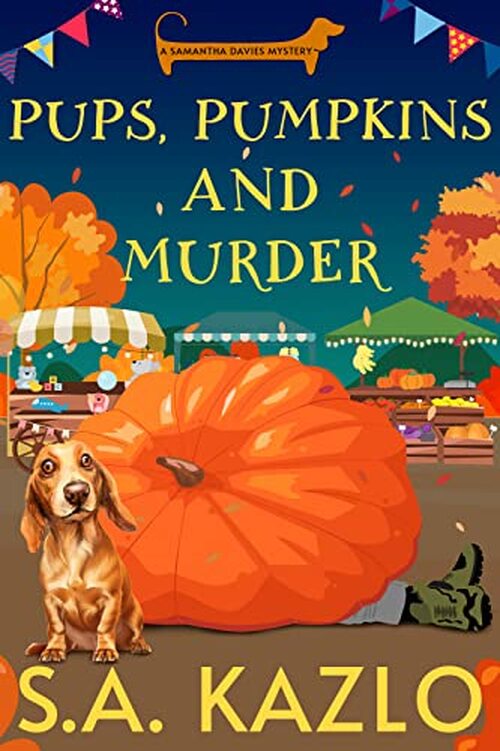 Autumn has arrived in the small town of Wings Falls in upstate New York, and children's book author Samantha Davies couldn't be happier. She's excited to attend the town's annual Taste of Wings Falls craft and food festival with her boyfriend Detective Hank Johnson. The fair features several booths, like the one Sam's rug hooking group, the Loopy Ladies, have set up as a fundraiser to send underprivileged children to summer camps, as well as home-grown vegetables, like the 2,000-pound pumpkin grown by Farmer Scooter that he's proudly displayed on the back of his truck. But maybe the biggest draws for the fair is the barbeque cook-off. Samantha is friends with the owners of the three restaurants participating, but she is betting on Franny Goodway, the owner of Sweetie Pie's Café, taking home this year's coveted first place prize.
But things take a stomach-churning turn when several fair goers become ill after chowing down on Franny's pulled pork delight. Franny insists it's not her fault... but when Sam sees Franny vehemently arguing with the new loan officer at the town's bank, she knows something is wrong.
Little did Sam know how wrong.
That evening as Sam takes her dachshund, Porkchop, for a stroll, she finds the body of the loan officer...crushed under a 2,000-pound pumpkin and deader than the fall leaves covering the ground! Franny instantly becomes the number one suspect, and it's up to Sam to prove her friend innocent of the man's murder. Can she find a killer, and navigate her relationship with her detective boyfriend, and save Sweetie Pie's Café?
Mystery Amateur Sleuth | Mystery Cozy [Gemma Halliday Publishing, On Sale: September 19, 2023, e-Book, ISBN: 2940166065506 / ]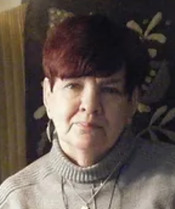 Syrl Ann Kazlo, a retired teacher, lives in upstate New York with her husband and two very lively dachshunds. Kibbles and Death is the first book in her Samantha Davies Mystery series, featuring Samantha Davies and her lovable dachshund, Porkchop. When not writing Syrl is busy hooking—rug hooking that is—reading, and enjoying her family. She is a member of Sisters in Crime and the Mavens of Mayhem.
No comments posted.