Red Cross ball, Manhattan, 1917
Suddenly Elizabeth [Arden] sensed a lull in the conversation and noticed heads turning toward the doorway. A striking, dark-haired woman stood poised in a gown made of shimmering gold fabric with a deep V neck and Grecian-style folds. Her hair was pulled back in a chignon. It wasn't . . . it couldn't be Madame Rubinstein, could it? She most definitely hadn't been on the guest list.
Vogue staffers scurried around like squirrels, while the newcomer surveyed the room with a smile playing on her lips. She was sure it was Helena Rubinstein: she recognized her from magazine images and from that one time she had glimpsed her in her Paris salon. Someone should eject her, Elizabeth thought, but no one was doing anything. She grabbed the arm of a waiter.
"That woman is not on the guest list," she said, her eyes sliding toward the entrance. "Could you please go over and explain to her the ball is invitation-only? If she objects, ask to see her invitation. She doesn't have one, so then you can ask her to leave."
He reddened. "It's not my place . . ."
"Do I need to fetch the manager?" she snapped. "I'm in charge here. Do as I ask."
The waiter sloped toward the newcomer. Elizabeth stepped a little closer to eavesdrop. She could see that Madame Rubinstein was annoyed to be challenged. She was arguing. The waiter was retreating. Damn!
Just then, Madame Rubinstein turned and noticed her watching. Elizabeth was startled. Did she recognize her? Yes, she had a feeling she did, because she held her gaze. The expression was inscrutable; not a facial muscle moved. Was she waiting for Elizabeth to intervene and allow her to join the party? Well, she wasn't about to do that, for goodness' sake.
Just at that moment, Edna appeared, hurrying toward the door. Good! Let her deal with the situation, Elizabeth thought—and then the unthinkable happened: Edna shook hands with the newcomer. What on earth was happening?
Madame Rubinstein glanced at Elizabeth again, and now her smile was triumphant. What was Edna playing at?
Elizabeth lifted a glass of champagne from the tray of a passing waiter and turned to talk to the woman closest, hardly aware of what she was saying. The drink tasted sour. Was it off? Glancing over her shoulder, she saw Edna leading the newcomer toward the room where the auction goods were on display.
Elizabeth grasped the arm of one of Edna's personal assistants. "Why is that woman here?" she demanded, nodding in Madame Rubinstein's direction.
"Madame Rubinstein?" The assistant was unabashed. "The advertising department added her to the list because she donated a painting to the auction—a Rouault. Would you like me to introduce you?"
"Absolutely not," Elizabeth replied. "I wouldn't dream of it." She shuddered. Why hadn't she been consulted? The guest list had been her responsibility.
Now the evening was ruined for her. She would have to be on guard to make sure she didn't bump into that woman. Out of the corner of her eye, she saw Edna introducing her to Carrie Astor Wilson and her stomach twisted. The immigrant was trying to steal her clients and a woman she considered a friend was helping.
Later, when she spotted Edna on her own by the buffet, Elizabeth sidled across with a forced smile. "I see Madame Rubinstein wormed her way in," she said, with an arched eyebrow.
"You two should talk," Edna said. "You have a lot in common."
"I doubt it somehow," Elizabeth said. "She doesn't look my type at all." She felt betrayed by Edna. She thought they'd seen eye to eye on the subject when they spoke over lunch, but it seemed not.
"The auction is starting soon," Edna said, after a pause, as if she'd been thinking of saying something else, then decided against it. "Come stand with me and we'll try to whip up these ladies to open their purses."
Bidding started enthusiastically. Among the lots, there was a silver chain-mail evening purse, a Lalique glass perfume bottle, a pretty gilt candelabra, and tickets for the opera. Elizabeth was delighted when her lot raised fifty-five dollars and she clapped hard for the successful bidder.
The Rouault painting was reserved for the very end. It wasn't attractive, Elizabeth thought, showing a glum Pierrot figure in dreary colors. The auctioneer said this was an artist at the beginning of his career whose work would be an investment for the future.
Elizabeth harrumphed and turned to Edna: "It looks to me like something you would throw onto a bonfire after clearing the attic," she said, her voice low.
Edna pursed her lips and didn't reply.
To Elizabeth's amazement, the bidding started at a hundred dollars. She glanced around to see four different women were competing. The hammer came down at three hundred and seventy-five dollars, the highest price reached by any item that evening. Elizabeth clasped her hands together and pinned a fake smile to her face as she scanned the crowd, trying to identify the successful bidder.
And then, as she turned, she realized that Madame Rubinstein was standing just a few feet behind her.
"I'm glad to find New York women have discerning taste in art," the woman said in her funny foreign accent. "Apart from the few who prefer to light bonfires with it."
A handful of women in the vicinity tittered and Elizabeth realized they must all have overheard her comment. She was sure she'd kept her voice low. Edna had wandered off to talk to someone else and was unaware of the confrontation.
Madame Rubinstein caught her eye and several seconds passed while Elizabeth tried to think of a suitable riposte. Certainly she didn't intend to apologize. She wasn't in the wrong.
"I don't know the etiquette where you come from, Madame . . ." She paused, unwilling to utter the woman's name. "But in America, it is considered vulgar to buy your way into elite parties, like a common merchant. Just a little tip for the future."
All those in earshot gasped out loud.
Madame's expression didn't change but anger flashed across her eyes before she glanced down at Elizabeth's chest. "You appear to have spilled your drink," she said.
Elizabeth looked down and was horrified to see a dark patch on the pink silk, right across her breast. How long had that been there? She'd put her glass down on a waiter's tray before the auction so the spill must have happened before that. Why hadn't Edna mentioned it?
"If you'll excuse me." She smiled and nodded at the ladies gathered around them, then turned and walked, head held high, toward the powder room.
Extract from A BEAUTIFUL RIVAL copyright © 2023 by Gill Paul. All rights reserved.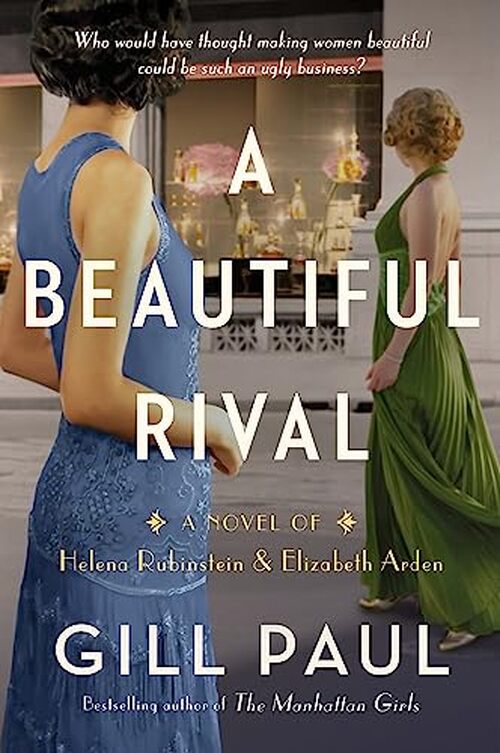 In this stunning new novel, bestselling author Gill Paul reveals the unknown history of cosmetic titans Elizabeth Arden and Helena Rubinstein and their infamous rivalry that spanned not only decades, but also broken marriages, personal tragedies, and a world that was changing dramatically for women—perfect for fans of Fiona Davis, Marie Benedict, and Beatriz Williams.
Who would have guessed that the business of making women beautiful was so cutthroat?
They could have been allies: two self-made millionaires who invented a global industry, in an era when wife and mother were supposed to be the highest goals for their sex. Elizabeth Arden and Helena Rubinstein each founded empires built on grit and determination…and yet they became locked in a feud spanning three continents, two world wars, and the Great Depression.
Brought up in poverty, Canadian-born Elizabeth Arden changed popular opinion, persuading women from all walks of life ­to buy skincare products that promised them youth and beauty. Helena Rubinstein left her native Poland, and launched her company with scientific claims about her miracle creams made with anti-ageing herbs.
And when it came to business, nothing was off-limits: poaching each other's employees, copying each other's products, planting spies, hiring ex-husbands, and one-upping each other every chance they had. This was a rivalry from which there was no surrender! And through it all were two women, bold, brazen, and determined to succeed—no matter the personal cost.
In this sweeping novel from the bestselling author of Jackie and Maria and The Manhattan Girls, two larger-than life fashion icons come alive with all their passion, bitterness, and ambition as they each try to live the American dream.
Women's Fiction Historical | Literature and Fiction [William Morrow Paperbacks, On Sale: September 5, 2023, Paperback / e-Book, ISBN: 9780063245112 / eISBN: 9780063245129]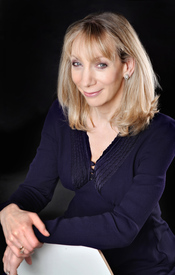 Gill Paul's historical novels have reached the top of the USA Today, Toronto Globe & Mail and UK kindle charts, and been translated into twenty languages. She specializes in relatively recent history, mostly 20th century, and enjoys re-evaluating real historical characters and trying to get inside their heads.
Gill also writes historical non-fiction, including A History of Medicine in 50 Objects and series of Love Stories. Published around the world, this series includes Royal Love Stories, World War I Love Stories and Titanic Love Stories.
Gill was born in Scotland and grew up there, apart from an eventful year at school in the US when she was ten. She studied Medicine at Glasgow University, then English Literature and History (she was a student for a long time), before moving to London to work in publishing. Her first novel was written at weekends, but she has now given up the "day job" to write fiction full-time. She also writes short stories for magazines and speaks at libraries and literary festivals about subjects ranging from the British royal family to the Romanovs, and about writing itself.
Gill swims year-round in an open-air pond – "It's good for you so long as it doesn't kill you"– and loves travelling whenever and wherever she can.
No comments posted.