1--What is the title of your latest release?
2--What's the "elevator pitch" for your new book?
It's mud season on Cape Cod, and when an ill wind blows in a murder with a twist in the tale, bike shop owner Mackenzie "Mac" Almeida and her crime-solving book group are ready to leaf through the clues.
3--How did you decide where your book was going to take place?
This is the fifth in the Cozy Capers Book Group Mysteries, so my Cape Cod fictional village of Westham is the setting by default.
4--Would you hang out with your sleuth in real life?
I'd love to spend time with Mac. She's smart, she has lived and traveled internationally as I have, and she loves reading cozy mysteries.
5--What are three words that describe your sleuth?
Loyal. Neat-freak. Family-centered.
6--What's something you learned while writing this book?
I learned how to make spring rolls. Recipe testing is always part of writing this series.
7--Do you edit as you draft or wait until you are totally done?
When I begin a writing session, I give a light edit to what I wrote the day before. That gets me back into the story. I need to crank through the first draft and only get into the weeds of revisions after the basic story is on the page.
8--What's your favorite foodie indulgence?
Good butter on toast, on potatoes, to saute mushrooms in. Yum! Also a rich chocolate mousse.
9--Describe your writing space/office!
I have a lovely second floor office overlooking our quiet street. The door closes. The shelves are full of mysteries by my favorite authors, reference books on poisons and police procedure, and pictures of family. And the futon couch lets the room double as a guest room when both sons and their wives are visiting.
10--Who is an author you admire?
I have so many author friends I admire, and it's hard to pick just one. So I'll name Ann Cleeves, whom I have met a couple of times. I've read every book in her three series. She's an amazing storyteller. She imagined an entirely new series even while being hugely successful with her Vera and Shetland books and television shows. And she's the nicest person, completely real and down to earth.
11--Is there a book that changed your life?
I'm going to cheat and talk about a set of authors. In the late 1980s, I discovered the several women writers with female protagonists. Sue Grafton and Sara Paretsky with their female PIs. Katherine Hall Page, Susan Wittig Albert, and Diane Mott Davidson with their amateur foodie sleuths. When I started writing my own first mystery, I took inspiration from all of them, creating a woman with a good reason to delve into a homicide on her own turf. I just turned in my 35th novel and have not varied from that model.
12--Tell us about when you got "the call." (when you found out your book was going to be published)
For this book? It's the fifth in the series, which made it the second in my renewed Cozy Capers Book Group Mysteries contract. I was delighted to be able to continue the stories, which readers seem to eat up.
13--What's your favorite genre to read?
Mysteries written by women with female sleuths, of course! I do read beyond that, but the traditional/cozy end of the spectrum is my favorite place to hang out.
14--What's your favorite movie?
Gosh. I have a sappy soft spot for romantic movies: Dr. Zhivago and Bridges of Madison County are films I never tire of rewatching.
15--What is your favorite season?
I love summer, mostly because of summer produce. Garden tomatoes! Sweet corn from the farm stand. My own blueberries. Plus walking on the beach and sitting on my deck reading.
16--How do you like to celebrate your birthday?
With dark chocolate cake, fresh flowers, a box of dark chocolates, and my loved ones.
17--What's a recent tv show/movie/book/podcast you highly recommend?
We are watching "Dark Winds." I read all the Tony Hillerman novels when they came out, and I'm loving this well-done series featuring his characters in the evocative setting of indigenous New Mexico.
18--What's your favorite type of cuisine?
Um, well-prepared cuisine from any country as long as it includes local fresh ingredients and peppers that aren't too hot. Maybe traditional Japanese cuisine (NO avocado or mayonnaise, ever) tops the list.
19--What do you do when you have free time?
I do difficult crossword puzzles, tend my garden, play cribbage with my sweetie, come up with something tasty and fresh for dinner, and read mysteries with a docile cat at my side.
20--What can readers expect from you next?
My Cece Barton Mysteries debut this fall! Catch a sneak peek at Cece in "Murderous Mittens" in CHRISTMAS MITTENS MURDER, out at the end of September. MURDER UNCORKED releases October 24, with Cece having moved to the northern California wine region of Alexander Valley where her twin sister lives. Cece manages the wine bar – and finds herself solving another homicide.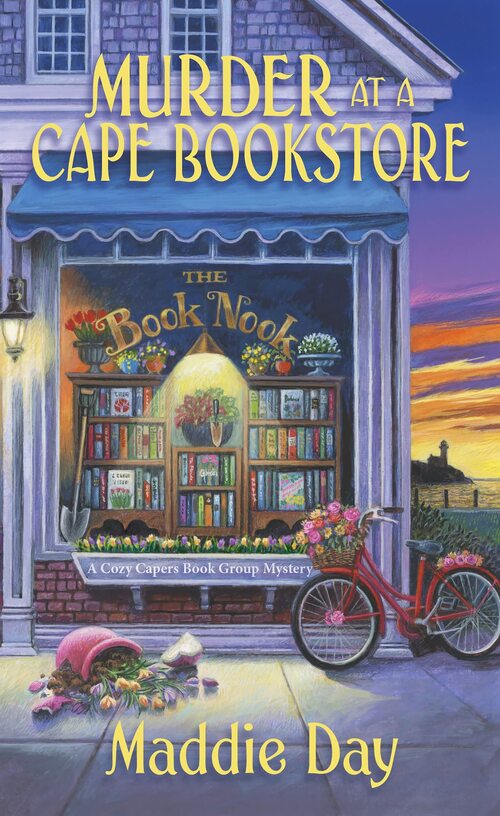 Set in a picturesque Cape Cod town, the latest in this cozy mystery series by the Agatha Award-winning author will delight fans of Lorna Barrett's Booktown series and Kate Carlisle's Bibliophile mysteries, as bike-shop owner Mackenzie "Mac" Almeida and her fellow book club sleuths solve a bookstore murder.
Everyone loves a festival, though Mac has a few concerns about the Spring equinox event organized by the new Chamber of Commerce director, Wagner Lavoie. After all, March weather is unpredictable. Still, there's plenty to enjoy, between flower-shaped candies at Salty Taffy's, spring rolls at the Rusty Anchor, and a parade of decorated bicycles. But the festivities soon take a stormy turn . . .
Mac glimpses conflict between Wagner and other locals during the festival, but it's a shock when he's found dead in the Book Nook, pinned beneath a toppled bookshelf. It's an irresistible case for Mac's book group. She and the rest of the Cozy Capers will have to use all their sleuthing skills to bring the killer's story to an end . . .
Mystery Cozy | Mystery Book Lover [Kensington Cozies, On Sale: August 22, 2023, Mass Market Paperback / e-Book, ISBN: 9781496740557 / eISBN: 9781496740564]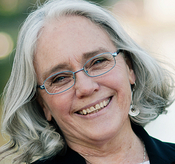 Maddie Day is a talented amateur chef, holds a Ph.D. in Linguistics from Indiana University, and is a member of Sisters in Crime and Mystery Writers of America. Her short stories have appeared most recently in the anthologies That Mysterious Woman, History and Mystery, Oh My!, Stone Cold, and Fish Nets. She lives with her beau and three cats in Massachusetts, where she's currently working on her next Maddie Day mystery when she isn't cooking up banana walnut pancakes for breakfast.
No comments posted.