1--What is the title of your latest release?
My debut psychological thriller, THE NIGHT IT ENDED
2--What's the "elevator pitch" for your new book?
A criminal psychiatrist with her own dark secrets visits a secluded boarding school to assist a PI investigating the mysterious death of a student found on campus.
3--How did you decide where your book was going to take place?
I had an urge to visit an old abandoned mansion in the Catskills and after walking the halls, knew I had to use the building as a boarding school.
4--Would you hang out with your protagonist in real life?
Definitely! She's trying her best and could use a friend.
5--What are three words that describe your protagonist?
Determined, anxious, pensive.
6--What's something you learned while writing this book?
I learned a lot about how to craft characters so they stand apart from one another. For example, I had to teach myself how to effectively introduce multiple characters at once without making them all melt together. Each must have their own temperament and characterizations to make them memorable.
7--Do you edit as you draft or wait until you are totally done?
When I sit down to start writing, I always read over what I'd written previously to get myself back into the mood and to know where to pick up where I'd left off. While I'm reading over things, I do light editing here and there, but don't get hung up on anything. I work it out later.
8--What's your favorite foodie indulgence?
Black raspberry chocolate cheesecake.
9--Describe your writing space/office!
I'm fortunate to have an office/closet room where I have a little desk and an old iMac. There's no air conditioning, so the summers are challenging!
10--Who is an author you admire?
I admire any author who has finished a novel! But instead of naming only one person, I truly admire any woman who can juggle having a family and a job while still finding the time to be creative, in any capacity.
11--Is there a book that changed your life?
In a way I guess you can say Clive Barker's EVERVILLE. When I was a kid, I found it in our basement. My sister had been reading it and, thinking she was the coolest person ever, naturally I wanted to read it too. It was my first 'adult' book.
12--Tell us about when you got "the call." (when you found out your book was going to be published)/Or, for indie authors, when you decided to self-publish.
I was really lucky that THE NIGHT IT ENDED had 3 offers. I remember I was at work for all 3 calls. For #1, I spoke to the agent outside of the lobby and wanted to scream, "I'm on the phone with an AGENT!" For call #2, I was in my car on the parking deck, and for #3, I walked around the parking garage. They were all scheduled calls. No one 'surprised' me.
13--What's your favorite genre to read?
Mystery and thrillers. But I also love reading some romance and other fiction. Most of the books I read I add on Goodreads. I mix it up.
14--What's your favorite movie?
There are so many - EVER AFTER, THE MUMMY, PRIDE & PREJUDICE (2005 version and the 1995 mini-series), GHOST WORLD, and THE LAST UNICORN off the top of my head.
15--What is your favorite season?
Autumn.
16--How do you like to celebrate your birthday?
It's in August, so endless iced coffees and if the stars align, I'll find a pool to float in.
17--What's a recent tv show/movie/book/podcast you highly recommend?
MINDHUNTER on Netflix. I don't think it's new, but I just started and love it so far. I also loved BEHIND HER EYES (book and show). I've recently read and loved WHAT LIES BETWEEN US by John Marrs, SEA OF TRANQUILITY by Emily St. John Mandel, and THE PRETTIEST STAR by Carter Sickels.
18--What's your favorite type of cuisine?
Mexican.
19--What do you do when you have free time?
Read my TBR. I'm also always either brainstorming, drafting, or editing something, which is awesome. I love all the stages.
20--What can readers expect from you next?
Book #2. I'm so excited for it. It leans more on the domestic side than THE NIGHT IT ENDED and is loaded with twists (evil grin)
Finding the truth seems impossible when her own dark past has her seeing lies everywhere she looks...
From the outside, criminal psychiatrist Dr. Madeline Pine's life appears picture-perfect—she has a beautiful family, a successful mental health practice, and a growing reputation as an expert in female violence. But when she's called to help investigate a mysterious death at a boarding school for troubled teenage girls, Madeline hesitates. She's been through tragic cases before, and the one she was entangled in last year nearly destroyed her...
Yet she can't turn away when she hears about Charley Ridley. After Charley was found barefoot and in pajamas at the bottom of an icy ravine on campus, the police ruled her death a tragic accident. But the private investigator hired by her mother has his doubts. If it were Madeline's daughter who died, she'd want to know why.
Arriving at the secluded campus in upstate New York, Madeline's met by an unhelpful skeleton staff and the four other students staying on campus during winter break. Each seems to hold a piece of the puzzle. And everyone has secrets—Madeline included. But who would kill to protect them?
Thriller Psychological [MIRA, On Sale: June 27, 2023, Trade Paperback / e-Book, ISBN: 9780778334453 / eISBN: 9780369736369]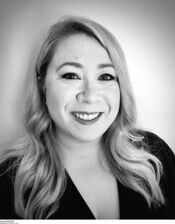 Katie lives in a New Jersey river town with her husband, baby boy, and shih-poo where she writes books about women and their dark, secret selves. The Night It Ended is her debut novel.
No comments posted.