The Time Wine Shot Out My Nose
2 years before
Smack in the middle of an otherwise normal Wine Wednesday, Liddy blurts out, "Jack is having an affair. No, make that affairs."
For a moment, nobody speaks. I swallow a weird knee-jerk desire to giggle. Max recovers first. "What are you talking about?"
"I got a phone call yesterday from a woman who says she's been sleeping with Jack for years. And the only reason she wanted to tell me now was that…"
Her voice breaks. She looks at the ground. Nobody moves or breathes. When she raises her head to speak again, she is transformed. Her long, ropy curls quiver with contained energy, her nostrils are flared, her cheeks are pink and bright. She is a freaking warrior.
"Was that he's cheating on her with someone else."
"Jesus, what did you say?" I ask, my voice barely above a whisper.
"I said, 'That must be hard. I hope you can get some professional help.' Then I hung up and threw Jack's Rolex in the toilet."
"And what condition was the water in the toilet?" asks Feeney, like she's talking to a wild caged animal.
Liddy takes a big gulp of wine and says, "You mean before or after I peed on it?"
I laugh mid-swallow, snorting and coughing uncontrollably. That gets everyone laughing, Liddy most of all, wiping away the tears streaming down her face. We're laughing because it feels so damn good to laugh when what you really want to do is cry. We do that silent, mouth-open, noiseless laugh that hurts your stomach muscles but somehow helps heal your soul. I can't help but think that when we die, our earthly bodies won't miss great sex or eating delicious food, but rather this uncomfortable, slightly-painful laughter that reminds you of the existence of joy and suffering at the same time.
Eventually the hysteria dies down. "What are you going to do, Lids?" I ask.
"Well, my first thought was to take a hot bath, shave myself hairless, and start calling my exes in alphabetical order."
"Which would mean starting with Aaron Anderson," Max says with a knowing look. Aaron was Liddy's first boyfriend in high school. He now owns the local hardware store, and we're always teasing Liddy about going in and asking him for a good screw.
Liddy exhales loudly. "Of course. But here's the thing. I'd never do it. I'd never cheat on my husband. Even now. It's just not… me."
We're all quiet for a bit. It's one of those moments when you're overwhelmingly thankful for having people in your life who don't feel the need to fill a silence. Liddy has earned the respect of our silence. We know each other in just that way.
Eventually Feeney says, "So now what?"
"I have no idea. When Jack got home last night, I told him I knew. I didn't even have to say what I knew. You should have seen his face."
"Sorry Lids, but I could kill him," Max says.
"Hear, hear," says Feeney, moving to refill our glasses.
"That was my first reaction, too," says Liddy. "But now I just feel sorry for him. After Luke was born Down, Jack never really recovered. Everything in his life up to that point had always come easy. Then he got thrown a curve ball and it knocked him out of his comfort zone. I think he's lost. Actually I think he's been lost for a long time."
"Why on earth are you being so nice?" I ask.
"Because I know what it feels like to want to escape my own life," Liddy says, putting her head in her hands. "I just don't choose to escape with sex. God, I wish it was that easy."
Feeney scoots next to her and puts an arm around Liddy's shoulder. "So now what?"
Liddy lifts her head and looks at us. "I honestly don't know. I don't want to split up, it would be brutal on the kids. Routine is so important, especially for Luke. I guess I should look into counseling but… I don't know. My heart's not in it right now."
"Ok," Feeney says, rubbing Liddy's arm like she's prepping her for a boxing match. "Fair enough. One day at a time. Isn't that what they say in rehab? I just have one question."
"Yes?" Liddy asks.
"Can I piss on his Rolex, too?"
Excerpted from THERE ARE NO RULES FOR THIS by JJ Elliott. Copyright © 2023 by JJ Elliott.
A Novel
People like Feeney Simms don't commit suicide. Beautiful, charismatic, mother of two, wife to a handsome, successful husband, beloved by her friends—this is not the typical picture of a tortured soul. But one summer night, Feeney drives to the beach and swallows a handful of pills. No note, no explanation, nothing. Like that, she's gone.
Faced with this loss, Ali, Max, and Liddy, Feeney's closest friends, are left reeling, grappling with the devastating cocktail of grief, guilt, and anger that's left in the wake of a suicide. In a desperate attempt to avoid further loss, the three women make the unorthodox (and very Feeney-like) decision to hold their own funerals while they are still alive—and the experience changes each of them in ways they couldn't have imagined.
Fiction Family Life | Small Town [She Writes Press, On Sale: May 16, 2023, Paperback / e-Book, ISBN: 9781647424855 / eISBN: 9781647424862]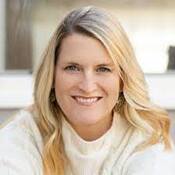 JJ Elliott writes constantly, thanks to her longtime job as a freelance copywriter. In that role, she has penned everything from national television ads to urinal stickers. She grew up in Northern California and received a degree in English from UCLA. She now lives in the San Francisco Bay Area with her husband, two teenage kids, and two gassy bulldogs. She loves to read, play tennis, drink wine, and eat cheese. There Are No Rules For This is her first novel. She lives in San Mateo, CA.
No comments posted.