1--What is the title of your latest release?
2--What's the "elevator pitch" for your new book?
The French Revolution with the Scarlet Pimpernel – and vampires.
3--How did you decide where your book was going to take place?
The theme of the book decided where it would take place – a story about the Scarlet Pimpernel and the French Revolution really needs to be set in France and England, unless there was a strong narrative reason for it to extend beyond there.
4--Would you hang out with your protagonist in real life?
I'd hang out with her, but I'm not sure she'd hang out with me – I suspect she'd consider me lazy, self-indulgent, somewhat spoilt by my personal privileges, and not putting enough effort into my hobbies (knitting, quilting) to get really good at them. I mean, she wouldn't be rude, but we just don't have that much in common. (Though she might borrow any Gothic novels I have.)
5--What are three words that describe your protagonist?
Determination. Ignorance. Growth.
6--What's something you learned while writing this book?
I learned how difficult it is to keep modern similes and metaphors out of my language. I was writing from the point of view of a young woman of the late eighteenth century – it would have been wrong to use imagery which didn't exist at that point or which wouldn't have been in her frame of reference.
7--Do you edit as you draft or wait until you are totally done?
If I realize during the writing process that something I wrote earlier will require editing – which happens frequently – then I make a note about what sort of change I think is necessary, but otherwise I prefer to finish the whole story first and then go back and edit it.
8--What's your favorite foodie indulgence?
A nice slice of cake (buttercream icing, not fresh cream) and a latte.
9--Describe your writing space/office!
My computer where I do all my writing is in my bedroom, and shares the room with my bed, several bookcases, and a rather untidy wardrobe. My desk is battered and twenty or thirty years old, and is cluttered with various items including Lego figurines (the Fourth Doctor, and others), a few anime figures (characters from Bleach, Phoenix Wright, and others), a pile of documentation which never actually gets any smaller and which I really need to clear one of these days, a small labrys axe statuette which my parents brought back from Crete for me years ago, several biros . . . you get the idea. The walls aren't actually decorated, as they're mostly covered with bookshelves. There are piles of books. The floor needs hoovering.
10--Who is an author you admire?
Barbara Hambly: she's a wonderful writer, and I've been enjoying her books since I first read something of hers in the eighties (the Darwath Trilogy). I love her fantasies, her historical and crime fiction, her supernatural/horror fiction – all her writing. She has a marvelous "voice" and is a delight to read.
11--Is there a book that changed your life?
I think it might have been when my parents read THE HOBBIT to me as a bedtime story. I hope they don't regret it now…
12--Tell us about when you got "the call." (when you found out your book was going to be published)/Or, for indie authors, when you decided to self-publish.
This is for my first book, THE INVISIBLE LIBRARY – when my agent told me it had been accepted, I couldn't believe it. I'd been deliberately trying not to think about it while she had it out on submission, because otherwise it was far too easy to sit there brooding, and either spin daydreams about a fantastic bestselling future or become depressed because nobody had picked it up yet. Either way, not very helpful. So I was trying to keep my mind off the subject and work on my day job. And then the email came … I read it over twice, and then stood up, walked away from the computer, took several deep breaths, walked back and checked that the email hadn't vanished while my back was turned. It was a step into a world where it was possible that I could publish a novel and people would read it.
13--What's your favorite genre to read?
Fantasy.
14--What's your favorite movie?
The Lion in Winter. (Current favorite. I may discover something in the future I like better.)
15--What is your favorite season?
Autumn.
16--How do you like to celebrate your birthday?
If I'm with family, then a nice meal together is excellent. If it's just me, then I'll take myself out to a good restaurant.
17--What's a recent tv show/movie/book/podcast you highly recommend?
The movie DUNGEONS & DRAGONS: HONOR AMONG THIEVES.
18--What's your favorite type of cuisine?
I really enjoy sushi. I also enjoy Japanese and Chinese food in general.
19--What do you do when you have free time?
Read, play computer games, knit, make patchwork quilts (rather basic ones), sleep. There aren't enough hours in the day.
20--What can readers expect from you next?
Book 2 in this trilogy (the Scarlet Revolution trilogy). I'm not sure if I'm allowed to reveal the name yet, sorry!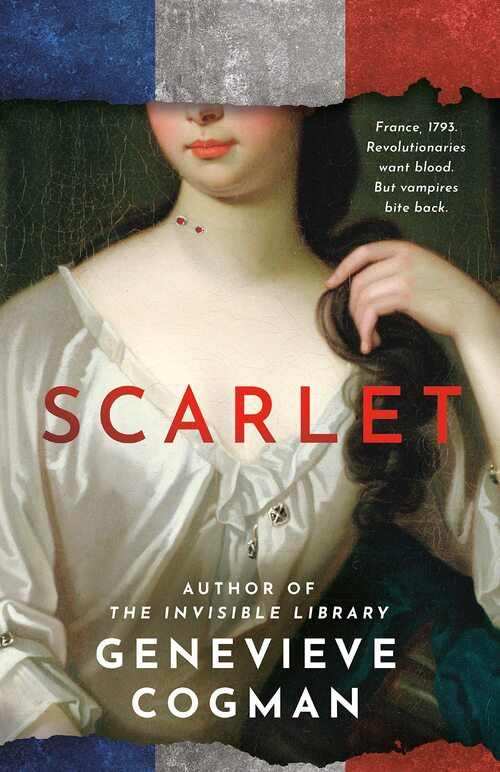 Revolution is a bloodthirsty business . . . especially when vampires are involved.
It is 1793 and the French Revolution is in full swing. Vampires—usually rich and aristocratic—have slaked the guillotine's thirst in large numbers. The mysterious Scarlet Pimpernel, a disguised British noble, and his League are heroically rescuing dozens of aristocrats from execution, both human and vampire. And soon they will have an ace up their sleeve: Eleanor Dalton.
Eleanor is working as a housemaid on the estate of a vampire Baroness. Her highest aspiration is to one day become a modiste. But when the Baroness hosts a mysterious noble and his wife, they tell Eleanor she is the spitting image of a French aristocrat, and they convince her to journey to France to aid them in a daring scheme. Soon, Eleanor finds herself in Paris, swept up in magic and intrigue—and chaos—beyond her wildest dreams. But there's more to fear than ardent Revolutionaries. For Eleanor stumbles across a centuries-old war between vampires and their fiercest enemy. And they're out for blood. . . .
Scarlet is the first book in a wildly engaging new series from Genevieve Cogman, which reinvents the beloved tale of the Scarlet Pimpernel.
Fantasy Historical [Ace, On Sale: May 9, 2023, Trade Paperback / e-Book, ISBN: 9780593638286 / eISBN: 9780593638293]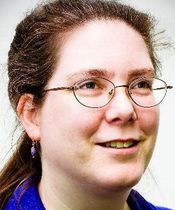 Genevieve Cogman started on Tolkien and Sherlock Holmes at an early age, and has never looked back. But on a perhaps more prosaic note, she has an MSC in Statistics with Medical Applications and has wielded this in an assortment of jobs: clinical coder, data analyst and classifications specialist. Although The Invisible Library is her debut novel, she has also previously worked as a freelance roleplaying game writer. Genevieve Cogman's hobbies include patchwork, beading, knitting and gaming, and she lives in the north of England.
No comments posted.