1--What is the title of your latest release?
2--What's the "elevator pitch" for your new book?
A CIA officer is tasked with flipping the British wife of a Russian oligarch in order to prevent the fall of the current world order.
3--How did you decide where your book was going to take place?
I'd been fascinated with the expansion of Russian oligarchs into London ever it began in 1994, when two things happened. First, the UK Prime Minister announced a new class of for foreigners willing to invest 750,000 pounds into the economy. Secondly, the Soviet Union was imploding, creating a new class of millionaire, many with dubious backgrounds. The new UK visa plan was designed to attract the oligarchs' money but put off worrying what affect this might have on the country down the road. Fast forward to Russia's invasion of Ukraine in February 2022, and the UK is finally forced to deal with the oligarchs—only by this time, they're well entrenched in the country.
4--Would you hang out with your protagonist in real life?
As a former CIA officer, I have hung out with women like Lyndsey Duncan: sincere in their willingness to sacrifice themselves for the benefit of their fellow Americans.
5--What are three words that describe your protagonist?
Smart, patriotic, and determined.
6--What's something you learned while writing this book?
I had to learn a lot about London, which I haven't visited since the 2000s. "Billionaires Row" off Hampstead Heath plays a big part in the book and after all the research, I feel like I could be a tour guide. Luckily, I already knew something about how MI6 operates.
7--Do you edit as you draft or wait until you are totally done?
I edit a bit as I write, but I save the heavy lifting until I have a reasonable first draft. After I've finished edits, it goes to the agent—more edits—and finally to my editor at Putnam, Sally Kim, who always makes it 100 percent better.
8--What's your favorite foodie indulgence?
That's tough. I love food. I live in a remote area with no ethnic restaurants so right now I'm missing good Indian and Korean food.
9--Describe your writing space/office!
I work in the guesthouse, a big open plan space over the garage. It looks down over the woods (we live next to a national forest.) I can move around throughout the day, as whim dictates, though usually I work at a long dining table where I can spread out.
10--Who is an author you admire?
There are so many it's hard to pick one. I'm a big fan of mystery novelist Laura Lippman. Each book is better than the last. She's always honing her craft.
11--Is there a book that changed your life?
Funnily enough, that's probably "Life Among the Savages", a collection of Shirley Jackson's essays for Good Housekeeping. I read it when I was eight years old and her sardonic wit, style, and off-kilter way of looking at the world stayed with me. I was a strange kid and now am a strange adult. I still reread it every couple of years.
12--Tell us about when you got "the call." (when you found out your book was going to be published)/Or, for indie authors, when you decided to self-publish.
My first book was The Taker, a supernatural dark romance. It took me 10 years of writing and editing to get it to the point where it was saleable. I was thrilled, of course, and foolishly thought I knew what to expect, but I didn't. No matter how much you think you know about book publishing, it's a complete surprise.
13--What's your favorite genre to read?
I read all over the map. I'm mostly known for horror these days, so of course I read that, but also speculative fiction, mystery and thriller, and general fiction. Mostly I'm looking for extraordinary writing.
14--What's your favorite movie?
Hmm, I don't know that I have one single favorite movie. My favorite spy film/show right now is The Night Manager (2016), the version with Tom Hiddleston.
15--What is your favorite season?
Autumn, for sure. It comes from being raised in New England.
16--How do you like to celebrate your birthday?
With a carrot cake!
17--What's a recent tv show/movie/book/podcast you highly recommend?
The Devil's Hour (FX/Hulu), a British crime show with a touch of scifi, is the best thing I've seen recently.
18--What's your favorite type of cuisine?
Mexican or Korean, probably.
19--What do you do when you have free time?
We just bought an Airstream so I'm hoping to do some camping and traveling.
20--What can readers expect from you next?
I'm working on a horror novel, a contemporary set in—you guessed it—New England!
Red Widow #2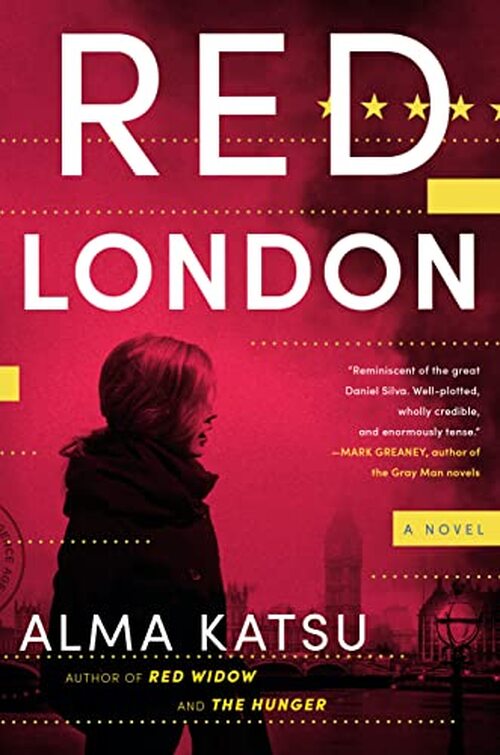 CIA agent Lyndsey Duncan's newest asset might just be her long-needed confidante...or her greatest betrayal.
After her role in taking down a well-placed mole inside the CIA, Agent Lyndsey Duncan arrives in London fully focused on her newest Russian asset, deadly war criminal Dmitri Tarasenko. That is until her MI6 counterpart, Davis Ranford, personally calls for her help.
Following a suspicious attack on Russian oligarch Mikhail Rotenberg's property in a tony part of London, Davis needs Lyndsey to cozy up to the billionaire's aristocratic British wife, Emily Rotenberg. Fortunately for Lyndsey, there's little to dissuade Emily from taking in a much-needed confidante. Even being one of the richest women in the world is no guarantee of happiness. But before Lyndsey can cover much ground with her newfound friend, the CIA unveils a perturbing connection between Mikhail and Russia's geoplitical past, one that could upend the world order and jeopardize Lyndsey's longtime allegiance to the Agency.
Red London is a sharp and nuanced race-against-the-clock story ripped from today's headlines, a testament to author Alma Katsu's thirty-five-year career in national security. It's a rare spy novel written by an insider that feels as prescient as it is page-turning and utterly unforgettable.
Thriller Spy | Thriller Political [G.P. Putnam's Sons, On Sale: March 14, 2023, Hardcover / e-Book, ISBN: 9780593421956 / eISBN: 9780593421963]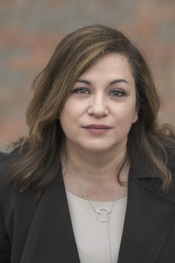 Alma Katsu's books have received starred reviews from Publishers Weekly, Booklist, and Library Journal, been featured in the NY Times and Washington Post, been nominated and won multiple prestigious awards, and appeared on numerous Best Books lists including NPR, the Observer, Barnes and Noble, Apple Books, Goodreads, and Amazon.
RED WIDOW is her first spy novel, the logical marriage of her love of storytelling with her 30+ year career in intelligence. As an intelligence officer, Ms. Katsu worked at several federal agencies as a senior analyst where she advised policymakers and military commanders on issues of national security. The last third of her government career was spent in emerging technologies and technology forecasting. She was also a senior technology policy analyst for the RAND Corporation and continues as an independent consultant and technology futurist, advising clients in government and private industry.
Ms. Katsu also writes novels that combine historical fiction with supernatural and horror elements. THE HUNGER (2018), a reimagining of the story of the Donner Party, was named one of NPR's 100 favorite horror stories, was on numerous Best Books of the Year lists, and continues to be honored as a new classic in horror. Her first book, THE TAKER (2011), was named one of the top ten debut novels of 2011 by Booklist.
Ms. Katsu has relocated from the Washington, DC area to the mountains of West Virginia, where she lives with her musician husband Bruce and their two dogs, Nick and Ash.
No comments posted.