1--What is the title of your latest release?
2--What's the "elevator pitch" for your new book?
Midnight Duet Is my modern romantic comedy retelling of Phantom of the Opera, featuring a disgraced Broadway diva, Erika Greene, as the Phantom, and a German hair metal rock star as Christof Daae, the vocalist with whom she falls in love when she agrees to let his band, Nachtmusik, rent her dilapidated opera house to record their first English-language album.
3--How did you decide where your book was going to take place?
I wanted this book to pay tribute to the over-the-top glamour and melodrama of the Andrew Lloyd Webber musical, and there's only one place in our modern world that truly fits the bill: Las Vegas. Or in this case, "Paris," a fictional French-inspired tourist trap an hour outside of Vegas.
4--Would you hang out with your protagonist in real life?
Erika Greene would never be caught dead in such pedestrian company. But I think I'd get along with some of the supporting cast–especially Sibylle, Nachtmusik's macabre-obsessed bassist, who was inspired by one of my best friends in real life. Sibylle loves a ghostly murder mystery, and she spends most of the book trying to figure out who really dropped a chandelier on Erika's great-great-grandmother, the infamous Mistress Giry.
5--What are three words that describe your protagonist?
Dramatic, vain, and lonely (yet surprisingly redeemable).
6--What's something you learned while writing this book?
This book is about two musicians, set entirely in the world of music–except I have no musical talent or knowledge whatsoever. In third grade, I was gently directed to the xylophone in choir class, only for my teacher to discover that I couldn't keep a beat, either. Thankfully, I have a deep bench of musician and theater friends who helped me with questions like, "What is an amp, and how do I set one on fire?" and "What's the most melodramatic Broadway song ever written?" ("Memory" from Cats: The Musical ).
7--Do you edit as you draft or wait until you are totally done?
Both. I'm my own worst enemy. I overthink and rewrite sentences 50 times, only to realize that it was actually perfect the first time I wrote it. I'm also an unrepentant over-writer; I've never met a word count goal in my life on the first try. So that means I spend most of my time "revising" trying to trim 50% of the words I've written.
8--What's your favorite foodie indulgence?
Dark Chocolate Covered Pretzels from Trader Joe's. But you have to put them in the fridge, so the chocolate doesn't melt when you bite into it. Perfect bittersweet/salty crunch! Nothing compares, so I gave my heroine, Erika, the same addiction.
9--Describe your writing space/office!
I used to work at my desk, like I thought a professional writer was supposed to do. I saw it on TV. But then I got diagnosed with RA (rheumatoid arthritis) and realized that I might write better if I'm not in pain from sitting in my desk chair. Now, I do most of my writing under a heat blanket on my couch in the living room, but I'm also starting to use dictation software, which means I can also write scenes while walking the dog, cooking dinner, or at 4:00am when I wake up with the most brilliant idea that I'm afraid I'm going to forget in the morning.
10--Who is an author you admire?
Trick question; I have too many to list. Seriously! I learn by reading and observing what other authors are doing well. Nothing I've written or done in my career is unique; I'm an amalgamation of every writer who did it first, better, and cooler.
11--Is there a book that changed your life?
"The True Confessions of Charlotte Doyle" by Avi. I read that book as a kid about a trillion times, and I realize now that what I liked about that book is what I like to write now: a heroine's journey to finding her own place in the world. Charlotte is kind of a Mary Sue, though, and as I got older, I found I related more to heroines who were as flawed and unlikeable as I saw myself as being at the time. Sounds dark, but I think it's actually reaffirming. A lot of people who identify as women struggle with feeling like they fall short of the stereotypical "heroine" mold. And part of Erika's journey in Midnight Duet is learning to love herself for who she is–flaws and all–and accept (and demand nothing less than) the HEA she deserves.
12--Tell us about when you got "the call." (when you found out your book was going to be published)/Or, for indie authors, when you decided to self-publish.
It was during the pandemic, and I was unemployed because the restaurant I worked at had closed. You better believe I was thrilled to get that book deal! I was broke as hell!
13--What's your favorite genre to read?
Romance.
14--What's your favorite movie?
Pirates of the Caribbean. That movie is flawless storytelling from start to finish. Really a master class in worldbuilding, character arcs, and plotting. Not a single detail or background character is wasted. This movie is what happens when you fully, 100% commit to a bonkers concept and characters, and I try to recreate that feeling in my books.
15--What is your favorite season?
Summer. I am only happy when it's 90 degrees out. I want to make out with the sun. In this essay I will explain why I have chosen to live in Portland, one of the rainiest cities.
16--How do you like to celebrate your birthday?
I plead the fifth. I'm a Sagittarius; we don't say no to a good time. I'm actually still recovering.
17--What's a recent tv show/movie/book/podcast you highly recommend?
Have you all watched this year's Jeopardy! Tournament of Champions? It was absolutely, breathlessly thrilling! Unbelievably competitive and some of the best Jeopardy! play I've ever seen since I started watching that show 25 years ago.
18--What's your favorite type of cuisine?
Bread and cheese. Incidentally, I'm on an anti-inflammatory diet for my RA and I'm not supposed to eat bread and cheese. But I love it. And you can't turn your back on love, can you?
19--What do you do when you have free time?
I taught my dog to use those voice buttons so we can have conversations. This was a huge mistake. She's a husky with an attitude and if I refuse to acquiesce to her demands for free treats, she tells me "LOVE YOU ALL DONE," which I assume translates to, "You're dead to me."
20--What can readers expect from you next?
I can't share anything official, but I am working on my most favorite and nerdiest project yet! I can't wait until I can tell everyone more about it.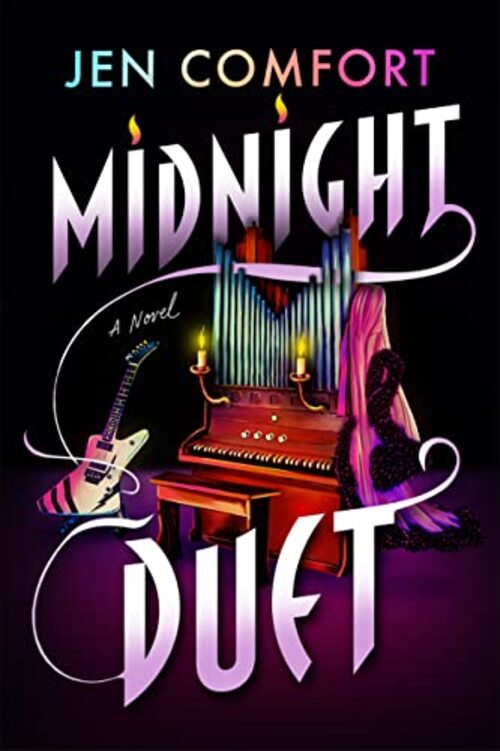 From The Astronaut and the Star author Jen Comfort comes a wildly electric romance about two musicians who collide on the stage of a Nevada opera house.
Self-professed diva Erika Greene has it all: a starring role on Broadway, legions of fans, spectacular natural talent. But after an accident on stage leaves her face scarred and her career in shambles, Erika retreats to Paris, Nevada, where she's inherited a ramshackle opera house in desperate need of some TLC.
Erika pours her savings into the building, but it's not enough to stave off casino developer Raoul Decomte's avaricious gaze. With foreclosure imminent, she leases the space to some unexpected tenants: a German hair metal band, fronted by glam rock god Christof Daae.
Erika is tempted by Christof's low-slung leather pants—and even more so by his ambitious drive to make Nacht Musik international superstars—but he's off-limits. The rest of his band thinks he's still dating their beloved keyboardist, who is conveniently not present on this jaunt to the American Southwest. When Erika finds out Christof's been unceremoniously dumped and is trying to keep it under wraps, she makes a deal to keep his secret…for a price, of course.
Christof is desperate to hold the rest of the band together after his keyboardist's departure, but he can't maintain the charade forever. Nor can he resist the opera house's mysterious proprietor, who tempts him with midnight singing lessons. It isn't long before sensuous nighttime interludes turn into smoldering backstage encounters.
But can their newly ignited passion survive the searing light of day? Or will their beautiful duet turn into a brokenhearted power ballad for one?
Romance Comedy | Romance Contemporary [Montlake, On Sale: January 10, 2023, e-Book, / ]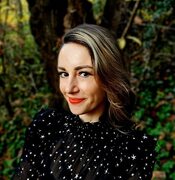 Jen Comfort is a Portland, Oregon, native who dabbled in astrophysics before spending a decade working in restaurants in New York City and Portland. Now, she writes romantic comedies about hot nerds with very cool jobs. She spends her free time growing plants destined to die before their time, playing video games, and encouraging her two cats and malamute-husky dog to become internet famous with zero success.
No comments posted.