MURDER AT THE MAJESTIC HOTEL Copyright © 2022 Clare McKenna, Excerpt with Permission from Kensington

Stella rested her cheek against the pillow as Lyndy traced the length of her neck with hot, gentle kisses. She shifted to capture his lips with her own, wrapping her arms around his shoulders and pulling him to her. She couldn't get close enough.
"Bugger off the pair of ya!" A door slammed, and someone began pounding on it from outside in the hall.
The hostility jolted Stella upright. Flashes of her father's temper flooded her with emotions she hadn't had to face in days—grief, guilt, fear. But Lyndy's warmth as he wrapped his arm around her bare shoulders, pulling her protectively to him, eased it all away.
"Horace, please," a woman's voice pleaded. "We need to speak with you."
"Confound it, Uncle, what's going on?" a man's voice demanded.
The pounding continued.
"Bloody hell," Lyndy whispered as he flung the bedclothes off.
For a moment, the sight of his skin, the well-formed muscles in his back glistening with sweat in the glow of the fire, made her forget there was an altercation taking place a few feet from their door. Then curiosity overcame her, and she followed Lyndy in slipping off the bed, wrapping her silk dressing gown around her. Wanting to see how the argument would play out, she laid a hand on Lyndy's shoulder as he, poised to storm into the hall demanding he and his bride be left in peace, reached for the doorknob. He hesitated, preparing to object, but she put her finger to her lips and, reaching past him, turned the brass knob. It was pleasantly cool against her clammy palm.
What compelled her to eavesdrop on Mr. Wingrove's argument, she couldn't say. Was it memories of her father? Did she need to know why someone was disturbing the older man's peace in order to restore her own? She should either ignore the clash in the hall or let Lyndy put a stop to it. She did neither. Instead, with Lyndy peering over her shoulder, Stella peeked out through the tiny crack she'd opened in the door. Though he'd never admit it, Lyndy was as curious about what was going on as she was.
Across the hall, a tall woman, smartly dressed in a brown, tailored traveling suit, the same coffee color as her expensively coiffed hair, not a strand of it out of place beneath her cream, felt toque, continued to bang on the Honeymoon Suite door. A bare-headed man, with a full sandy-blond mustache and prominent square chin, stood off to the side behind her, disheveling his hair more and more as he combed his hands through it in frustration. His dark gray pant legs were wrinkled, presumably by sitting uneasily for too long. He was in his mid to late twenties, she slightly older, by five, perhaps even ten years. Stella would never have assumed they'd make a couple. Yet, here they were, alone together at this time of night, demanding entrance to Mr. Wingrove's room. But then again, she wasn't the best judge. Who would've bet she and Lyndy would make such a good pair?
"Oh, all right," Mr. Wingrove said before he swung open his door. "Stop that infernal pounding."
The old man was in his dressing gown, but with his hair neat and his expression wary, he hadn't the look of someone recently woken. He clutched the doorknob and leaned on the door's edge. His face was flush as he scanned the hall beyond his intruders. Stella cringed, despite knowing full well that from that distance, he couldn't tell their door was cracked open, let alone that they were spying on him.
"This is a respectable hotel, not some fire station. You'll wake everyone."
"Uncle, won't you let us in?" the young man asked.
"So, Lily, it wasn't my imagination after all," Mr. Wingrove said, meaningfully dressing down the woman with his frosty glare. The woman shouldered past him into the room.
"I don't know what you're going on about, Horace."
"I thought I left you in Wolverhampton," the old man grumbled. "I should've known you would follow me here. You might as well come in too, Morgan."
"We didn't come to be a bother."
Mr. Wingrove dismissed him with a wave as he shuffled back into the suite. The nephew disappeared inside, closing the door behind him.
"What was that all about?" Stella said, turning to face Lyndy.
"As long as they are done disturbing us, I couldn't care less."
Lyndy slipped his hand under her loose, cascading hair, resting it on the nape of her neck. He leaned into her, guiding her against the door, which closed with a faint click. "Now, my love, where were we?"
His lips met hers softly at first, then pressed more firmly as he sought to move past the interruption. With questions swirling in her head, Stella couldn't dismiss it as easily. Who was that couple? What were they doing here after midnight? Why was Mr. Wingrove so upset about seeing them? But as Lyndy's other hand slipped beneath her dressing gown, finding its way to the small of her back, her mind emptied, and she could think of nothing but his touch. She returned his kiss with a hunger that surprised her.
A startling bang of a door resounded from the hall.
"That's it! I've had enough."
Lyndy broke away in frustration and anger, ready to yank the door open and demand an apology. But voices, on the other side, stilled him yet again. It was the disruptive couple walking past. Through the door, Stella caught snippets.
"Not well."
"Difficult to reason with."
"He's getting worse."
"Something must be done."
Stella assumed they were referring to Mr. Wingrove. But what did they mean?
Lyndy, determined to say his piece, eased Stella aside. But when he flung open the door, still tying the belt around his dressing gown, the pair was gone.
A Stella and Lyndy Mystery #4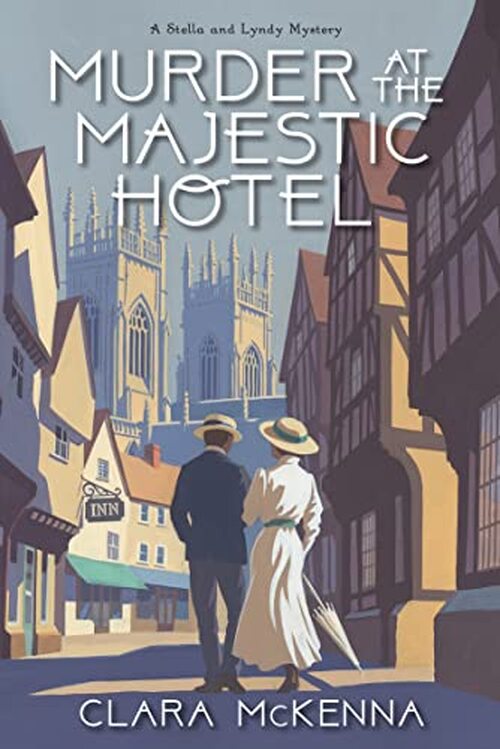 Leaving behind tragedies surrounding their wedding at Morrington Hall, travel-worn Stella and Lyndy arrive at the grand Majestic Hotel in York to more misfortune—their stately honeymoon suite has been given away to Horace Wingrove, owner of England's largest confectionery. Stella refuses to let an innocent booking mistake spoil the mood, but her optimism vanishes when Horace suffocates in the room where she and Lyndy should have stayed . . .
Unlike authorities on the scene, Stella can't believe the business magnate's death can be explained away as an accident. Troubling signs are everywhere—strange murmurs in the hallway, tight-lipped hotel staff, and a stolen secret recipe for Wingrave's famous chocolate. Then there are Horace's murky intentions for visiting the historic cathedral city, and those who were closely watching his every move . . .
As Stella and Lyndy tour Yorkshire and mingle with royals as husband and wife, they face a sinister mystery that puts their vows to the test. Can the couple work together to discover the truth about their romantic destination and the strange happenings haunting their trip before they're treated to another terrifying surprise?
Mystery | Historical [Kensington, On Sale: October 25, 2022, Hardcover / e-Book, ISBN: 9781496738189 / eISBN: 9781496738196]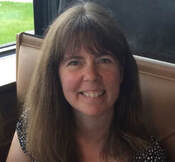 Clara McKenna has a B.A. in Biology from Wells College and a M.L.I.S in Library and Information Studies from McGill University. She is the founding member of Sleuths in Time, a cooperative group of historical mystery writers who encourage and promote each other's work. She is also a member of Mystery Writers of America and Sisters in Crime.
No comments posted.