1--What is the title of your latest release?
ONLY BAD OPTIONS is book #1 in my Galactic Bonds science-fiction fantasy romance series.
2--What's the "elevator pitch" for your new book?
Only Bad Options is a mix of science fiction (spaceships, planets, etc.); fantasy (people with magical abilities, weapons, etc.); a touch of historical romance; and a broody, Mr. Darcy-type space assassin. LOL. It also contains:
Space opera
Soul mates
Enemies to lovers
Pew! Pew! Pew! action scenes
A boiling lava planet of doom.
3--How did you decide where your book was going to take place?
I had never written a sci-fi book before, and I thought it would be a fun challenge to write my own sci-fi book and put my own spin on the genre.
4--Would you hang out with your protagonist in real life?
Absolutely! Vesper Quill is a lab rat (think engineer/inventor), and she could definitely help me with some home repairs and projects. LOL.
5--What are three words that describe your protagonist?
Smart, determined, capable.
6--What's something you learned while writing this book?
I was searching for some names to use in the book, and I decided to look up star constellations. I had no idea there are 88 recognized constellations, and it was fun learning more about the constellations and their stars, shapes, and names.
7--Do you edit as you draft or wait until you are totally done?
My first draft is what some folks refer to as a "vomit draft". I write from start to finish, just trying to get the words/story down as fast as possible. Then, once I'm done with the whole thing, I will go back and start editing and revising. I usually do about four drafts before I'm satisfied with the book.
8--What's your favorite foodie indulgence?
Tough question! I love cheese fries, strawberry cheesecake ice cream, and gummy bears.
9--Describe your writing space/office!
It's pretty boring. Just my desk, monitor, keyboard, mouse, and laptop. Although I do have a collection of Captain America and other Funkos sitting on top of my desk to keep me company and loom over me while I'm writing. LOL.
10--Who is an author you admire?
Some of my favorite authors include Robin McKinley, Lisa Kleypas, Ian Fleming, and Donald E. Westlake.
11--Is there a book that changed your life?
One of my all-time favorite books is Beauty by Robin McKinley, which is a lovely retelling of the Beauty and the Beast fairy tale. It's one of the first fantasy books that I remember absolutely loving when I was younger.
12--Tell us about when you got "the call." (when you found out your book was going to be published)/Or, for indie authors, when you decided to self-publish.
Only Bad Options is a mishmash of genres – science fiction, urban fantasy, and historical romance – so it doesn't fit neatly into a single traditional publishing category. But I really love the different genres in the book, and that's one of the reasons I decided to self-publish it.
13--What's your favorite genre to read?
I love all kinds of fantasy and romance, along with spy thrillers, westerns, comics, and more.
14--What's your favorite movie?
Captain America: The Winter Solider. I think it's the best Marvel movie, hands down. It has a lot of great action, and some really great personal stakes as Steve Rogers struggles with trying to save his old friend Bucky Barnes versus saving the world.
15--What is your favorite season?
Fall and winter. I love seeing the autumn leaves, and I also love snow.
16--How do you like to celebrate your birthday?
I enjoy taking some time off and hanging out with friends and family. I also like to treat myself to something on my birthday. It doesn't have to be big, but just something I have been looking forward to, like a new color of nail polish, a new book to read, or making the time to watch a new movie or TV show.
17--What's a recent tv show/movie/book/podcast you highly recommend?
Two of my favorite shows recently involve ghosts. I've been enjoying Nancy Drew on the CW, which is like Veronica Mars but with ghosts and supernatural spirits. I also really like the humor and characters on Ghosts on CBS, which is such a sweet, smart, funny show.
A friend also recommended Only Murders in the Building on Hulu to me, and I love the show's humor and madcap, cozy-mystery vibe.
18--What's your favorite type of cuisine?
I love Italian. I can eat pasta, tomatoes, and cheese any day of the week. I also love a cheeseburger with fries and a chocolate milkshake.
19--What do you do when you have free time?
I love to do yoga and hang out with friends and family. I also watch waaay too much TV, as you can probably tell from question #17. LOL.
20--What can readers expect from you next?
I hope everyone enjoys Only Bad Options. If it does well, then I'm hoping to write a trilogy about Vesper and Kyrion's adventures.
Up next, I will be publishing Sugar Plum Spies on Nov. 8. It's a short holiday book in my Section 47 urban fantasy, spies-with-magic series.
Happy reading, everyone!
Galactic Bonds #1
A WOMAN WHO SEES EVERYTHING . . .
Few people know the name Vesper Quill. To most folks, I'm just a lowly lab rat who designs brewmakers and other household appliances in the research and development lab at the powerful Kent Corp. But when I point out a design flaw and a safety hazard in the new line of Kent Corp starcruisers, everyone knows who I am—and wants to eliminate me.
I might be a seer with a photographic memory, but I don't see the trouble headed my way until it's too late. Suddenly, I'm surrounded by enemies and fighting for my life.
I don't think things can get any worse until I meet Kyrion Caldaren, an arrogant Regal lord who insists that we have a connection, one that could be the death of us both.
A MAN WHO CAN'T FORGET HIS PAST . . .
The name Kyrion Caldaren strikes fear in the hearts of people across the Archipelago Galaxy. As the leader of the Arrows, the Imperium's elite fighting force, I'm used to being a villain, as well as the personal assassin of Lord Callus Holloway. Even the wealthy Regals who live on the planet of Corios are afraid of me.
But everything changes when I meet Vesper Quill. I might be a powerful psion with telepathic, telekinetic, and other abilities, but Vesper sees far too many of my secrets.
Thanks to an arcane, unwanted quirk of psionic magic, the two of us are forced to work together to unravel a dangerous conspiracy and outwit the dangerous enemies who want to bend us to their will.
Fantasy | Science Fiction Space Opera | Romance Science Fiction [Author Self-Published, On Sale: September 20, 2022, Paperback / e-Book, ISBN: 9798765593462 / eISBN: 9781950076116]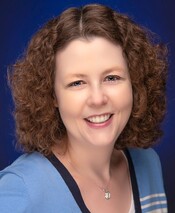 Jennifer Estep is a New York Times, USA Today, and internationally bestselling author prowling the streets of her imagination in search of her next fantasy idea.
Only Bad Options, book #1 in her Galactic Bonds science-fiction fantasy romance series, will be released Sept. 20.
Jennifer is also the author of the Section 47, Elemental Assassin, Crown of Shards, Gargoyle Queen, and other fantasy series. She has written more than 40 books, along with numerous novellas and stories.
In her spare time, Jennifer enjoys hanging out with friends and family, doing yoga, and reading fantasy and romance books. She also watches way too much TV and loves all things related to superheroes.
No comments posted.