1--What is the title of your latest release?
2--What's the "elevator pitch" for your new book?
When a feuding crime reporter and detective set aside their differences to solve the cold case of a missing teen, they find they make a good team – in more ways than one.
3--How did you decide where your book was going to take place?
I like setting my mysteries in small towns, because it tends to make the crimes more surprising. Everyone knows everyone, and there's usually a lot of history involved there, which creates interesting suspects. Bad Press takes place in Bristol, Virginia, which lies right on the border with Tennessee. I chose that area because I'd recently driven through Virginia and Tennessee on a road trip, and I thought it was beautiful – and much different than my home region of the Mid-Atlantic. Not to mention, it was the perfect opportunity to give my leading man a dreamy southern accent.
4--Would you hang out with your protagonist in real life?
Absolutely! Evie would be a blast to hang out with. Since she's a reporter, she can always keep the conversation going, and she's a great listener. Being on the crime beat, Evie's used to going with the flow and changing tactics on a dime, so she'd definitely be the friend who's up for any kind of last-minute plans. You wouldn't have a boring time with Evie.
5--What are three words that describe your protagonist?
Confident, determined, impulsive
6--What's something you learned while writing this book?
Writing this book made me a lot more confident in my writing skills. When I first had the idea for Bad Press, I was worried I wouldn't be able to execute it, since the crime element was more complex than in my debut. I thought I could only write lighter, funnier things. To my absolute surprise, Bad Press flowed out of me, and I had a draft done in under two months. Now when I have an ambitious idea, I jump in and start writing instead of worrying I can't do it. I've learned I always manage to figure it out.
7--Do you edit as you draft or wait until you are totally done?
It depends. Some scenes I have such a clear vision for, I stop everything and tinker with them until they're perfect. Other sections, I coast over a bit and promise myself I'll fix them later. As a perfectionist, it's incredibly hard for me to leave unpolished scenes lying around! But I do try to keep things moving when I'm drafting, just to get the complete story on the page.
8--What's your favorite foodie indulgence?
Happy Hour! My friends and I try to get together regularly, and we go all out, not worrying about how much we're spending. Fancy cocktails, nachos, flatbreads, truffle fries, cheese boards, tacos…we do it all. There's nothing better than catching up with friends while treating yourself to some drinks and delicious food.
9--Describe your writing space/office!
I actually don't have a designated office space. I write anywhere I can – the couch, the kitchen table, my bed, outside on a nice day. My ideal writing space would be on the back porch of a beach house, listening to the waves and feeling the ocean breeze on my face. A girl can dream, right?
10--Who is an author you admire?
Tana French. She's one of the best mystery writers I've ever read. She has such a gift for prose, but can also write twisty mysteries, and complex, lovable characters. I've read all of her books, and they've had a lasting, emotional impact on me. My goal is to write something half as good as her one day.
11--Is there a book that changed your life?
The Stephanie Plum series by Janet Evanovich. One summer I binge-read about twenty of these books. The combination of mystery, romance, and humor really struck a chord with me. I thought, 'I want to write a book just like this.' A year later, I'd written my debut novel, Another Day, Another Partner, which to my absolute delight, many readers have compared to Stephanie Plum. If I hadn't read those books, I don't think my debut novel would exist.
12--Tell us about when you got "the call." (when you found out your book was going to be published)/Or, for indie authors, when you decided to self-publish.
It was a pretty ordinary evening when I got the email from my agent, letting me know my publisher (who'd published my debut) also wanted to publish Bad Press. The editor said something along the lines of, "Rachel hit another home run with this one." I think her comments made me cry happy tears. Bad Press is my favorite thing I've written, so learning it was going to be put out into the world was emotional in the best way.
13--What's your favorite genre to read?
I devour mysteries/police procedurals. Bonus points if there's a strong romantic thread. In my opinion, there's nothing better than watching two people try to solve a compelling crime while fighting feelings for each other. (A theme very prevalent in my own writing.) My favorite example of this scenario is the relationship between the police chief and medical examiner from Karin Slaughter's Grant County series.
14--What's your favorite movie?
It's so hard to pick just one! When I'm in the mood for an emotional gut punch, I'll put on Interstellar. When I want something heartwarming that'll make me laugh, I'll put on Crazy Stupid Love. Much like my taste in books, the movies I watch tend to be either intense and dramatic, or light and funny.
15--What is your favorite season?
Summer, 100%. My favorite activity is reading on a float in the middle of the pool with a pina colada nearby.
16--How do you like to celebrate your birthday?
I'm definitely a fan of more low-key celebrations – going out for dinner and drinks with a few friends or planning a small weekend getaway. And there's always cake and wine, of course.
17--What's a recent tv show/movie/book/podcast you highly recommend?
A book I read recently and loved was The Idea Of You by Robinne Lee. I couldn't put it down. It was an escapist, heartbreaking romance that stuck with me for a while after I'd finished it. The characters were lovable and had electric chemistry, and the book made me question a lot of things about life, dreams, and love. Those are the best kinds of books, in my opinion.
18--What's your favorite type of cuisine?
I love almost every kind of Asian food – sushi, pad Thai, ramen, beef teriyaki, pot stickers, you name it. After a hard week, my go-to weekend comfort meal is a big batch of Chinese takeout.
19--What do you do when you have free time?
Much of my free time is dedicated to reading and writing, but I also like playing tennis and trying out some fancy new dinner recipes on the weekends.
20--What can readers expect from you next?
My next novel is currently in the hands of my agent. It's different from my first two books since it's not a traditional mystery, but it still has crime and romantic elements. It centers around three college friends who reunite years later, leading to old tensions and secrets coming to light. It was the most difficult and time-consuming thing I've written so far, but I really love how it turned out, and I hope I have news about it soon. In the meantime, I'm working on sequels for both Another Day, Another Partner and Bad Press – so readers can expect to see more of those characters!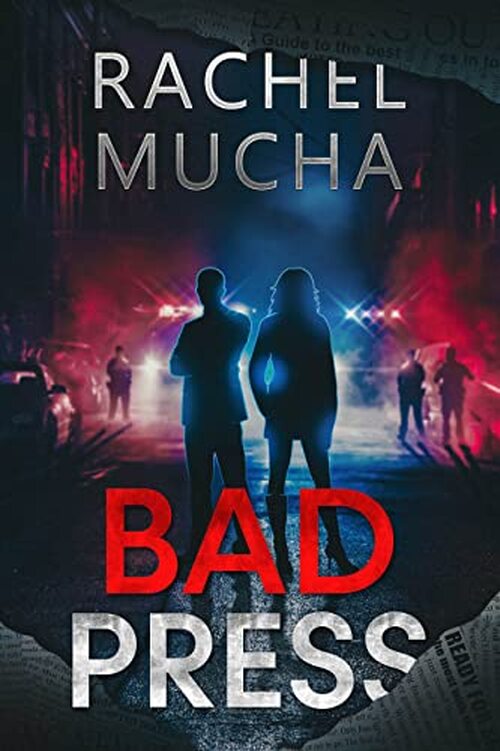 Crime reporter Evie Hartley was at the height of her career, but a series of ethical missteps cost her everything. Now, she's working for a small-town newspaper's culture section, trying to prove to everyone, especially herself, that she's able to do her job by the book.
When there's an opening for the crime beat, Evie jumps at the chance. And while she manages to impress her boss, she makes an enemy of the detective she played to get the inside scoop. Her methods may straddle the line between professional and underhanded, but they work, and Evie solves a case the police haven't been able to crack. Detective Marcus "Penn" Pennington reluctantly calls a truce and becomes her go-to police source as she investigates more crimes for the paper.
Evie's thirst for the truth sets her on a dangerous path, and poking around in a cold case results in sinister anonymous threats. When she forms an alliance with someone who seems to know far more about the missing person's disappearance than he should, Penn sticks to Evie like glue, blurring the lines between protection and possession. But even with a cop watching her back, Evie's willingness to do anything to get the story might just get her killed.
Romance Suspense [City Owl Press, On Sale: September 13, 2022, e-Book, ISBN: 9781648981883 / eISBN: 9781648981883]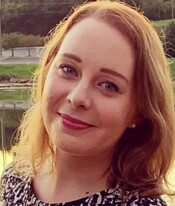 Rachel has been writing all her life, whether it be short stories, satire articles, or the occasional piece of fan fiction. A graduate of Ithaca College, Rachel currently writes business and HR articles by day, and mystery novels by night. Her fascination with crime-solving started at a young age with Nancy Drew books, and carried into adulthood with countless detective shows and novels. Rachel currently resides in the Philadelphia suburbs, where you're just as likely to find her wrapped up in a dark police procedural as a mushy romantic comedy.
No comments posted.