1--What is the title of your latest release?
2--What's the "elevator pitch" for your new book?
When her connecting flight home is canceled until morning, an investigative journalist is reunited with her childhood crush for an unexpected night of passion. But when she discovers his relationship to the dangerous story she's researching, they'll have to be careful to keep their budding love affair from blowing up into an international scandal.
3--How did you decide where your book was going to take place?
I wrote this in fever during 2020, at the peak of the pandemic. It was an escape for me in every way, and all I knew when I started was that the hero, Alec, lived in London and the heroine, Gigi, lived in Los Angeles. Opening the book in a place where neither of them lived—Seattle—seemed like the best way to get them out of their normal circumstances and willing to ignore the rules for what they both think is just one night.
4--Would you hang out with your heroine in real life?
Absolutely. Gigi is ambitious, loyal, and genuine. She's my kind of friend.
5--What are three words that describe your hero?
Sexy, skilled, sincere.
6--What's something you learned while writing this book?
That even if I've written other things under different names there is still so much joy to be found in writing something unselfconsciously, purely for myself.
7--Do you edit as you draft or wait until you are done?
A little of both. I usually draft quickly but then once I finish a scene or chapter I go through and play in it a little bit before moving on.
8--What's your favorite foodie indulgence?
A true—and rare—indulgence: a food and wine pairing at a really good restaurant. I love when I don't even need a menu and know the chef will create a meal that I'll never forget.
9--Describe your writing space/office!
I write at home! I love my office and have spent a lot of time making it my happy little cave. There is fan art of my favorite band and books and little pins, statues, and framed photos that make me happy.
10--Who is an author you admire?
Ali Hazelwood. She burst onto the romance scene with smart, steamy, engrossing reads, has sold millions of books across the world, but maintains the most genuine sweetness and compassion. She's an inspiration to me from a writing standpoint, but also from a humanity standpoint—we should all treat each other, and our peers' works, with such enthusiastic kindness and awe.
11--Is there a book that changed your life?
Every book I fall in love with changes me, but works by Amy Tan, Barbara Kingsolver, and Kent Haruf showed me what it felt like to want the world to melt away so I could keep reading. Those authors made me a reader. But there has always been the swooning heart inside this body and the truth is I love books and I love kissing. I write romance because of the two Stephs: Stephanie Perkins and Stephenie Meyer.
12--Tell us about when you got "the call." (when you found out your book was going to be published)
Like I said above, I wrote this book purely for myself and my friend in the darkest part of the pandemic. I never expected to do anything with it. But when it was done, I really loved it. And having written books before, I knew it was possible that someone else might love it, too. And even if no one else loved it, it had already served its purpose—it was FUN to write. So, without expectation or anxiety, I sent it to my agent who sold it – and even now it feels like I got away with something. Like this was all too easy and too fun to be real.
13--What's your favorite genre to read?
Romance and narrative nonfiction.
14--What's your favorite movie?
The Princess Bride
15--What is your favorite season?
Autumn
16--How do you like to celebrate your birthday?
A meal with friends
17--What's a recent tv show/movie/book/podcast you highly recommend?
It will come as no surprise to anyone who's seen the show that the character of Alec Kim was inspired by the actor in Crash Landing on You, Hyun Bin. I don't usually have such a clear person in mind when I create a character for a book (and truthfully, Alec evolved and morphed into someone unique and distinct as I wrote him) but Crash Landing on You is a romance lovers' playground. I loved Captain Ri's competence (and his dimples). I love how fully the show leans into tropes and drama and romance. Western television often shies away from all these indulgent and romantic themes, but I'll never understand why. We eat it up like candy. I'll recommend that series to anyone and everyone, though most people reading this have likely seen it by now and fallen down the rabbit hole.
18--What's your favorite type of cuisine?
Anything with fresh seafood.
19--What do you do when you have free time?
I write. It's funny but it's true. When I have a break from writing, I write something else. And now you have that book in your hands!
20--What can readers expect from you next?
Hopefully you can expect Eden's book. No idea when it will be done, but so far working on it is a blast!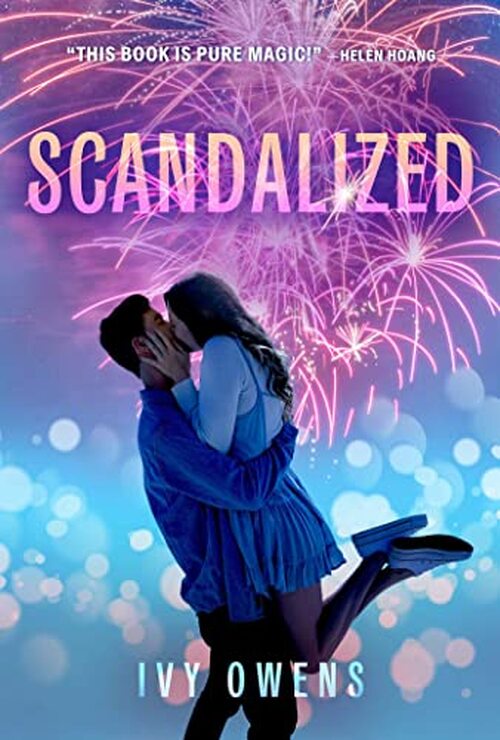 Exhausted and on deadline with a story that could make or break her career, investigative journalist Georgia Ross is on the verge of a meltdown when a cancelled flight leaves her stuck in the airport overnight. But when a familiar face appears—the older brother of her childhood friend—and offers help, Gigi seems to have caught a break.
Alec Kim is handsome, humble, and kind—exactly the sort of man that Gigi has forgotten existed after her own painful heartbreaks. An evening of reconnection followed by a night of no-strings-attached passion with Alec feels like a gift—that is, until Gigi finally realizes that their childhood connection isn't the only reason he seems so familiar to her.
Alec is determined to prove to Gigi that he is truly the man she thinks he is, even if it means coming clean about his fame—and his family's connection to the story Gigi's been working so hard to break. But as their feelings for each other grow deeper, Gigi and Alec must navigate a new reality…one where both of their hard-won careers are put directly in the path of an international scandal.
Romance Erotica Sensual | Romance Contemporary [Simon and Schuster, On Sale: August 23, 2022, Mass Market Paperback / e-Book, ISBN: 9781982199852 / eISBN: 9781982199869]
Ivy Owens has been writing her entire life and publishing bestselling romance novels for nearly a decade under a different pen name. Scandalized was a labor of love written in the wild paradox of boredom and inspiration during the pandemic. She lives in California with her husband, two kids, and two dogs, and is rarely seen without a book in hand
No comments posted.