1--What is the title of your latest release?
2--What's the "elevator pitch" for your new book?
When ghost whisperer Gianna Mancini finds a dead dance teacher, she strikes out to discover the murderer to save her niece, but the teacher's ghost has more fun scaring people in mirrors then helping, and the killer will stop at nothing to get Gianna out of the way.
3--How did you decide where your book was going to take place?
South Shore Beach is the fictional version of the town I grew up in, Long Beach on Long Island, NY. I haven't lived there in decades, but I have fond memories of the town. No other place I've lived since has been anything like it.
4--Would you hang out with your sleuth in real life?
Absolutely! Gianna would be a great friend, and she loves to eat. We'd get along well.
5--What are three words that describe your sleuth?
Loyal, determined, brave
6--What's something you learned while writing this book?
I researched dance terms and competition locations in the real towns based around my fictional one.
7--Do you edit as you draft or wait until you are totally done?
I don't edit as I go, but I often stop about halfway and go back to start editing. If I've spent some time away from the manuscript, I'll "start over" to refamiliarize myself. Or if I've made a significant change, I'll want to straighten the previous part before moving on.
8--What's your favorite foodie indulgence?
Ice cream
9--Describe your writing space/office!
I mostly write on my living room couch. I have a desk and desktop computer in my bedroom, but I prefer the mobility of a laptop.
10--Who is an author you admire?
Kelley Armstrong. I love her calm, gentle voice, no matter what she writes.
11--Is there a book that changed your life?
Story of a Girl – It was recommended to me, and it opened my world to Young Adult "issue" books. I learned how to write more relatable characters, and I discovered a sub-genre of books that made me cry and feel triumphant.
12--Tell us about when you got "the call." (when you found out your book was going to be published)
My first published book was co-written with Gemma Halliday. Unbreakable Bond. The "call" was a direct message where she asked me if I was interested co-writing with her. I was shocked and excited. I had met Gemma a few years prior, and she had been my mentor for three months. It was a program through a website, Romance Divas. She thought of me years later and sent the message. Then when she started her publishing company, publishing with her was a no-brainer.
13--What's your favorite genre to read?
Dark suspense/crime and horror
14--What's your favorite movie?
This is not an easy question, lol. There are so many. I'll go with The Exorcist.
15--What is your favorite season?
Fall!
16--How do you like to celebrate your birthday?
I like being left alone. Lol I want good food, maybe cake, and please don't bother me. I may write, watch TV, play a game...that changes with my mood.
17--What's a recent tv show/movie/book/podcast you highly recommend?
I watch a lot of older, previously watched TV shows. Right now, I'm rewatching The Closer on HBO Max and rewatching the first three seasons of Stranger Things on Netflix before starting season four. The Closer is one of my many favorite shows. I love the humor coupled with the cases.
18--What's your favorite type of cuisine?
I adore the umami flavors and love noodles and rice. It's easy to change dishes by using different vegetables and whatever protein is on hand.
19--What do you do when you have free time?
I read (listening to books is my favorite way), watch TV, or play The Sims. lol
20--What can readers expect from you next?
Later this summer, I'll be starting book #9 of the Gianna Mancini Mystery series. I'm also working on a new supernatural crime series.
Gianna Mancini Mysteries book #8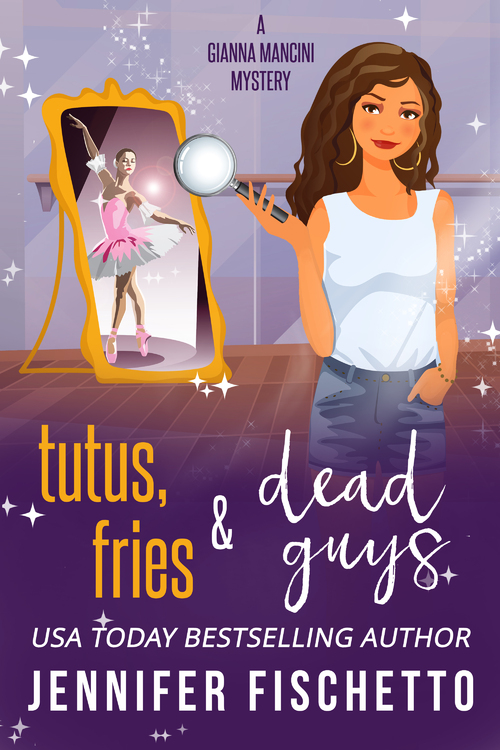 Ghost whisperer, Gianna Mancini, has been communicating with the dearly departed since she was a child. It's been a lonely gift that she's kept hidden from everyone other than family and a few close
friends. As far as the rest of the world knows, ghosts aren't real. Until now… When dance instructor, Nadia Petrov, is killed and falls into a mirror during her collapse, her spirit seeps into the glass and can be seen by anyone who passes. Much like Bloody Mary, she jumps from mirror to mirror, but unlike the urban legend, Nadia delights in scaring and then cackling at those unfortunate enough to be around—earning her new nickname, Screama Ballerina. Gianna has no intention of getting involved in solving Nadia's death until the police question Gianna's fifteen-year-old niece, who's clearly lying about something. Now, Gianna must figure out who had it in for the controlling dancer in order to clear her niece's name and help Screama Ballerina move on. But the killer will stop at nothing to shut Gianna up for good...
Mystery | Fantasy Dark [Gemma Halliday Publishing, On Sale: July 26, 2022, e-Book, ISBN: 9781005461652 / ]
Jennifer Fischetto hears voices.
They tell her to wait in the dark for her next unsuspecting victim.
They tell her to kill.
She writes down every whisper, every threat promise to frighten.
"Write what you know" is easy when you've spent your life plotting murder and revenge on annoying classmates and nosy neighbors.
When not burying evidence in her yard, cooking another batch of poisonous brownies, or dealing with ghosts and other supernatural baddies, she sits in the corner of her creaky, damp basement, writing fun, humorous mysteries for teens and adults--to cover her tracks, so no one notifies the FBI or calls for a straitjacket.
Seen as a nice girl, her friends and family assume her books are filled with multiracial romance and journeys of strong, smart, sassy women and girls of all shapes and sizes.
Not dead bodies.
No comments posted.