1--What is the title of your latest release?
PEPPERMINT BARKED, Spice Shop Mysteries #6, out July 19, 2022
2--What's the "elevator pitch" for your new book?
Just a pinch of murder . . . When her life fell apart at age 40, Pepper Reece never expected to find solace in bay leaves. But her impulsive purchase of the Spice Shop in Seattle's famed Pike Place Market turned out to be one of the best decisions she ever made. Between selling spice and juggling her personal life, she also discovers another unexpected talent—for solving murder.
A Dickens of a Christmas turns deadly . . . In Peppermint Barked, the 6th Spice Shop mystery, Pepper investigates when a young woman working the Christmas rush in her friend Vinny's wine shop is brutally attacked, on the busiest shopping day of the year.
3--How did you decide where your book was going to take place?
I fell in love with Seattle's Pike Place Market as a college freshman, eons ago, and made it my life's mission to eat my way through it. Best part, it's constantly changing, so I'll never finish! When I decided, a book or two into my Food Lovers' Village mysteries, that I wanted to write a second series, the location was obvious. The Market is the perfect community-within-a-community to drive a city-set or urban cozy. It's vibrant and busy—long with the farmstalls, produce stands, butchers and bakers are more than 200 craftspeople who rent daystalls, more than 200 owner-operated shops and services, and nearly one hundred restaurants, plus over 500 residents and ten million visitors a year—all in nine acres. With that many people and that much activity, the story possibilities are endless. In addition to the retail customers, Pepper also works with chefs and food producers throughout the city, giving her plenty of opportunity to follow leads, track down witnesses, and pester suspects. It's all spicy good fun!
4--Would you hang out with your sleuth in real life?
You bet, especially if she's cooking!
5--What are three words that describe your sleuth?
Conscientious, loyal, and dogged—and not just because of Arf, her Airedale companion!
6--What's something you learned while writing this book?
A recurring theme in this series is the search for identity, which I tend to think of as the Heroine's Journey, in contrast to the typical Hero's Journey. But men occasionally struggle for a sense of themselves as well, so I deliberately decided to focus on that—and learned quite a bit about men in general, which is always useful, and several of my male characters.
7--Do you edit as you draft or wait until you are totally done?
I might tweak a sentence or two as I go, but mostly, I leave the serious editing until I have a complete draft and know what the story is, even though I do start with a plan or a partial outline.
8--What's your favorite foodie indulgence?
So many! I will tell you this: every recipe in every book has been much tested in my home kitchen, and if it isn't yummy and perfectly manageable for a decent home cook, you'll never read it. And I celebrate every writing milestone, from complete first draft to publication day, with a bottle of sparkling cava or rosé!
9--Describe your writing space/office!
I write in a sweet, second-story bedroom in our house in the woods, with a treehouse like feel. I've got a big desk, lots of shelves for books and the objects artists of all kinds collect to inspire us, and a red leather reading chair that I don't get to sit in nearly enough!
10--Who is an author you admire?
So many! In mystery world, standouts include Margaret Maron, Laura Lippman, Ellis Peters, and Tony Hillerman. I also deeply admire the work of Toni Morrison, Elizabeth Strout, and Ivan Doig. A couple of my favorite current cozy mystery authors are Barbara Ross and Cleo Coyle, and a shelf full of others.
11--Is there a book that changed your life?
Discovering Tony Hillerman when I was first beginning to write. His mysteries set on Indian reservations in the Four Corners area showed me that my life in Montana, in a corner of the world not well known to most people, were filled with stories people would want to read.
Long before that, I credit Calico Bush by Rachel Field, first published in 1931 and still in print. Set in 1743, it's the story of Maggie, a young French girl orphaned on board ship and "bound out" to a family homesteading on an island off the coast of Maine. I was probably 11 when I found it, and it took me to a place far away from my Montana home to a time I knew nothing about. I still give it to young girls.
12--Tell us about when you got "the call." (when you found out your book was going to be published)
Peppermint Barked is my 14th book, but I still remember getting "the call" from the Berkley/Penguin Random House editor who bought the Food Lovers' Village mysteries, and literally jumping up and down as I bounced around the house. The memory makes me smile, as has every "call" since.
13--What's your favorite genre to read?
I adore cozy mysteries, but also love traditional mysteries, psychological suspense, and a good coming-of-age novel.
14--What's your favorite movie?
Oh, my. Casablanca, I think. Ask me tomorrow and get a different answer.
15--What is your favorite season?
Depends on the year! The weather in the Northern Rockies is highly variable, but summers here are truly glorious, especially when the mountain wildflowers are in bloom.
16--How do you like to celebrate your birthday?
Mr. Right and I usually go out to dinner, and that's always sweet.
17--What's a recent tv show/movie/book/podcast you highly recommend?
We loved the TV series "Grace and Frankie." And I'm telling everyone to read The Lost Apothecary by Sarah Penner, Clark and Division by Naomi Hirahara, and This Tender Land by Wm. Kent Krueger.
18--What's your favorite type of cuisine?
I love almost any kind of food, but very little beats good, simple French bistro cooking.
19--What do you do when you have free time?
Hike and garden. Although by the state of my garden at the moment, you'd never know it!
20--What can readers expect from you next?
In addition to cozy mysteries, I also write moody suspense as Alicia Beckman. Alicia's second novel, Blind Faith, will be out in October 2022. Two women whose paths crossed in Montana years ago discover they share keys to a deadly secret that exposes a killer—and changes everything they thought they knew about themselves.
And watch for the 7th Spice Shop mystery in July 2023—it's currently spread out all over my desk!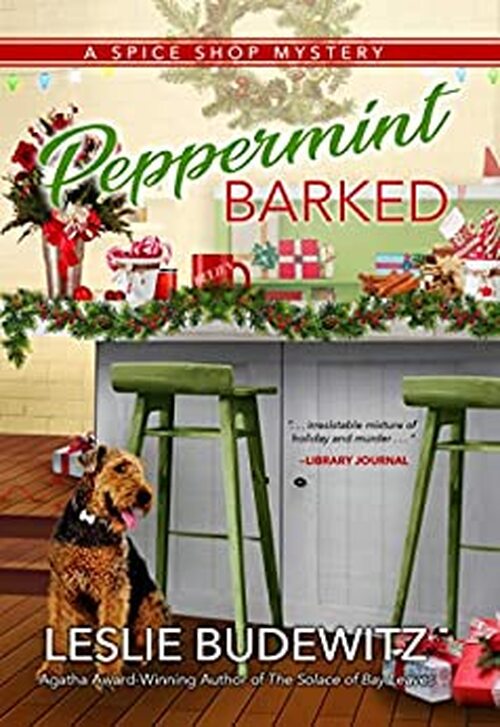 As the holiday season lights up Seattle's famed Pike Place Market, Pepper Reece's beloved Spice Shop is brimming with cinnamon, nutmeg, and shoppers eager to stuff their stockings. Add to the mix a tasty staff competition—a peppermint bark-off—along with Victorian costumes for this year's Dickensian Christmas theme, and Pepper almost forgets to be nervous about meeting her fisherman boyfriend's brother for the first time.
But when a young woman working in her friend Vinny's wine shop is brutally assaulted, costumed revelers and holiday cheer are the last things on Pepper's mind. Who would want to hurt Beth? Or were they looking for Vinny instead?
The vicious attack upsets everyone at Pike Place, but none more than Pepper's own employee, Matt Kemp. At first, Pepper is baffled by his reaction, but his clandestine connection to Beth could hold the key to the assailant's motive. Or perhaps it's Vinny's ex-wife who knows more than she's letting on . . . and what about the mysterious top-hatted man with whom Pepper saw Beth arguing that morning?
As the secrets of the market come to light, long-held grudges, family ties, and hidden plans only further obscure the truth. Is it a ghost of the past rattling its chains, or a contemporary Scrooge with more earthly motives? As Pepper chases down a killer, someone is chasing her, and in the end, the storied market itself may hold the final, deadly clue.
Mystery Cozy | Mystery Culinary | Holiday [Seventh Street Books, On Sale: July 19, 2022, Trade Size / e-Book, ISBN: 9781645060543 / ]
The Spice Shop Mystery series is definitely not one to be missed!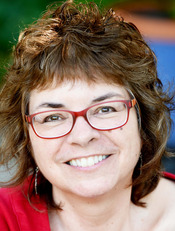 Leslie Budewitz is a three-time Agatha Award winner and the best-selling author of the Spice Shop mysteries, set in Seattle, and Food Lovers' Village mysteries, inspired by Bigfork, Montana, where she lives. Next up: Peppermint Barked(July 2022). As Alicia Beckman, she writes moody suspense, beginning with Bitterroot Lakeand continuing with Blind Faith (October 2022). Leslie is a board member of Mystery Writers of America and a past president of Sisters in Crime.
No comments posted.