1--What is the title of your latest release?
MUDDLED THROUGH: Maine Clambake Mystery #10
2--What's the "elevator pitch" for your new book?
Mud season takes on a whole new meaning in the coastal town of Busman's Harbor, Maine, when local business owners sling dirt at one another in a heated feud over a proposed pedestrian mall. Vandalism is one thing, but murder means Julia Snowden of the Snowden Family Clambake steps in to clean up the case . . .
3--How did you decide where your book was going to take place?
The Maine Clambake Mysteries center around Busman's Harbor, a town on Maine's midcoast.
4--Would you hang out with your sleuth in real life?
Absolutely!
5--What are three words that describe your sleuth?
Smart, determined, kind
6--What's something you learned while writing this book?
For this book I got to learn all about making pottery, the art and the business side. Three fabulous potters patiently answered all my questions. I also learned about the female photographers throughout the history was National Geographic Magazine, which was absolutely fascinating.
7--Do you edit as you draft or wait until you are totally done?
When writing a first draft I never look back. I'm afraid what I see will be so awful I'll turn into a pillar of salt.
8--What's your favorite foodie indulgence?
Black raspberry chip ice cream, without a doubt.
9--Describe your writing space/office!
I have the most wonderful office. It's the only room on the fourth floor of our home in Portland, Maine. It's got two decks, one on each side, and this time of year I keep the doors open to feel the breeze off the harbor and listen to the gulls and other birds.
10--Who is an author you admire?
So, so many, but if I have to choose one, Ruth Rendell.
11--Is there a book that changed your life?
I think it might be P.D. James' A Taste for Death, which brought me back to reading mystery series after more than a decade away. And here I have stayed ever since.
12--Tell us about when you got "the call." (when you found out your book was going to be published)
My agent wrote to the New England chapter of Sisters in Crime looking for writers who were willing to write a spec proposal for a series. (A spec proposal is an idea the agent thinks they can sell, but it is not, in fact, sold.) Several of us answered the call. Mine was among the last to sell. I was on tenterhooks the whole time.
13--What's your favorite genre to read?
Traditional mystery series without a doubt.
14--What's your favorite movie?
I'm not sure, but the movie I have watched the most times is probably Four Weddings and a Funeral.
15--What is your favorite season?
If you live in New England, it has to be fall.
16--How do you like to celebrate your birthday?
Author Lucy Burdette, who writes the Key West Food Critic mysteries, and I have birthdays the same year, a week apart. I'm in Key West during my birthday month and we always celebrate together.
17--What's a recent tv show/movie/book/podcast you highly recommend?
Since the pandemic I have been obsessed with Outlander, TV show and books.
18--What's your favorite type of cuisine?
That's a tough choice. Italian?
19--What do you do when you have free time?
Read, of course.
20--What can readers expect from you next?
The novella collection IRISH COFFEE MURDER will be released on January 31, 2023. It contains my Maine Clambake Mystery novella "Perked Up." I'm handing in the eleventh Maine Clambake Mystery on July 1. (Ulp)
A Maine Clambake Mystery # 10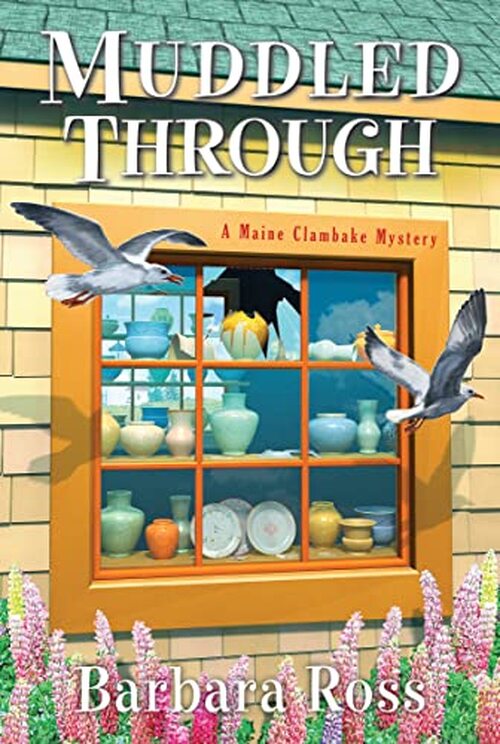 When Julia spots police cars in front of Lupine Design, she races over. Her sister Livvie works there as a potter. Livvie is unharmed but surrounded by smashed up pottery. The police find the owner Zoey Butterfield digging clay by a nearby bay, but she has no idea who would target her store. Zoey is a vocal advocate for turning four blocks of Main Street into a pedestrian mall on summer weekends. Other shop owners, including her next-door neighbor, are vehemently opposed. Could a small-town fight provoke such destruction? When a murder follows the break-in, it's up to Julia to dig through the secrets and lies to uncover the truth . . .
Mystery Hobbies | Mystery Cozy | Mystery Culinary [Kensington, On Sale: June 28, 2022, Mass Market Paperback / e-Book, ISBN: 9781496735690 / eISBN: 9781496735706]
Barbara Ross is the author of the Maine Clambake Mysteries and the Jane Darrowfield Mysteries. Her books have been nominated for multiple Agatha Awards for Best Contemporary Novel and have won the Maine Literary Award for Crime Fiction. Barbara's Maine Clambake novellas are included along with stories by Leslie Meier and Lee Hollis in three holiday anthologies from Kensington Publishing. Barbara and her husband live in Portland, Maine. Readers can visit her website.
No comments posted.