Thanks for letting me drop in! I'm Theresa Nellis. I'm excited to share the second novel with you in my KEEPER OF THE MIRROR series.
While on COVID lock-down in Japan, I tackled my first book, The Book of Peter. Since publishing that title, I have written The Portly Lady and its Prequel. The third book in this trilogy is currently in the editing phase with Atmosphere Press!
I am a passionate supporter of animal rights. You'll often find animal protagonists in my writing. Think the goofiness of Scooby-Doo mixed with the intelligence of E.B. White's Charlotte.
My inspiration is a blend of my experience as a Social Worker and Classroom Teacher—sprinkled with humor and twisted with dark, magical fantasy. The best part—I use my students as my unwitting literary muses. Sorry tiny humans—no extra credit!
Embracing my dark side, I've ravaged through countless pages as Count Olaf inflicted misery and torture upon three unlucky orphans in Lemony Snicket's A Series of Unfortunate Events. Next, I unabashedly dove head-first into J.K. Rowling's Harry Potter series as I declared which house I'd be placed in—Gryffindor, naturally. Indeed, I gobbled up the wry humor from In a Glass Grimly by Adam Gidwitz. All while donning hobbit feet as I walked with J.K.K. Tolkien through Middle Earth, carefully tiptoeing through the Dead Marshes. In short, if it's dark and twisted—I probably have it on my shelf!
T With a team of angry bees swarming around her Kentucky Derby-styled hat, The Nosy Neighbor fastens her orthopedic shoes, clutches her oversized purse, and
patrols Crestfallen Court with her yappy little dog, Miss Darcy.
H With a sunken belly, Huxley plucks his food from the team of garbage cans lining the outside wall of the group home. Desperate for a change, he readily pledges the blood oath.
E Those evil blue eyes are ever-powerful and always watching. Waiting. Relishing in evil.
P Snarky Peter upsets the balance of good and evil when he unearths something that should have remained lost.
O Being a bully never pays off. Just ask Omar, who has gone a bit batty!
R And what of the foster children abandoned to the dark elves? Will they fall victim to the evil invading the group home or find the strength to resist it?
T Be careful what you wish for, Tom. Every open door closes another.
L Full of power and pastrami, The Portly Lady closes in on the weak and abandoned.
Y Sully, this fun-loving familiar wastes no time identifying the divide between good and evil—and has fun while doing it!
L Delilah—all-consuming loves are not easily lost and forgotten.
A When all is lost, how fair is it to expect Zack, an orphan, to save the world from evil—and himself?
D Dr. Bell, the feisty emergency room doctor, refuses to play second fiddle to the flawed foster care system.
Y Tutu-donning, persnickety Miss Darcy prowls Crestfallen Court with her mistress, The Nosy Neighbor.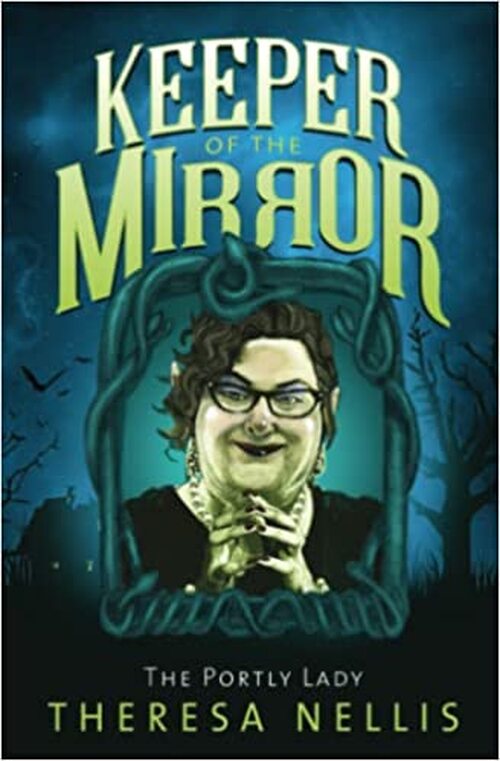 After waiting thirteen long years for acceptance, Peter Powell finds it in his estranged father—only to have it torn from him—again.
Now forced to set off on his own, this newest dark elf must devise a plan to rescue his father from the Other World. But to do so, he will have to battle a slew of supernatural foes. And if he's successful, will Peter face competition for his father's affection?
In Keeper of the Mirror: The Portly Lady by Theresa Nellis, we experience love tangled with jealousy—layered with a dark desire for power. And what of the duty-bound familiar that had abandoned him? How will allegiances and family lines be drawn? What happens when your bloodline becomes your deathline?
Young Adult Fantasy [Self Published, On Sale: May 7, 2022, e-Book, / eISBN: 9798820304774]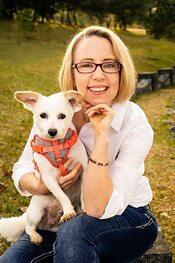 Theresa teaches an exceptional group of elementary students who serve as her unwitting muse. Sorry tiny humans—no extra credit!
In her free time, she likes to be taken on long walks by her dog (yes, the dog is in charge), is an avid reader and writer, and enjoys planning creative activities for her students. Naughty leprechauns have vandalized her classroom and thwarted would-be treasure hunters with their deposit of little brown nuggets. Ugh—some students even ate it!
And let's not forget about the gingerbread cookies who like to run rampant throughout the school, teasing students with a meager trail of crumbs and notes that lead to nowhere. Well—we had to practice our map skills somehow!
She is amazed at how quickly her students perform just about anything with the slightest melody from her angelic voice. The Fat Lady from Harry Potter has nothing on her! Perhaps someone should tell her to replicate this behavior training with her dog. This brings us to another point. She often thinks she's funny, even if she's the only one in the room laughing. She is a passionate supporter of animal rights, and her writing often includes animal protagonists. Her inspiration is a blend of her previous experience as a Social Worker combined with her classroom experiences—sprinkled with humor and twisted with dark, magical fantasy.
She received a Psychology Degree from the University at Albany, a Master's Degree in Education from East Carolina University, and a Ph.D. in Education from North Central University.
No comments posted.