1--What is the title of your latest release?
DEATH PLANS A PERFECT TRIP, Charlotte Adams number 6, will be released on May 17th!
2--What's the "elevator pitch" for your new book?
When her mother, the famous thriller writer, Esme Adams, vanishes, Charlotte Adams, professional organizer and amateur sleuth, races across Europe to save her. As Charlotte keeps one step ahead of the nameless villains, she discovers her mother's dark history and the source of her own on-going nightmares. Reader warning: contains travel tips, food, dogs and a touch of romance.
3--How did you decide where your book was going to take place:
I had always wanted to set a cozy mystery in Europe and over a couple of years returned to some of my favorite spots (Paris, Lisbon and northern Italy) with a mystery percolating in my busy brain. This book was so much fun to write!
4--Would you hang out with your sleuth in real life?
Good question. I would definitely like Charlotte to drop in and give me a hand organizing and to offer some wardrobe advice. She'd be welcome any time and I would make her favorite cookies. But I do worry she might boss me around.
5--What are three words that describe your sleuth?
Chalotte Adams is smart, funny, determined. I would add brave but that would be four words.
6--What's something you learned while writing this book?
I learned a lot about life in Paris, the secret history of Lisbon and what it's like to visit a villa with a vineyard in Northern Italy. Also some new Italian recipes.
7--Do you edit as you draft or wait until you are totally done?
I may fiddle with a sentence as I am writing but I prefer to do my editing once I have a first draft. Pace is important in mysteries and to maintain pace you have to 'pump it out'. Also, why waste time on a scene that may not even make it into the final book? Full disclosure: if I cut scenes, they go into my spare parts file for possible use in the future. It's really hard to throw away your words.
8--What's your favorite foodie indulgence?
I love to bake, and I only bake my favorite indulgences (there are a lot of them!) That's why it was so much fun to put a special cookie or dessert recipe related to the story in each of the reissued Charlotte Adams books and, in this new one, the recipe for Chocolate Espresso Hazelnut Biscotti is a gift!
9--Describe your writing space/office!
When I first started to write, I hid away in our unheated mudroom wearing gloves, a wool hat and a couple of blankets. As soon as I could manage to convert a room into a decent office, I made sure it was comfortable and made me happy. In my current office, one wall is books, mostly mysteries including all of mine in every print version, my collection of writing books – I still consult them and often refer to them in workshops—and signed copies of my friends' books. All keepers! The walls are a restful green and I have an L-shaped glass desk. Yes fingerprints. Currently, a gang of house plants are taking over the section of the desk under the window. That window gives a pleasantly distracting view of whatever is happening on our street. I am surrounded by photos of family and friends and some paintings by people I love. There's a dog bed that usually contains two dachshunds snoozing. The comfy sofa is a useful spot to curl up and read edits out loud and the office also contains some writing and award memorabilia. Mainly, I work on my laptop and when the office gets overly cluttered with work papers (and no Charlotte Adams on-site) I often switch to the kitchen table. Shhh!
10--Who is an author you admire?
This answer should be a mile long! I admire the cadre of cozy writers who turn everyday people, relationships, and communities into compelling mysteries. They show us that people like us can rise to the occasion and do what needs doing when the going gets tough. Thanks for all the great role models.
11--Is there a book that changed your life?
So often books present new and unexpected worlds for us, such as Tales of a Chinese Grandmother, by Frances Carpenter, found at my local library when I was seven or eight. Unlike the other books I read (Bobbsey Twins etc.), this one opened my eyes to a different culture and the wonderful tales in it. But also, I learned that the Chinese grandmother had a lot in common with my own story-making Canadian grandmother. I'm not sure if the book would 'stand the test of time', but I look back on it fondly.
12--Tell us about when you got "the call." (when you found out your book was going to be published)
Picture a discouraged author, late on a Friday afternoon, back in the day, receiving an envelope in the mail from a publisher (the last in a long list of submissions). Another rejection, I thought glumly and tossed the letter on the desk. By the time I opened it and heard from my wonderful first publisher, Sylvia McConnell, that she would love to publish Speak Ill of the Dead, Camilla MacPhee mystery number one, if 'it was still available', her office was closed! I had to wait until Monday to call Sylvia and say as calmly as I could that as it was still available, I would be incredibly happy to place it with RendezVous Crime. Sylvia went on to publish all eight of my Canadian books and remains a valued friend.
13--What's your favorite genre to read?
I read novels, non-fiction, history, World War II books, cookbooks and craft books and research materials, but my true reading love is mystery. I probably read two a week.
14--What's your favorite movie?
We love movies, but watch A Christmas Story at least once a year, sometimes in July, sometimes at Christmas.
15--What is your favorite season?
We're in it! Winter is long here in this part of Ontario and that makes Spring my favorite time with green things popping up all over and the trees leafing out. The new growth makes me happy.
16--How do you like to celebrate your birthday?
I like to make it last! On a birthday with a 0 or a 5, I try to be on a trip somewhere away from our March snow (my very favorite was Paris for a Big Birthday). Covid has messed with that plan recently, but I'll catch up. When I'm home, I enjoy celebrating with family and friends and dogs.
17--What's a recent tv show/movie/book/podcast you highly recommend?
Shakespeare and Hathaway on BritBox. I love the lightheartedness, the Stratford-on-Avon setting and the three main characters. Hoping for season five and more fun!
18--What's your favorite type of cuisine?
It's hard to narrow it down to one, but I do love all things Italian, and I learned from my mother-in-law, who was simply a magician in the kitchen.
19--What do you do when you have free time?
I love to read, knit, cook, garden, cuddle my dogs and spend time with family and friends. How cozy is that? When the mood is right and the weather cooperates, I love to get out on the river in my kayak.
20--What can readers expect from you next?
I will have a new book in my Camilla MacPhee series next. YOU LIGHT UP MY DEATH will be out in October 2022 and takes place on the scenic Cabot Trail. And I am mapping out a new Charlotte Adams, tentatively titled Chaos for Christmas. I mean, the holidays, what could possibly go wrong?
Charlotte Adams Professional Organizer Mystery #6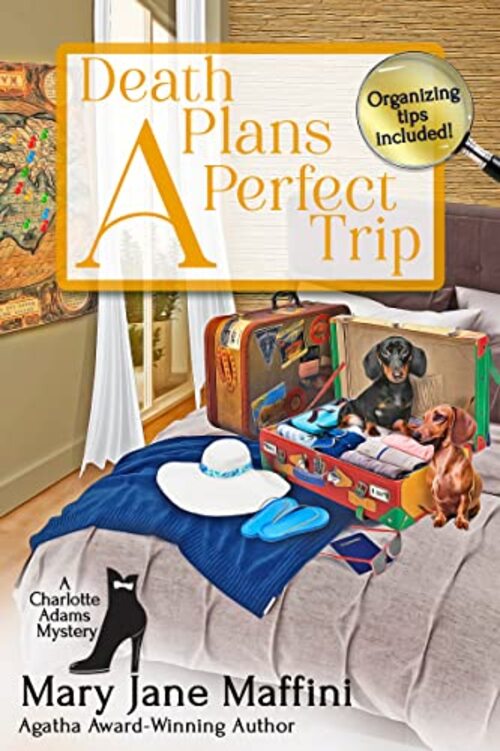 When her mother disappears, professional organizer Charlotte Adams will have to take off on a very disorganized trip across Europe to save her life . . .
It's not unusual for Esme Adams to dash off overseas with no warning, but when weeks pass and Charlotte still hasn't heard from her, she begins to worry that her mother's in danger and has gone into hiding. Before she can even begin to guess where to start looking, though, Charlotte finds her own home ransacked and then set ablaze. Determined to escape a more serious attack while the police investigate, she sets off for Europe, hoping to track down her mother at one of her secluded getaway spots.
As Charlotte follows a winding trail of clues through Paris, Lisbon, Milan and beyond—narrowly missing her mother in each city, and just as narrowly eluding her pursuers—secrets begin to emerge about her mother's shadowy past. A history of ties to criminal organizations, an infamous bank heist, and a gentleman thief who may have been her one true love all raise questions about her mother's true identity and the peril she faces. As Charlotte processes the dizzying implications about her mother, her own childhood memories, and the father she never knew, she'll have to work fast to catch up with her mother, before her mother's past catches up with them all . . .
Travel Organizing Tips Included!
Mystery Cozy | Mystery Woman Sleuth [Beyond the Page, On Sale: May 17, 2022, Paperback / e-Book, ISBN: 9781954717985 / ]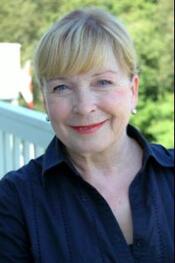 Mary Jane Maffini is the award-winning Canadian author of three mystery series: crochety lawyer Camilla MacPhee sleuths around Ottawa. Failed romance writer, Fiona Silk hides out in West Quebec, and professional organizer Charlotte Adams sorts out people and crimes in upstate New York. Bad things happen. And sometimes funny things happen. It's a mystery.
As Victoria Abbott, MJ co-writes the book collector series with her daughter, Victoria Maffini. The third book, The Wolfe Widow will hit the shelves in September, 2014.
MJ lives in the tranquil village of Manotick, Ontario, with her long-suffering husband and two princessy dachshunds. Along with brave little Lily, she is a school volunteer in the Ottawa Therapy Dogs R.E.A.D. program.
1 comment posted.