Mary Jane Maffini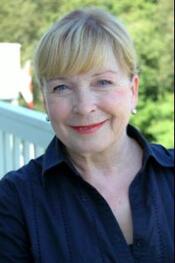 Blogging at Fresh Fiction
Mary Jane Maffini | 20 Questions: DEATH PLANS A PERFECT TRIP
May 16, 2022
1--What is the title of your latest release? DEATH PLANS A PERFECT TRIP Read More...
Pseudonym: Victoria Abbott.

Mary Jane Maffini is the award-winning Canadian author of three mystery series: crochety lawyer Camilla MacPhee sleuths around Ottawa. Failed romance writer, Fiona Silk hides out in West Quebec, and professional organizer Charlotte Adams sorts out people and crimes in upstate New York. Bad things happen. And sometimes funny things happen. It's a mystery.
As Victoria Abbott, MJ co-writes the book collector series with her daughter, Victoria Maffini. The third book, The Wolfe Widow will hit the shelves in September, 2014.
MJ lives in the tranquil village of Manotick, Ontario, with her long-suffering husband and two princessy dachshunds. Along with brave little Lily, she is a school volunteer in the Ottawa Therapy Dogs R.E.A.D. program.
Log In to see more information about Mary Jane Maffini
Log in or register now!
Series
Charlotte Adams Professional Organizer Mystery
Books:
Death Plans a Perfect Trip, May 2022
Charlotte Adams Professional Organizer Mystery #6
Paperback / e-Book
The Busy Woman's Guide to Murder, September 2021
Charlotte Adams Professional Organizer Mystery #5
Paperback / e-Book
Closet Confidential, August 2021
Charlotte Adams Professional Organizer Mystery #4
Paperback / e-Book
Death Loves a Messy Desk, July 2021
Charlotte Adams Professional Organizer Mystery #3
Paperback / e-Book
The Cluttered Corpse, June 2021
Charlotte Adams Professional Organizer Mystery #2
Paperback / e-Book
Organize Your Corpses, May 2021
Charlotte Adams Professional Organizer Mystery #1
Paperback / e-Book
The Busy Woman's Guide To Murder, April 2011
Paperback
Closet Confidential, July 2010
Paperback
Death Loves A Messy Desk, May 2009
Charlotte Adams #3
Paperback
The Cluttered Corpse (A Charlotte Adams Mystery), April 2008
Paperback
Organize Your Corpses, May 2007
Charlotte Adams #1
Paperback