1--What is the title of your latest release?
My debut novel and Smartypants Romance title is called NEANDERTHAL SEEKS DUCHESS. It's a historical romance re-imagining of Penny Reid's Knitting in the City series, written in Smartypants Romance's new Out of this World imprint.
2--What's the "elevator pitch" for your new book?
Quirky wallflower tries to avoid scandal in London but meets a mysterious gentleman who shakes things up instead.
3--How did you decide where your book was going to take place?
London felt like the obvious choice, so I went with it.
4--Would you hang out with your heroine in real life?
Definitely. Jane is a loyal and dedicated friend whose quirks and unique personality make her someone I'd love to hang with.
5--What are three words that describe your hero?
Unconventional, brooding, swoony
6--What's something you learned while writing this book?
I really wanted to accurately display and translate the friendships between the Knitting in the City ladies (Penny's series) to the London embroidery ladies (my series). And I think what hit home while I was writing NSD was that whether you're in modern day Chicago or 19th century England, true and lasting friendships are rare and precious.
7--Do you edit as you draft or wait until you are totally done?
I edit as I go. I typically write a chapter one day and then the following day, I'll re-read and edit the chapter I just wrote before starting on a new chapter. My process is very structured and linear (that's just what works for me). Once I finish the draft completely, I'll go back for a read-through and edit that pass as well before sending off to a few trusted readers.
8--What's your favorite foodie indulgence?
A really good charcuterie board. Like all the cheese, meat, pickles, nuts, dried fruit, mustard. ALL OF IT.
9--Describe your writing space/office!
I write at my desk always. I can't take my laptop somewhere (even somewhere else in my house) and write. I'm a creature of habit and need total silence to string two words together. I don't listen to music, and I typically write at night after my kids are in bed so I can concentrate.
10--Who is an author you admire?
Lucy Score. She's completely versatile and writes everything from emotionally charged backstories to small-town romance to paranormal romcoms. And I really love how much she loves her readers. I just think she is a talented badass. I admire her a lot.
11--Is there a book that changed your life?
How to Be a Normal Person by TJ Klune. It changed, fundamentally, what I knew about love and how love could be expressed, through absolutely stellar writing and characterization.
12--Tell us about when you got "the call." (when you found out your book was going to be published)
Oh, man. So, I submitted to Smartypants Romance in 2020 when they had their last call for new submissions. I'd been sitting on the idea of a regency re-imagining for Neanderthal Seeks Human for a long time…like years. When that final call happened, I just went for it and submitted a chapter for consideration. And then in early 2021, I heard that my story had been selected and had all the squirmy butterflies. I feel super thankful that I was chosen and that my story was published—a story that had been living in my brain and my heart for a long time.
13--What's your favorite genre to read?
Romance definitely: contemporary and historical. But I do love paranormal, sci-fi, and fantasy with romantic elements as well.
14--What's your favorite movie?
I could probably watch any Harry Potter movie at any time. Same for Star Wars.
15--What is your favorite season?
Fall, no question. I'm a pumpkin-spice drinking, scarf-wearing, apple cider doughnut eating basic B.
16--How do you like to celebrate your birthday?
With copious amounts of chips and queso and a fishbowl margarita on the rocks.
17--What's a recent tv show/movie/book/podcast you highly recommend?
I'm watching Heartstopper right now on Netflix and it's just like this amazing shot of brightness and light directly into my veins.
18--What's your favorite type of cuisine?
I love food, full stop. Like, there is very little I won't eat. But top-ranking favorites are Indian, Mexican, sushi, Italian. I could go on and on.
19--What do you do when you have free time?
Free time is hard to come by. I usually read in my downtime or watch something on TV with my husband.
20--What can readers expect from you next?
I have a self-pub title releasing in Kindle Unlimited on May 24th called FIRST TO FALL. It's a friends-to-lover historical romance, also a marriage of convenience and opposites attract. I like my tropes varied and plentiful. And then this fall, Smartypants Romance readers may have something else from me. *zips lips*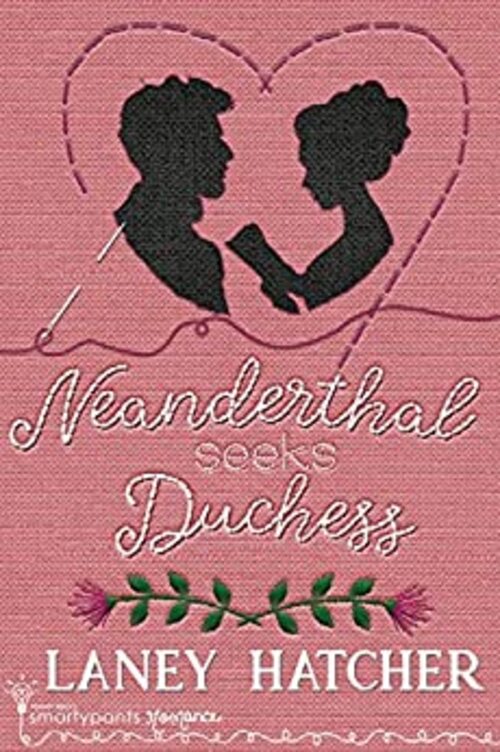 There are three things you need to know about Lady Jane Morrison:
1. She frequently finds herself the talk of the ton and for all the wrong reasons.
2. A dashingly mysterious gentleman has caught her attention and even more dangerous...she has caught his.
3. She's rubbish at embroidery.
After scandalous events during the London season, Lady Jane is attracting the wrong kind of attention. Her reputation is at risk as well as all her carefully laid plans for the future. And for better or worse, a chance encounter with a mysterious lord sets forth a series of events that will change their lives forever.
"Neanderthal Seeks Duchess: A Smartypants Romance Out Of This World Title", is a Penny Reid Universe reimagining, where the characters of Janie Morris and Quinn Sullivan from the Knitting in the City Series have been reimagined as existing in Regency England. It is a full-length historical romance, can be read as a standalone, and is book #1 in the London Ladies Embroidery series, Smartypants Romance Out of this World, Penny Reid Book Universe.
Romance Historical [Smartypants Romance, On Sale: May 5, 2022, Paperback / e-Book, ISBN: 9781949202977 / ]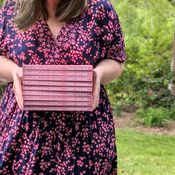 Laney Hatcher is a firm believer that there is a spreadsheet for every occasion and pie is always the answer. She is an author of stories that have a past, in a language of love that's universal. Often too practical for her own good, Laney enjoys her life in the southern United States with her husband, children, and incredibly entitled cat.
No comments posted.