Your new book THE FORGOTTEN DEAD has two things I love - psychic abilities and a seemingly haunted house. What attracts you as a writer to these themes?
I've loved spooky stories since I was a kid, even though I was deeply terrified for ghosts for most of my childhood. I still love creepy stories, whether they be something like M.R. James's "Oh, Whistle, and I'll Come to You, My Lad" or a contemporary action-driven series like J.L. Bryan's "Ellie Jordan, Ghost-Trapper" books.
I think the thing that draws me to ghostly stories is the concept that they tend to center some past injustice, a psychic wound that reaches through time, crying out for resolution. It's hard to go wrong with a set-up like that!
Can you describe the dynamic between Nigel and Oscar? Do you alternate between perspectives throughout the book?
Oscar is a big guy with a big heart. He's a former college football player turned accountant, who leads a ghost-hunting team on the side. He's the one who's always trying to look out for other people, make sure they have what they need, that they're comfortable. He's also been seeing ghosts since childhood but is in denial about it thanks to some family trauma.
Nigel has a doctorate in parapsychology, so he's the theory guy. He knows a lot from books about ghosts and ghost hunting, but he's seriously lacking in any field experience. He's also hiding a secret about just how much he knows about the haunting they've come to investigate.
So they play to each other's strengths, both professionally and personally. They ground and support each other, even when things aren't going well.
I alternate viewpoints, because part of the fun in a romance is seeing each through the other's eyes.
As a horror film fan, there's usually two types of ghost stories – one with classic, simple yet effective psychological thrills and ones with more shock factor. How would you describe THE FORGOTTEN DEAD?
It's definitely more "Thirteen Ghosts" than "The Others." I tend to go for the big action rather than the quiet dread.
And – follow up question – are you a fan of spooky movies? If so, which are your favorite?
I am. I am a sucker for any found footage films. It has to be pretty awful for me not to like it. In terms of favorites, I really loved Host; incredibly simple yet creepy and effective. On the bigger budget end, I enjoyed Gonjiam: Haunted Asylum a South Korean film about a paranormal investigation group who get more than they bargained for.
Your book BLIND TIGER is a paranormal story set in the 1920s. I know why I love books set in this period, but what made you decide to use this particular period for your setting?
It was a deeply weird time in US history. WWI ended, there was a global pandemic, the first "red scare" happened, and then an incredibly unpopular amendment outlawed alcohol. The wealth gap between rich and poor accelerated throughout the decade, but simultaneously the ability to buy things on credit spurred the purchase of big-ticket items like automobiles by the middle class. Women won the vote, and pre-code films showed at the box office.
So you end up with this deeply traumatized society trying to figure itself out: the old ways clearly hadn't worked, so everything from fashion to social roles were in flux. Violent criminals in the form of bootleggers seemed more in tune with what the people wanted than the government.
Obviously, this is a very rich vein to mine, even aside from the fact that my own family history is tied to bootlegging during Prohibition. As a writer, there's a lot to sink your teeth into.
Plus, you just can't beat the fashion.
If you could recommend only one of your books to readers unfamiliar with your work, which one would you pick? And why?
I usually suggest WIDDERSHINS, because it's far and away my most popular series, so clearly it must resonate with folks!
Other authors I interviewed in the past have told me that the kind of books they enjoy reading are different than the kind of books they enjoy writing. What do you like to read? Favorite books? Favorite authors?
For quite a while after the pandemic began, I could only read true crime, a genre I almost never read beforehand. Why that was the only thing my brain could focus on, I have no idea. I'm back to reading fiction again, including a lot of spooky stories.
Favorite authors include KJ Charles, CS Poe, Allie Therin, and Cat Sebastian. Thanks to my fiction reading block I'm way behind on most of their new release, but I'm trying to catch up!
What are you currently working on?
I'm currently working on LION'S TAIL, the sequel to BLIND TIGER.
OutFoxing the Paranormal #1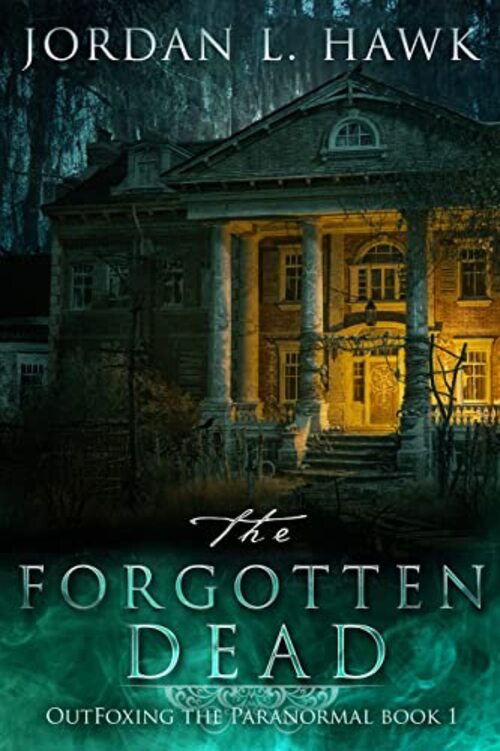 Parapsychologist Dr. Nigel Taylor doesn't work with psychic mediums. Until, that is, a round of budget cuts threatens his job and an eccentric old woman offers him a great deal of grant money. The only catch: he must investigate a haunted house with a man she believes to have a true gift.
Oscar Fox, founder of the ghost-hunting team OutFoxing the Paranormal, has spent his life ignoring the same sort of hallucinations that sent his grandmother to an insane asylum. When he agrees to work with the prestigious—and sexy—Dr. Taylor, he knows he'll have to keep his visions under wraps, so his team can get a desperately needed pay day.
Soon after Nigel, Oscar, and the OtP team arrive at the house, the questions begin to pile up. Why is there a blood stain in the upstairs hallway? What tragedy took place in the basement? And who is the spirit lurking in the closet of a child's bedroom?
One thing is certain: if Oscar can't accept the truth about his psychic abilities, and Nigel can't face the demons of his past, they'll join the forgotten souls of the house…forever.
Mystery Paranormal [Self Published, On Sale: April 15, 2022, e-Book, / ]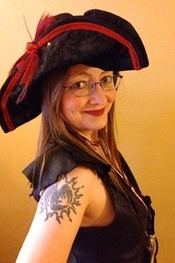 Jordan L. Hawk grew up in North Carolina and forgot to ever leave. Childhood tales of mountain ghosts and mysterious creatures gave her a life-long love of things that go bump in the night. When she isn't writing, she brews her own beer and tries to keep her cats from destroying the house. Her best-selling Whyborne & Griffin series (beginning with Widdershins) can be found in print, ebook, and audiobook at Amazon and other online retailers.
No comments posted.