How would you describe your book SLEEPING DOGS LIE to readers who may be unfamiliar with your books? As a cozy mystery fan, a lot of times the cover design will give me a clue to whether a book is a fun cozy mystery or more on the suspense or thriller end of the spectrum. Your cover suggests that it's not a cozy, but the description can be taken a few different ways.
It's not a cozy mystery, I'd describe it as a mystery-thriller. There is definitely a mystery element to the story, but I think it ultimately lands more on the thriller end of that spectrum.
Is this book part of a larger series, or a standalone story?
This is a standalone story.
When I'm debating about picking up a mystery, I often want to know a little bit more about the protagonist. What can you tell me about the protagonist in SLEEPING DOGS LIE?
Shelby is a twenty-something dog walker in an upscale Bay Area neighborhood. She takes her job seriously and has a genuine love for dogs. When she finds one of her clients dead, she immediately calls the police and becomes quite involved with the investigation.
Your book FOR YOUR OWN GOOD is described as a thriller, but I also got the impression that there might be some gallows humor in there as well. Is there? How do you feel about gallows humor in general?
My books do have humor in them. They aren't bleak or heavy, despite the fact that there are always murders. Dark humor is something I love to read and watch in movies or TV, and it definitely shows in my writing.
I'm intrigued by your book HE STARTED IT. It's about some family members taking a road trip after a death in the family. Written by another author, this might be the basis for some heartwarming moments and soul searching. However, given your style and the few clues given in the book's description, it sounds like it's more horror film-friendly than feel-good family flick. Is there anything you can tell readers without giving too much away?
HE STARTED IT is about three siblings, and two spouses, who have to go on a road trip in order to collect their grandfather's inheritance. They've been on this road trip before, the same drive, the same stops, when they were kids. A lot of secrets come out about that first trip and it leads to a lot of drama.
I liked the idea of the pressure-cooker that a road trip can be. This group of people is trapped in a car together, all day, every day, and they really don't trust each other. I thought it was the perfect setting for a thriller.
Do you enjoy reading the same types of books you enjoy writing? Favorite authors? Favorite books?
I do mostly read thrillers, along with some literary fiction. In thrillers, my favorite author list is long. There are so many great writers out there. A short list would be Gillian Flynn, Mary Kubica, Alice Feeney, Rachel Howzell Hall, Caroline Kepnes, Rachel Hawkins, Lucy Foley, Ruth Ware, Sarah Pekkanen and Greer Hendricks. But there are so many more.
I also really Japanese crime fiction and horror books. Natsuo Kirino is amazing, along with Kinae Minato and Fuminori Nakamura. I have to add Koji Suzuki, who wrote Ring. I think everyone has heard of the movie.
For writers of thrillers, I always have to ask (as a fan myself) if you are also a fan of horror films. Are you? If so, which ones?
I've always been a horror fan. When I was a kid, I'd watch too many of them and scare myself until I couldn't fall asleep. Some of the paranormal stuff, especially about exorcisms, still keep me up at night. Even now, I can't watch The Shining—or at least not all of it.
I don't have as much time to watch as many now, but I do love the horror-humor blend that has become more popular since Scream. In particular, I thought The Cabin in the Woods and Ready or Not were brilliant.
What are you currently working on?
I'm working on my next book, another thriller. That's all I can say about it at the moment.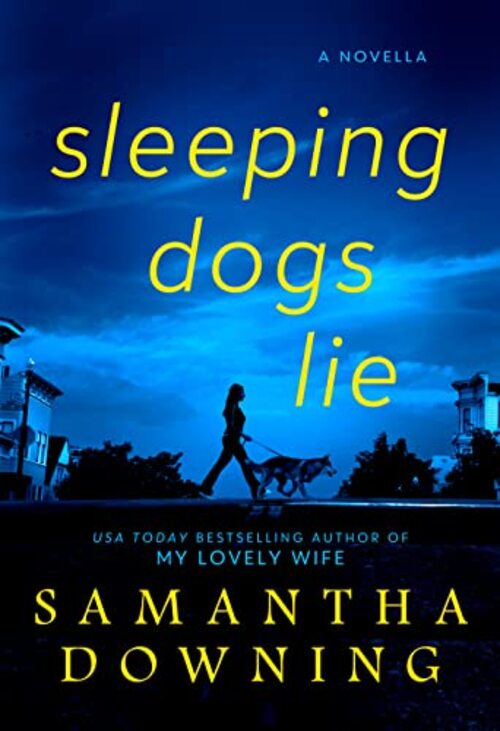 From the internationally bestselling author of My Lovely Wife and For Your Own Good comes a twisted, entertaining novella about a dog walker swept into a criminal investigation when her client winds up dead.
Shelby works as a dog walker in northern California, and she's just finished up her bi-weekly trip to the park with a husky named Pluto. When she brings him back to his house, she finds his owner—Todd Burke, a well-known local businessman and founder of an organic supplements company—lying on the bathroom floor, dead. A detective arrives on the scene. As she interviews Shelby, the body is inspected by a medical examiner, and more cops search Todd's home, it becomes clear that the victim's life was less picture-perfect than his clean-cut persona might lead you to believe.
Thriller | Mystery [Berkley, On Sale: March 15, 2022, e-Book, / ]
No comments posted.