It's no secret, I like anthologies. They introduce me to new authors, some breaking into the industry, some I haven't tried yet and then others I know really well and I'm dying to get a fix in between books. (I have many addictions when it comes to authors.) This month I chose an anthology close to home, Malice in Dallas checks all my boxes for a great collection of mysteries, and guess what—some will lead you to new series! Sweet!
When I saw the cover pop up on my social media, I was intrigued. I contacted author Gina Nelson, aka Rebecca Adler, whom I've known since her very first published book, and who has been a guest interviewer at the Cozy Corner.
During our messages, an idea was born. With so many great local authors, this book warranted my very first interview anthology! Joining me in this very cozy little corner are just a few of the talented writers who contributed to the book—Gina Nelson, David T. Douglas, Pam McWilliams, and Amber Royer. I hope my product does their product the justice it deserves.
Check out Malice in Dallas, edited by Barb Goffman and released this month with an introduction by the talented Charlaine Harris.
Kym: Welcome to the Cozy Corner! I love that anthologies offer readers a variety of authors and stories in the collection. What guidelines did you have for Malice in Dallas that made this anthology special?
David: Authors had to be a member of the local North Dallas chapter of Sisters in Crime as well as the national organization. The story had to be set in Dallas with a crime or mystery plot.
Gina: My story is set in a Dallas suburb on Lake Ray Hubbard, which was perfect. From the lake, you can see downtown Dallas in the distance; and the lake is actually under the jurisdiction of the Dallas County Sheriff's Department.
Amber: I think it was the Dallas setting that made Malice in Dallas such a fun project. Dallas is such an interesting city with fascinating history. My story uses the underground tunnels beneath Downtown as part of the setting. It was fun to actually go down and see what it felt like to walk through the tunnels now, and interesting to look into the history of them.
Pam: I've lived here happily for twenty-five years, but I'm a transplant from the Northeast, so I still look at the city through an outsider's lens.
Kym: What was the most difficult part about writing/editing this anthology, and will you do it again?
Gina: Writing short was difficult. My Taste of Texas series is 80,000 words per novel, not 5,000. Even though I have written short stories before, it was tricky to flesh out characters, add plot twists, and give the reader all the cozy feels in the short story format.
Amber: I will totally do it again! For me, the hardest part is always fitting the story I want to tell into the word count limit of a short story. Barb, our editor, gave me suggestions that made sense on how to put more story into a smaller space, and I think that working with her increased my skill for future projects.
Pam: Nothing was especially difficult, apart from coming up with the right plot idea that would highlight the city as its own character. The editing process was wonderful and informative thanks to editor Barb Goffman. I definitely plan to submit again—there are two more anthologies planned as part of this Dallas series.
David: The most difficult part was choosing the direction of my story. A few years ago, I wrote the beginning that would become this story, which was a man strongly persuading—almost forcing—his amnesiac girlfriend to stay and recuperate at his mother's house. For this anthology, I immediately thought of that story beginning, dug up the original file, and remembered why I didn't finish it—because its beginning could lead to a thousand different outcomes. I had those same struggles again, when I decided to use that premise for my submission, and I worked right up to the deadline before submitting. If I do submit again in the future, I'll be sure to have a fully outlined story, before I start writing. "Pantsing" this one almost ended in missing the deadline.
Kym: Wow, those responses summed up the difficulties every author faces on any given day, any given book! Was there a point when you wanted to say, "Enough! My brain can't stick to the rules, my imagination wants to run wild!"
Amber: I'm big on story structure, so that doesn't usually happen to me. I've been a creative writing instructor for roughly a decade and a half, and I released a workbook/textbook that pulls together a lot of what I have learned from reading student manuscripts. I emphasize planning and structure and outlining in Story Like a Journalist (which invites the readers to think of their stories more vividly/coherently by considering the 5-Ws from journalism class in terms of fiction.) But that never limits my imagination. You can write any story you want inside a structural framework, just like you can create any kind of house without considering the fact that you need four walls and a roof "limiting."
Pam: No. There were very few rules apart from setting and the word count.
David: Yes, and, in a way, I let it. I love using ambiguous supernatural elements in my stories. As such, I encourage the readers to question: "Is this really happening, or is it in the character's head?" Some readers are fans of this and some are not. The same goes for judges, so I wasn't sure if my story would be accepted. However, since my story features a character with psychological trauma and a head injury, the supernatural—whether it be actually paranormal or simply in the character's mind—felt authentic and added an interesting layer to the story, which hopefully leaves the readers with something to ponder.
Gina: Ha ha. Not really. My brain was saying, "You're crazy! How are you going to resolve this without leaving the readers scratching their heads." Fortunately, the amazing Barbara Goffman worked with us as our editor. She was a lifesaver.
Kym: Anyone else seeing how valuable an editor can be? Have you ever said to yourself, or the others in this group: enough guns and knives, think of a better way for the killers to do the dirty deed?
Pam: No, the murder method was up to the writers, although we were told no excessively violent descriptions.
David: Yes, I love originality, but I also think an author should use whatever means best fits their story.
Gina: In my cozy series, I didn't kill anyone with a gun or a knife. I always challenged myself to think of other ways to kill people. I write light, humorous mystery. That probably explains why my brain goes in other directions.
Amber: In my story, the method is poison, which goes along with the genteel feel of the piece (which is, in part an homage to Agatha Christie). I've written stories with both guns and knives, and I don't think there's anything less about using them. But it is always interesting to come across a story where something unusual happens, especially if it is playing into a concept like a locked room murder, and the unusual method makes it equally difficult to figure out how it could have been committed. Melting ice blocks, fishing line, trained parakeets –I'm a sucker for those kinds of puzzles.
Kym: LOL, you and me both, Amber;) What tipped the scale for you to stop what you were going to write and join the anthology? Or did you write two different stories at once?
David: I was between projects, so it was easy to focus only on the short story. However, it was a difficult story to write.
Gina: This anthology was just the thing for me at this time in my life as I'm a full-time theatre teacher. A short story. A short commitment. Perfect.
Amber: I'm always working on multiple projects at once. I have a novel coming out February 1 (Out of Temper, Book 3 in the Bean to Bar Mysteries), a completely different novel series that I'm revising book 1 of with my agent, while I'm outlining ideas for Bean to Bar 4 (A Shot In the 80% Dark – coming this summer), polishing a couple of short stories, and drafting something else. I decided to take time for the anthology because the local Sisters in Crime Chapter is a fun group, and it sounded like they would be fun to work with.
Pam: I'm a past president of SINCND so I felt duty-bound to submit a story for consideration.
Kym: How long was the process from start to print?
Gina: Hard to say. I had written the opening chapter of a new series several months ago. When it came time to work on a story for the anthology, it seemed natural to explore this world I had already created. I wrote the draft; made the suggested edits; and resubmitted within a six-month time frame.
Amber: I wrote the story in a couple of sittings, over two weeks. There were several rounds of revisions, which added another week or so. With the gap between submitting and having the story accepted . . . honestly, I'm not sure. I was working on other things.
Pam: I think the stories were due August 15. The ten finalists were probably selected a couple of weeks later, and then Barb Goffman got in touch with us individually to work on edits. The anthology was published in early January, so that's a pretty quick turnaround.
David: Around five months. Mainly, because I didn't start writing until a few weeks before the deadline.
Kym: Do death scenes come easy for you? If yes, the bigger question is why?
Amber: Death scenes are easier for me to write now than they were when I first started writing. The first time I had to kill off a character, I was shaken up for days. It was a character in one of my sci-fi books, and I was deeply attached to this person as A PERSON, you know? But with mysteries, it's easier. The characters that die usually don't make it deep into the book, so you don't wind up as attached. And it's easier to think in terms of the plot, which usually hinges on the puzzle surrounding the death.
Pam: I would say no, particularly with the current political environment in this country where there's so much hate and distrust. With my story, I chose to open with the murder having recently taken place.
David: Yes, and it's probably because I've been a horror movie fan since I was a child. As a teen in the '90s, Monstervision with Joe Bob Briggs was appointment-TV. I never wanted to miss an episode. I also love mystery and suspense, from classics (Rear Window, Vertigo) to new releases (Lamb, Last Night in Soho). In fact, most of my favorite stories/movies/etc. feature murder or attempted murder. Interestingly, while I do write some murder stories, I also fill them with romance. So theoretically, in my own writing, I counterbalance death and murder with love.
Gina: Death scenes come easily for me because I'm a cozy writer. The actual murders in my stories always occur off the page. I don't have any interest in graphic violence or grisly description. It's just not in my nature.
Kym: Are any of your characters part of another book/series you've written or did they inspire a new character/series you plan to write?
Pam: My main character is Max (Maxine), a 38-year-old business manager at a sign company, and she decides to try to solve the mystery on her own because she's skeptical of the police detective's abilities. I created her for this story, and she surprised me. I can now imagine her appearing in another story, maybe helping out the police detective.
David: No, these are all new characters. I have no current plans to use them again, but I always leave that door open.
Gina: I do expect to turn Maggie McGrady and her Murder Mystery Cruise into a series. How could I not?
Amber: This story was entirely a stand-alone. Which is unusual for me.
Kym: A fresh view into the future—love it! Mystery fans know about the annual Malice Domestic conference, but could the area 'Sisters in Crime' (who have brothers as well) possibly be planning a Malice in Dallas conference?
David: As incoming President of Sisters in Crime North Dallas, I'll say there are no plans for a conference this year, but a short story focused workshop or meeting is certainly plausible. In 2019, we had a great, all-day short story workshop with John M. Floyd, and I'd love to see something similar make a return—if not this year, maybe next.
Kym: Did you celebrate the completion of this anthology as a group and if so, how?
Gina: We're celebrating as a chapter online with a Zoom party. Later we'll celebrate with a book signing or two. You can stay up-to-date with our celebrations at www.sistersincrimenorthdallas.com
Kym: Is there one book or author who inspired you to write your chosen genre?
Amber: I may have mentioned I'm a Christie fan. But there are a ton of authors who have influenced me towards mystery. When I was a kid, The Westing Game was a big influence, along with From the Mixed Up Files of Mrs. Basil E. Frankweiler.
Pam: As a young girl, I read Nancy Drew. But when I grew up, I was in awe of the British mystery novelist P.D. James. She passed away in 2014 but published her last novel when she was in her early 90s.
David: Most of my inspiration comes from film and television, but growing up, I was a fan of R. L. Stine, Christopher Pike, and Dean Koontz. I'm definitely a horror fan, which likely explains why I infuse my stories with supernatural elements, however, I also love realism and love to reveal the true horrors and monsters of the world.
Gina: Hard to limit my answer to one author or book. I was first inspired to write cozy, reading Lilian Jackson Braun's 'The Cat Who...' series. I found my first-person voice reading Sue Grafton's 'Alphabet' series. And my love for light-hearted mystery comes from Janet Evanovich's hilarious 'Stephanie Plum' series.
Kym: What are you working on now?
Pam: A collection of linked stories that reads like a novel. Think Olive Kitteridge set in the Adirondacks (in upstate NY), with its own set of quirky characters. I've been visiting the Adirondacks all my life.
David: Currently, I'm writing what will hopefully be my debut novel, which features a private investigator as the main character. Originally, the story was written as a theatrical play, but after three public readings and audience feedback, everyone wanted more—more story, more scenes, more time with the characters. So, knowing I couldn't add much more to an already 100-minute play, I decided to think through the story with fewer limitations. (Only so much can be done on a stage, but anything can happen in a novel.) Before long, I was writing an outline for the story, which has now more than doubled in scenes, characters, and settings.
Gina: I'm developing a series and more short stories featuring Maggie McGrady.
Amber: I'm getting ready for The Bean to Bar Mysteries No. 4, A Shot in the 80% Dark. The books always highlight something about actual chocolate making and something cool you can do with the finished chocolate, and so far in this one, I think part of it will center around 3-D Printing with chocolate.
Kym: Where can our readers find you on social media?
David: Connect with me on my website: davidtdouglas.com Instagram: @davidtdouglas or Facebook: facebook.com/davidtdouglas
Gina: Facebook: Author Gina Lee Nelson/ Rebecca Adler @authorrebeccaadler
Amazon Gina Lee Nelson: https://amzn.to/3A8HgVH
Amazon Rebecca Adler: https://amzn.to/3Iel0g8
Website: www.AuthorRebeccaAdler.com
Amber: I love connecting with readers! And book clubs! (I'd love to Zoom with more book clubs – there are sample discussion questions on my website.) And you can find me talking chocolate, coffee and creativity in a number of places.
Website: http://www.amberroyer.com
Blog: http://amberroyer.com/blog/
Instagram: https://www.instagram.com/amberroyerauthor/
Facebook: https://www.facebook.com/Amber.Royer.Author/
Youtube: https://www.youtube.com/channel/ UCoA_29HV2nPmRnox9LPVanw
Twitter: https://twitter.com/amber_royer
Amazon Author Page: https://www.amazon.com/Amber-Royer/e/B00PFV4CGM
Goodreads: https://www.goodreads.com/author/show/8144619.Amber_Royer
Pam: I write a regular blog on the arts—movies, books, plays, etc. called Shouts from the Third Act. Art = Life. Connecting the dots story by story. https://www.shoutsfromathirdact.com
***
Thank you to all the authors who could make it here. It was challenging to put it all together, but I absolutely loved seeing all the different responses to a journey they took together. Until next month, get cozy and read on!
Metroplex Mysteries Volume I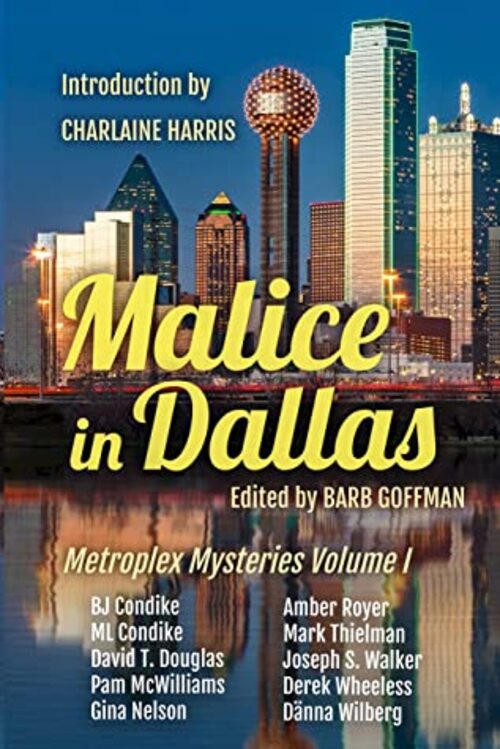 Sisters in Crime North Dallas
"I've belonged to Sisters in Crime for many, many years, so I was delighted to write the introduction for this anthology… I hope you enjoy this anthology as much as I did." ~~CHARLAINE HARRIS
A Perfect Mystery Anthology Gift For Book Lovers!
Welcome to the inaugural anthology by the chapter members of Sisters In Crime North Dallas. The city of Dallas and surrounding area offer great inspiration for mystery writers—and mystery lovers. Several lakes, lavish high-dollar hotels to low-income neighborhoods, and historic sites such as the Book Depository--plus multi-generational residents or Dallas transplants--all bring to life the stories included in Malice In Dallas: Metroplex Mysteries Volume I.
Mystery Anthology [1106 Design, On Sale: January 1, 2022, Hardcover / e-Book, ISBN: 9798780915751 / ]
***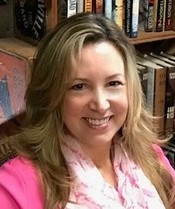 Kym Roberts writes by day and is a pro-surfer in her dreams by night. Her humor is often raunchy, her jokes are often bad, but her hunger for a story keeps the adventures coming fast. Experience the thrill & catch the wave of passion, mystery, and suspense with her at kymroberts.com, on Facebook @KymRobertsAuthor911, and on Twitter @kymroberts911.
No comments posted.