Discomfort was the first thing Sebastian became aware of, his mouth parched and his head pounding. He ignored both, struggling to recall what had happened.
Mercier—the ring of fire—
Lord Fine.
Sebastian's eyes flew open and he sat up.
Or tried to.
He swore as metal bit into his wrists. His arms were stretched up and out to either side, cuffed to—he craned his neck with difficulty, following the line of his right arm—cuffed to—
Bedposts?
Tall mahogany bedposts, exquisitely carved, and above them stretched a deep green canopy, embroidered with gold. His head rested on something soft, and the fabric against his cheek was like silk.
A twitch of his legs confirmed they were free, and there was no bite of lead against his skin. So someone with significant money had cuffed him to a bed, but they hadn't taken his magic into account—
"Finally awake, are you?"
Sebastian turned his head to the left, toward the sound of Lord Fine's voice.
The viscount was only a few feet away, sitting in a chair of dark wood and green velvet. He had removed his jacket, his shirtsleeves rolled up to his elbows above bandaged forearms, and on his lap was a revolver.
Sebastian swallowed around his scratchy throat. "Good…evening?" he tried.
"It's morning," Lord Fine said dryly. "You've been unconscious for six hours."
Oh, Sebastian's mouth formed. He eyed the uncomfortable straight back of the chair. If Lord Fine had been sitting there the whole time, he was likely stiff, sore, and even more on edge. "I'm not going to hurt you."
If anything, that made Lord Fine's expression even more suspicious. "You're the one in handcuffs. I'm the one holding a gun." He leaned forward, and in a dangerous voice said, "Tell me, why exactly do you think I should be the worried one?"
Uh-oh. Sebastian wet his lips. "Is there a reason I'm here?" he asked, instead of answering.
"Because I have questions."
Lord Fine's gaze had traveled from Sebastian's face to his outstretched arms, and was lingering. Was he straining against the handcuffs? That would only make poor Lord Fine even more nervous.
Sebastian forced his muscles to stop flexing. "I meant, is there a reason I'm here, in this bedroom?"
"Was I supposed to leave you passed out on the street?"
"It's what I would have expected," Sebastian said honestly.
Lord Fine smiled thinly. "Well, then we both need to examine our expectations, because I wasn't expecting a man to set me on fire."
Sebastian opened his mouth—
Lord Fine held up the revolver. "Don't give me whatever lie you're about to spin," he said curtly. "Mercier lit up that alley—lit up me—like a match. Then you showed up, and all the fire was gone, and I want an explanation or you can spend the rest of your days handcuffed to my bed."
Sebastian considered that. "It's a nice bed."
Lord Fine cocked the revolver.
Sebastian let his head fall back against the pillow with a sigh. How was he going to explain this?
There was a loud scrape of wood against wood as Lord Fine stood so abruptly the chair slid on the floor. Then Lord Fine's face filled Sebastian's vision, narrowed eyes of cool gray-blue, a thin, straight nose, morning stubble on a sharp jaw.
Nice view, some wildly untimely part of Sebastian's mind decided to observe.
The revolver was still in Lord Fine's hand, and he lifted it to point between Sebastian's eyes.
Sebastian raised his eyebrows. "What are you doing now?" he asked curiously.
"Conducting an experiment." Lord Fine held the revolver steady for several moments, then his eyes narrowed further. "Look at you. You're not remotely scared of this gun. You're not even nervous."
"Should I be?"
Lord Fine looked at him like he was stupid. "I'm pointing a gun between your eyes, Mr. de Leon. Most men would be." He lowered the gun, only an inch. "But you're not most men, are you?"
Sebastian winced. "Maybe I believe you won't use it."
"I most certainly would," Lord Fine said. "I would shoot you as easily as I would a fox."
Sebastian frowned. "Why would you shoot a fox?"
"It's an analogy," Lord Fine said testily. "You don't actually shoot the fox, you sic the dogs on it, but the point is—"
"You make your dogs kill it?"
"It's a fucking fox—"
"But they're so cute," said Sebastian. "They've got those little noses, and those big ears."
"Are you serious right now?" said Lord Fine incredulously. "You're handcuffed to my bed at gunpoint and you're more upset that the English hunt foxes?"
"No," Sebastian lied. He held his tongue for a moment, then couldn't help adding, "But you shouldn't."
(c) Allie Therin, Carina Press, 2021. Shared with permission from the publisher.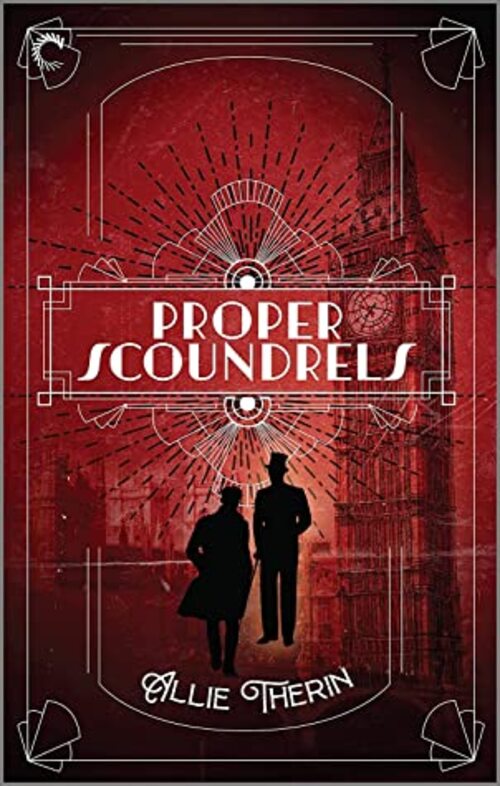 Don't miss this standalone spin-off in Allie Therin's acclaimed Magic in Manhattan universe!
Their scandalous pasts have left them wounded and unworthy—and hopelessly perfect together.
London, 1925
Sebastian de Leon is adjusting to life after three years spent enthralled by blood magic. The atrocities he committed under its control still weigh heavily on his conscience, but when he's asked to investigate a series of mysterious murders, it feels like an opportunity to make amends. Until he realizes the killer's next likely target is a man who witnessed Sebastian at his worst—the Viscount Fine.
Lord Fine—known as Wesley to his friends, if he had any—is haunted by ghosts of his own after serving as a British army captain during the Great War. Jaded and untrusting, he's tempted to turn Sebastian in, but there's something undeniably captivating about the reformed paranormal, and after Sebastian risks his own life to save Wesley's, they find common ground.
Seeking sanctuary together at Wesley's country estate in Yorkshire, the unlikely pair begins to unravel a mystery steeped in legend and folklore, the close quarters emboldening them to see past the other's trauma to the person worth loving beneath. But with growing targets on their backs, they'll have to move quickly if they want to catch a killer—and discover whether two wounded souls can help each other heal.
Romance Fantasy | Romance Historical | Romance LGBTQ [Carina Press, On Sale: December 28, 2021, Mass Market Paperback / e-Book, ISBN: 9781335474049 / eISBN: 9780369704818]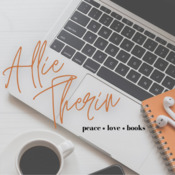 Allie Therin is a writer and avid reader of sci-fi, fantasy, and romance. She also is, or has been, a bookseller, an attorney, a Parks & Rec assistant, a boom operator, and a barista for one (embarrassing) day. She grew up in a tiny Pacific Northwest town with more bears than people, although the bears sadly would not practice Spanish with her.
When not researching odd questions for her 1920s romance series, she loves to connect with other readers and writers. Come say hi on Goodreads, Twitter, Facebook, or at allietherin.com!
1 comment posted.