1--What's the name of your latest release?
The Bladebone.
2--What is it about?
The Bladebone is the final installment in my Khorasan Archives fantasy series (which began with The Bloodprint, followed by The Black Khan and The Blue Eye). Two women warriors named Arian and Sinnia are in a race against time to save their world from being destroyed by the One-Eyed Preacher's holy war. Only the powers of an ancient magic weapon called the Bladebone can help them to defeat him. But Arian and Sinnia are surrounded by enemies, while Arian is cut off from the man she loves--the Silver Mage, her powerful ally. As their world burns down around them, Arian must find the Bladebone and face off against the Preacher in a cataclysmic battle for the future.
3--What word best describes your main character(s)?
Tenacious. But I could also add courageous, vulnerable, literate--important qualities in Arian's world.
4--What makes your story relatable?
The characters in this story care deeply not only about each other, but also about the common good. The Bladebone is a story about hope, love and the right to human dignity, and I think those themes are always relatable.
5--Who are the people your main characters turn to when they need help?
Arian and Sinnia most often turn to each other for encouragement and support. But Arian also turns to Daniyar, the man she loves, and to the orphan boy Wafa, who is her ward.
6--What do you love about the setting of your book?
The chance to describe worlds we don't often see in fantasy. My story is set along parts of the Silk Road in Central Asia and the Middle East, which also gave me the opportunity to write about significant touchstones in Islamic history.
7--Are you a plotter (follow an outline) or a pantster (write by the seat of your pants)?
I am definitely a plotter. I can't keep track of things if I don't plot in advance, so I wrote a comprehensive outline of all four books in this series. But I did also allow room for new ideas that came up, even if they deviated from my outline, because I find that my characters like to take the reins in their own hands.
8--What is an ideal writing day for you?
Six hours of peace without phone calls, email, interruptions or housework. That unfettered time allows me to become deeply engrossed in my writing, which results in a much better book.
9--Do you listen to music while you write, need total silence, or do you have the TV on?
I listen to music before I write sometimes, to help me set the mood. But I prefer total silence when the time comes to begin writing, as I find everything else a distraction.
10-- How do you approach research?
I do my best to be thorough. I read about the subjects I'm writing on. I travel to places where my books are set. I view archival footage, videos and photography. And I conduct a lot of one-on-one interviews with people who are experts on the subjects I like to write about.
11--What is your publishing journey story?
I had a few other careers before I became a full-time writer: I was an immigration lawyer, an adjunct law professor, and the editor of a magazine for a time. But throughout these different career paths, I was always writing fiction, and often non-fiction too. The first full length novel I wrote was a crime novel. So was the second. And I was incredibly fortunate when my second manuscript caught the eye of a very generous editor at Minotaur Books. I had entered it into a contest I didn't win, but my editor reached out to me with some suggestions on how my book could get published. So I wrote a couple of crime fiction novels before I was able to find my agent, the amazing Danielle Burby, and then I told Danielle about a passion project I was developing on the side, a fantasy series called The Khorasan Archives. Danielle sold that four-book series to Harper Voyager, and the rest is history!
12--Do you have critique partners/writing groups you want to give a shout-out to?
Yes, absolutely! I belong to a group called #blahblahplot, though we keep meaning to come up with a better name. My companions in that group are the writers S. K. Ali, the author of Love From A to Z, and Uzma Jalaluddin, the author of Ayesha At Last. I get a lot of encouragement and support from them, while Uzma is my main critique partner--I work everything through with her. Both of these women, and many other writing friends, are invaluable to me.
13--What're the most frustrating things about being an author?
As a writer of color writing new and unfamiliar worlds, it can be challenging to find ways to reach a mainstream audience.
14--What's your favorite scent?
It's a tie between jasmine and Christian Dior's J'Adore.
15--What movie will you watch no matter what if it's on TV?
The Princess Bride. "Hello, my name is Inigo Montoya. . . " I just can't help myself.
16--Do you like breakfast, lunch, or dinner best?
Dessert!
17--What's one thing you wish you knew more about?
I wish I was fluent in Arabic and Farsi.
18--What's the silliest thing you've recently done?
My silliness is more of an ongoing thing. I speak to my siblings in Star Trek metaphors. And I call all my girlfriends "Bobo."
19--What can readers expect from you next?
More fantasy novels, more crime novels, and a literary novel that I'm currently working on. I'd also love to venture into the worlds of tv and film.
20--How can readers reach you?
I love chatting with readers! You can find me on my website at www.ausmazehanatkhan.com, on Twitter @ausmazehanat, on Instagram @azkhanbooks and on Facebook, at facebook.com/ausmazehanatkhan.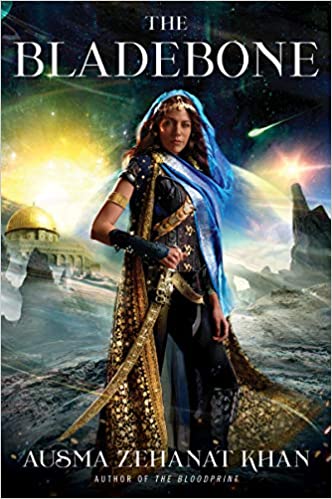 A powerful band of women warriors must face off against an oppressive enemy in one final showdown that will determine their survival and the fate of their world in this concluding volume in Ausma Zehanat Khan's powerful fantasy series--an epic of magic, bravery, adventure, and the fight for freedom that lies "somewhere between N. K. Jemisin and George R. R. Martin" (Saladin Ahmed).
Armed with the powerful sorcery of the Bloodprint and supported by the Talisman, the oppressive One-Eyed Preacher is on the verge of conquering Ashfall, the Black Khan's capital in the west. Yet not all is lost for Arian, Sinnia and the Council of Hira. If these brave female warriors can uncover the secrets of an ancient magic weapon known as the Bladebone, they can defeat the Preacher and crush his cruel regime.
Neither Arian and Sinnia, nor their allies, the Mages of Khorasan, know the Bladebone's whereabouts, and not all may survive the search to uncover it. Pursued by a nefarious enemy aligned with the Preacher, they become separated, each following a different path. Then, in their darkest hour, unexpected help appears. But is the Khanum of Black Aura a friend or foe? Arian may discover the answer too late.
When the secret of the Bladebone is finally revealed, the knowledge comes at a devastating price for Arian. As the capital falls, only Hira, home of the Companions, stands in the way of the Preacher's victory. While the Companions rise to defend their Citadel from enemies outside and within, Arian must face off in a cataclysmic battle with the Preacher that pits the powers of the Bloodprint against the Sana Codex.
For those who survive, Khorasan will never be the same.
Fantasy Dark [Harper Voyager, On Sale: October 6, 2020, Paperback / e-Book, ISBN: 9780062459251 / eISBN: 9780062459268]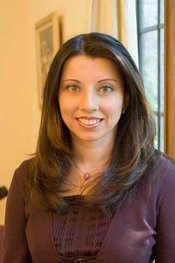 Ausma Zehanat Khan is a British-born Canadian living in the United States, whose own parents are heirs to a complex story of migration to and from three different continents. A former adjunct professor at American and Canadian universities, she holds a Ph.D. in International Human Rights Law, with the 1995 Srebrenica massacre as the main subject of her dissertation. Previously the Editor in Chief of Muslim Girl Magazine, Ausma Zehanat Khan has moved frequently, traveled extensively, and written compulsively.
No comments posted.