Loom knitting is one of my favorite hobbies, besides reading, of course! The creativity and joy in finding the right yarn to match a pattern has ignited my creative senses and inspired me to seek out other crafts. Whether it's a scarf, a shawl, or a blanket, each crafty adventure I take is both relaxing and inspiring. I thought it would be fun to share a few of my recent favorites with you guys before jumping into the books. Each one of these lovely loomed items is an act of love, as I often donate my work to charity, especially since I like using some of the thicker yarns and I live in Florida!
And now onto the books. . . Peggy Ehrhart's upcoming release, A FATAL YARN, is the fifth book in the Knit and Nibble series, and knitting is at the heart of the mystery. I love that the local trees are suddenly gaining sweaters, even better than the sweaters are to hide the dreaded X marks that signal the tree is marked for removal. Peggy Ehrhart has created a likable cast of characters and the entire concept underlying A FATAL YARN is sheer fun. Never mind that our intrepid amateur investigators take clippings of yarn to local yarn stores as part of their investigation!
HEMS AND HOMICIDE by Elizabeth Penney is the first book in the Apron Shop series and promises to be a fun and engaging mystery! I have to admit that a book featuring an apron shop caught my attention for the sheer novelty of the idea. Elizabeth Penney made me a believer, however, as I love the ideas Iris Buckley and her grandmother, Anne Buckley, along with Iris' best friend, Madison Morris, have in store for Ruffles and Bows. I can't wait to see what happens when Ruffles and Bows opens!
Holly Quinn's third book in the Handcrafted Mystery, A CRAFTER QUILTS A CRIME, features a death at the Community Craft store during the annual Fire & Ice event. I love visiting the Community Craft store! In fact, I love the whole concept of it, as a local store dedicated to crafting events and supplies of all kinds sounds like a dream come true. The live mannequin idea is quirky, but brilliant and I look forward to future adventures in the series.
I've never made candles or candle molds before, but Christin Brecher tempts me with the idea in MURDER MAKES SCENTS. I absolutely love the idea of the Wick & Flame store and would love to visit one of their candle making classes, although I'm sure I would be just like some of their other customers and overdo the scents. Oh but the sheer fun of creating such a unique piece of usable artwork sounds like so much fun and Christin Brecher helpfully includes some tips about molds at the end to entice the reader further! MURDER MAKES SCENTS is a bit more internationally based than many cozy mysteries, but Christin Brecher delivers a solid and very entertaining storyline.
Do you like to read books that feature some of your hobbies? I'd love to hear more about your hobbies and your book recommendations featuring those hobbies! In the meantime, if you're interested in knitting (or crocheting) for charity, please check out Warm Up America at https://warmupamerica.org/ as I'm sure you'll find a charity or challenge that interests you!
BOOKS MENTIONED IN THIS ARTICLE: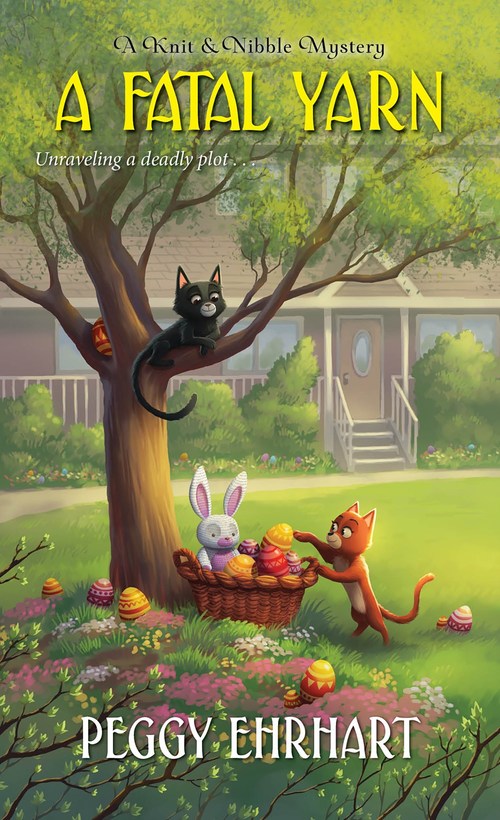 Pamela Paterson and her Knit and Nibble club must clear the name of one of their knitters when he's accused of murdering the mayor . . .
The trees in Arborville, New Jersey, have started sporting sweaters. Part of the trend of public knitting art? Not exactly. An anonymous activist has been wrapping trunks in yarn to cover red X's that mark certain trees for removal by the town so they don't interfere with power lines. When the town's mayor—who supports cutting down the trees--is murdered, Pamela wonders if the tree hugger committed homicide to prevent arborcide. A knitter is arrested, but it's one of Knit and Nibble's own--the harmless Roland DeCamp, who was seen arguing with the mayor. Pamela is sure the police are barking up the wrong tree. With the help of her reporter friend Bettina, she branches off on her own investigation to root out the real killer . . .
Knitting tips and delicious recipe included!
Mystery Cozy | Mystery Hobbies [Kensington, On Sale: March 31, 2020, Mass Market Paperback / e-Book, ISBN: 9781496723642 / eISBN: 9781496723673]
***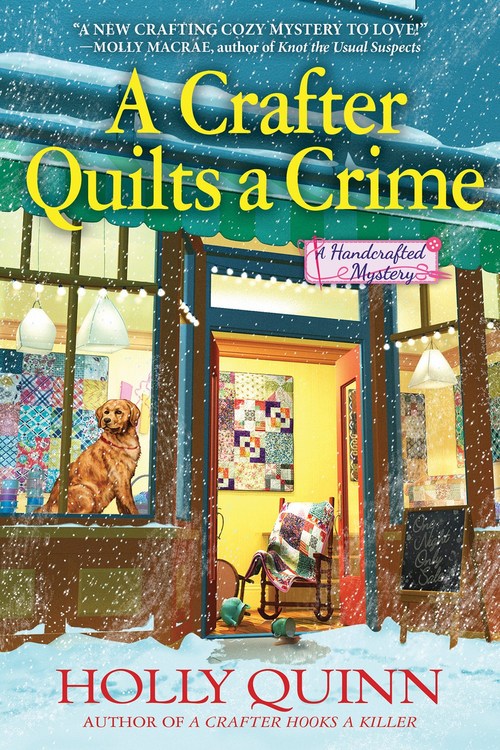 Perfect for fans of Betty Hechtman and Maggie Sefton, Holly Quinn's third Handcrafted mystery aspires to wrap you in its warmth.
Community Craft proprietor Sammy Kane must piece together a patchwork of clues when a "live" mannequin ends up stone-cold dead.
Snowcapped pines and glittery dusted sidewalks adorn tranquil Heartsford, Wisconsin, while residents cuddle beneath heirloom quilts in front of cozy wood fires. But come the next day, the below-zero temperatures won't keep the locals away from Heartsford's annual Fire & Ice event. To boost customer traffic at Community Craft's one-night-only sale, Samantha "Sammy" Kane persuades a few of the craftspeople who sell their wares at the store to participate in a live mannequin window display contest.
Local quilter Wanda Wadsworth emerges as a favorite to win the contest, as she manages to not move a muscle for an unusual amount of time. Onlookers outside the window try everything to get her to crack--tapping on the glass and making funny faces--but nothing disrupts Wanda's stillness. When the eagle-eyed spectators realize Wanda isn't breathing, a blanket of grief and fear descends upon the wintry town.
Detective Liam Nash can't seem to piece the clues together. Fortunately, Sammy's cousin, Heidi, and her sister, Ellie, are on hand to reconvene their detective team, S.H.E. They set out to solve Wanda's untimely death before the case grows as icy as a sub-zero Wisconsin winter. But they are all too aware that the killer is too close for comfort.
Mystery Cozy | Mystery Hobbies [Crooked Lane Books, On Sale: February 11, 2020, Hardcover / e-Book, ISBN: 9781643852904 / eISBN: 9781643853116]
***
Apron Shop #1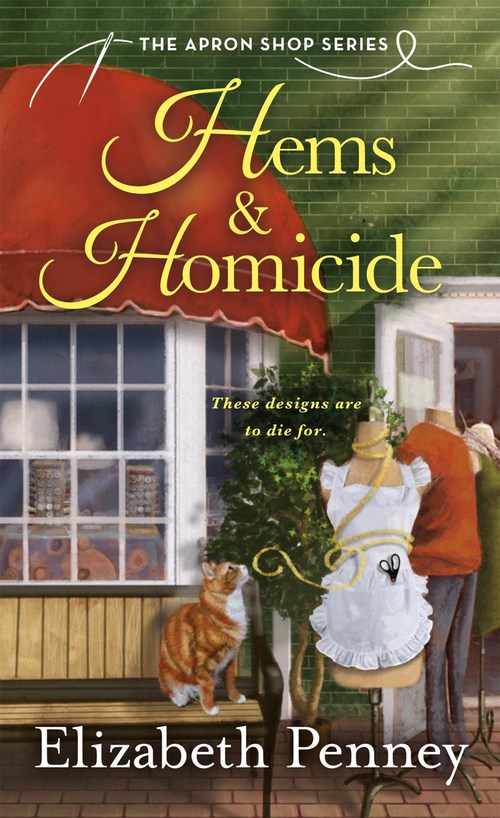 Welcome to the first in the Apron Shop mystery series by Elizabeth Penney, set in the quaint village of Blueberry Cove, Maine where an expert seamstress turned amateur sleuth is getting measured for murder. . .
Iris Buckley is sew ready for a change. After the death of her beloved grandfather, Iris decides to stay in her Maine hometown to help out her widowed grandmother, Anne—and bring her online hand-made apron designs to real-time retail life. Her and Anne's shop, Ruffles & Bows, is set to include all the latest and vintage linen fashions, a studio for sewing groups and classes, and a friendly orange cat. The only thing that they were not planning to have on the property? A skeleton in the basement
Anne recognizes the remains of an old friend, and when a second body shows up in the apron shop—this time their corrupt landlord, whom Anne had been feuding with for decades—she becomes a prime suspect. Now, it's up to Iris to help clear her name. Enlisting the help of her old high-school crush Ian Stewart who, like certain fabrics, has only gotten better-looking with age and her plucky BFF Madison Morris, Iris must piece together an investigation to find out who the real killer is. . .and find a way to keep her brand-new business from being scrapped in the process.
Mystery Cozy [St. Martin's Paperbacks, On Sale: December 31, 2019, Mass Market Paperback / e-Book, ISBN: 9781250257949 / eISBN: 9781250257956]
Intriguing cozy mystery with fascinating characters
***
Nantucket Candle Maker Mystery #2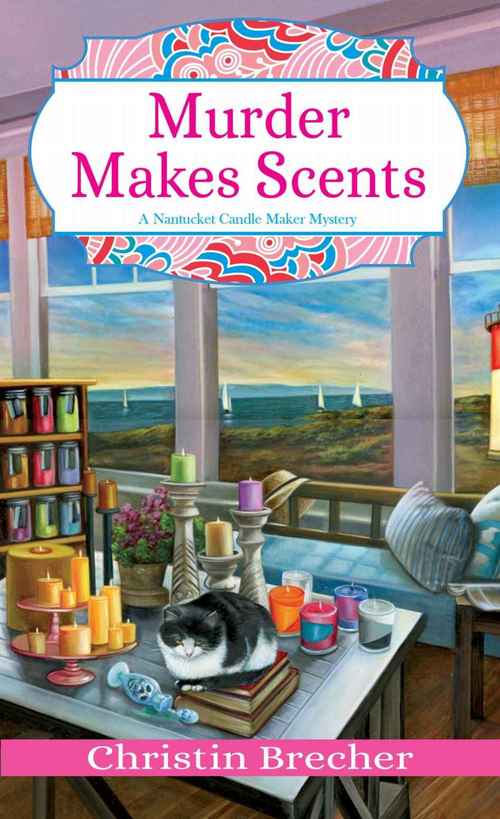 Stella Wright loves creating candles at her Nantucket store—and she also has a burning passion for justice. Now, after visiting a perfume conference, she must solve a vial crime . . .
Stella and her globe-trotting mom, Millie, have come home from a perfume industry conference in Paris, where their trip was marred by witnessing the stabbing death of a young man. It's a relief for Stella to be back on her picturesque island, with the comforting company of her cat, Tinker. But lingering danger may have followed them back across the ocean.
After someone breaks into her candle store, the Wick & Flame, Stella starts feeling spooked. And just as things threaten to ignite, Millie suffers a blow to the head. Stella receives an anonymous note claiming that her mother smuggled a secret formula out of France—and threatening her life if it isn't returned. Now Stella's picked up the scent of a cold-hearted criminal and an intriguing puzzle, and things are about to get wicked . . .
Mystery Woman Sleuth | Mystery Hobbies | Mystery Cozy [Kensington, On Sale: February 25, 2020, Mass Market Paperback / e-Book, ISBN: 9781496721419 / eISBN: 9781496721426]
Action-packed cozy mystery with an international twist!
No comments posted.