ROCK ME TWO TIMES has a core of music…of course! That's a no brainer. It's the driving force behind the relationship that keeps the members of the band Toxsin together. I also used it as a draw between the two main characters, Syon and Kate. The reason was simple: anyone who can compose music has my profound respect. I know what it's like to craft my passion into a story and I think musicians are the same, just crafting with sound.
For certain, there are times I am listening to a piece of music and it just puts me into a mood. Adele has that sultry voice that makes me think of slow, enticing motions on a dance floor, ones that set the mood for moving on to the bedroom. Her song Set Fire to the Rain is a favorite of mine.
My personal taste in music tends to run all over the place, yes, ADHD, yet as an author, I can call it 'creative voice' now. I've latched onto a group called Globus and have spent a lot of time listening to their music lately. One of my favorite of theirs is Amazing Grace, but not the version that first springs to mind. Globus has composed a song about a man's struggle to find his personal saving grace in their version of the song.
I don't actually listen to music while I write. When I'm at the keyboard, I tend to be very intent on what I am writing, to the point that I chip the paint off the keys because I am hitting them so hard. My husband just shakes his head. I do listen to music when I am between scenes and sitting at my sewing machine, waiting for the next scene to form in my head. Every Hero tends to have their own song by the time I get done writing a book, but Syon didn't. I came to the conclusion it was because he was an artist in his own right and no other musician's work could define him.
So I'll leave you with a song I think suits him, Wheel in the Sky, by Journey. Syon was always in motion, pulling Kate into the center of the comet that was the force of his life. At least that was the story I tried to write. It was fun and intense, just like a Rock Star should be. I hope you take an evening to read it.

Cheers!
Dawn Ryder
Dawn Ryder is the erotic romance pen name of a bestselling author of historical romances. She has been publishing her stories for over eight years to a growing and appreciative audience. She is commercially published in mass market and trade paper, and digi-first published with trade paper releases. She is hugely committed to her career as an author, as well as to other authors and to her readership. She resides in Southern California.
Website | Facebook | Twitter | Goodreads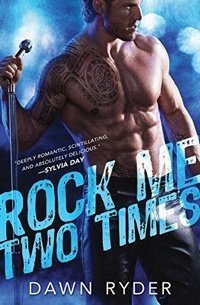 First in Dawn Ryder's sizzling new Rock Band series. Rock star Syon Braden writes and plays the most extreme—and profitable—music from the depths of his shredded heart. He's got a double platinum record, adoring fans, and success for his band Toxsin—but it's what he can't have that he craves. Custom leather designer Kate Napier has her sights set on success, and that means keeping irresistible rock stars like Syon out of her bed. The chance to tour with the band and provide them with a fantastic custom wardrobe is too major an opportunity to turn down. But immersion in the dark, wild world of Toxsin on tour means Kate's about to get rocked…hard…body and soul.
No comments posted.