Two historical YA adventures lead the pack of releases this week, along with comedy, horror and popular paranormal romance.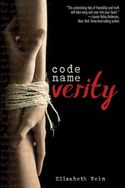 CODE NAME VERITY by Elizabeth Wein (Hyperion Books)
October 1943, a British spy plane crashes in Nazi-occupied France. Captured by the Gestapo, "Verity's" only choice is to reveal everything she knows about the resistance, or face a grisly execution. She begins with how she became friends with the pilot Maddie, and why she left her in the wreckage of the plane. Then Maddie, alive and stranded, picks up the tale, revealing truths and twists in Verity's version, weaving a story of danger, resolve and adventure that shows how far friends will go to save each other.
"Outstanding in all its features—its warm, ebullient characterization; its engagement with historical facts; its ingenious plot and dramatic suspense; and its intelligent, vivid writing." --Horn Book Magazine Starred Review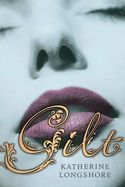 GILT (The Royal Circle #1) by Katherine Longshore (Viking Juvenile)
When Kitty Tylney's best friend, Catherine Howard brings Kitty to Henry VIII's court, she's thrust into a lavish world of gowns, jewels and parties... and caught between two men--the object of her affection and the object of her desire. But court is also full of secrets, lies, and sordid affairs, and as Kitty witnesses Cat's meteoric rise and fall as queen, she must figure out how to remain a loyal friend when the price of telling the truth could literally be her head. Full of historical detail, with less froth than the title and cover suggest. "A substantive historical read, with just a few heaving bodices." --Kirkus reviews.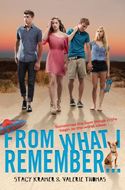 FROM WHAT I REMEMBER by Stacy Kramer and Valerie Thomas (Hyperion Books)
Geeky Freiburg High valedictorian, Kylie, wakes up graduation morning in a strange room, a wedding ring on her finger, and lying next to cute senior, Max, while his girlfriend, Lily, glares at them from the doorway. Kylie has no memory of the previous twenty-four hours, but the tale emerges in the recollection of the four misfits in Mexico, as they try to retrieve a missing laptop and get back over the border in time for graduation.  "The Hangover" for teens, this is a light-hearted, quick reading romp filled with mayhem and mishaps, wacky hijinks, and of course, romance.
New in Continuing Series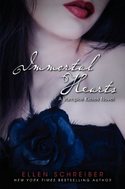 IMMORTAL HEARTS (Vampire Kisses # 9) by Ellen Schreiber (Katherine Tegan Books) Raven knows she's always wanted to be a vampire, and spend eternity in the arms of Alexander Sterling, but meeting his sister "Stormy" forces her to take a good look at what that would mean. Will she convince Alexander to finally turn her? This final chapter of Vampire Kisses' nocturnal romance will keep all mortal and immortal hearts racing.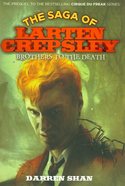 BROTHERS TO THE DEATH (The Saga of Larten Crepsley #4) by Darren Shan (Little Brown) After years of wandering, Larten has finally found his way back to his vampire family. But there are vampires determined to start a war with global implications and casualties.  Vampires who would betray Larten in the most cutting way.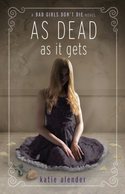 AS DEAD AS IT GETS (Bad GIrls Don't Die #3) Katie Alender (Hyperion Books)
It's been three months since Alexis helplessly witnessed Lydia Small's violent death, and all she wants is for her life to return to normal. But Alexis realizes that her enemy isn't gone, and the powerful ghost's fate is tied to hers in ways she couldn't possibly imagine.
Happy Reading!
–Rosemary
Rosemary Clement-Moore writes Young Adult books because she loves to read them. Visit her webpage or blog to find out more about her award winning Maggie Quinn: Girl vs. Evil series, and her gothic romance, THE SPLENDOR FALLS (now in paperback). Her latest book is TEXAS GOTHIC.
No comments posted.