What could be more romantic on a dreary winter February day than transporting yourself to sunny, sensual Italy? In honor of that magical land, this month Julia is offering one US lucky reader a chance to win a copy of ROGUE'S LADY.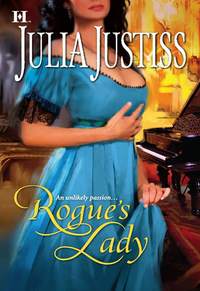 An unlikely passion...
An Infamous Gentleman . . .
Dangerously handsome, rakishly charming, William Tavener never planned to settle down -- yet with his estate in ruins, the impoverished lord's only hope is to wed an heiress. But to his dismay, the one lady who stirs his ardor and excites his mind is a penniless musician's daughter . . .
A Scandalous Lady
With her dubious lineage and humble dowry, Allegra Antinori knows Society deems her no great prize. Still, she hopes marriage to an honorable gentleman will secure her future -- particularly if the groom is Rob Lynton, the family acquaintance she's always adored. So why does the entirely unsuitable Lord Tavener keep teasing her senses . . . and bedeviling her heart?
A Perfect Match
Knowing they should part, can an incurable rogue and a forsaken lady resist the passion of a lifetime?