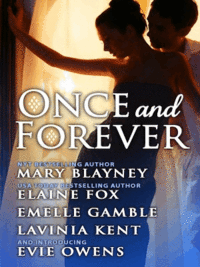 Emelle Gamble loves book clubs…they have readers, who are her favorite people. They read books and talk about books, her favorite things to do. And all the best book club meetings Emelle has gone to have snacks! Enter below and your book club will get books…and a $50 gift card to buy pumpkin pies for all!
My new novella, Duets, is in a compelling collection called ONCE AND FOREVER. This anthology includes 4 additional original novellas from my critique group partners which range from Regency romance, to contemporary romance to a fabulous new writer's debut, The Psychic Detective.
Duets offers alternating looks into the lives of two women who would seem to have little or nothing in common. Screen star Molly Harper is on the verge of marrying a man who has swept her off her feet, thought perhaps hasn't swept all her feelings for her first love away. Anne Sullivan, happily married for twenty-five years, is fighting to hold onto the man she loves, and hold off a confrontation that could shatter her family's image of what they are. Duets confronts a past secret that ties these two women's lives together, just as chance events turn Molly and Anne's worlds upside down.
In December of 2013, a full length novel MOLLY HARPER, will continue the story three years later of the all the characters you meet in Duets.
Here's an excerpt from Duets
Molly saw Cruz before he saw her, which was the way she liked it. It gave her time to measure his mood, and remind herself not to jump into his arms as she had all the years they were lovers.
He stood outside on her mother's patio, the breeze ruffling in and out of the rose and lilac bushes, the sun shining down through the gently waving trees onto his tanned face. Though he was a big man, tall and broad shouldered, he was light on his feet and never seemed to take a false step. He had a natural grace that Molly associated with professional dancers.
Of course, he was too macho to have considered that career. She grinned, remembering his embarrassment the one time she'd suggested it.
Cruz leaned down, his shoulders straining against his white tee-shirt, and picked up her ancient cat. He hugged Cleo to his neck, gently stroking her fur as he murmured in Spanish.
Molly's chest tightened as Cleo rubbed herself against Cruz's day-old beard. She put her hand to her cheek and remembered how his face felt when he didn't shave.
Was he here to see Marta?
It was Thursday and he usually came to LA on Friday afternoon to have lunch and catch up with his mother, after Friday morning office hours with his students at Santa Barbara College.
Did Marta call him last night and tell him I was coming home? Does he already know about me and Ben? Molly wondered. She pushed her hair off her forehead and walked out to the patio.
"Hey, Cruz!"
He turned at the sound of her voice, the cat purring against his shoulder. He put Cleo down and walked to her. "Molly. When did you get in?"
"A couple of hours ago." She gave him a brief hug as a familiar frisson of heat up crawled up the center of her. She brushed a kiss against his cheek and stepped back. He smelled like sun and soap and the best moments of her life.
"You look great." Cruz folded his arms over his chest and took her in, all of her, with a sweep of his brown eyes. They crinkled as his grin unfolded. "How long are you going to be in LA, chica?"
"Just a few days." She put her hand to her suddenly dry lips, and was distracted by the gleam of the enormous diamond on her finger. Quickly she stuck her hand in her shorts pocket.
What do I do? Just blurt out the news? Go get us some drinks?
Run?
Contest ends: November 30, 2013