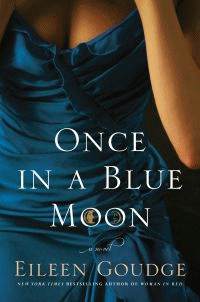 ONCE IN A BLUE MOON, a book comes along that evokes every imaginable emotion in a reader. That book, ONCE IN A BLUE MOON (Vanguard hardcover, October 2009), by Eileen Goudge, will intrigue readers with the story of two long- lost sisters navigating the choppy waters of their relationship when they reunite after growing up separately in foster care. Lindsay, the oldest sister, is battling a corporate giant to keep her independent bookstore in business. As a way of showing her support to the courageous (and dwindling) independent bookstores, Eileen will give one lucky winner a $50 gift card to Indie Bound stores. In addition, she'll include an advance reading copy of ONCE IN A BLUE MOON. Two great prizewinners will each receive a book from Eileen's backlist.
Order ONCE IN A BLUE MOON Today

Lindsay and Kerrie Ann are sisters who have known hardship from an early age. Without guidance from their neglectful mother, their only aid came from an unlikely source, a retired exotic dancer by the name of Miss Honi Love. When the girls' mother was sent to prison, Miss Honi tried unsuccessfully to save them from being separated and sent into foster care.
Thirty years later, Lindsay is still trying to reconnect with her sister. The owner of a bookstore in the sleepy California seaside town of Blue Moon Bay, she was lucky enough to have been adopted by a loving couple. Unbeknownst to her, Kerrie Ann has suffered a very different life. Bounced from one foster home to the next, she ran away as a teenager before becoming a drug-addicted single mother. Now, newly sober, Kerrie Ann is fighting to regain custody of the little girl who was taken from her.
Neither sister's expectations are met when they're finally reunited. But as the two sisters engage in the fiercest battles of their lives, they are at last drawn together despite their differences, restoring belief in the unshakable bond of family.
Visit www.EileenGoudge.com to read more about the author's other books, to sign up for her newsletter or to read her blog.
Contest ends: September 30, 2009