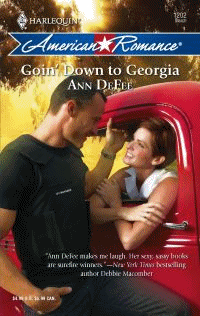 Enter to win a fall basket full of treats - yummy Texas pecan pralines, a Starbucks gift card and an autographed book by Ann DeFee.
Fall is almost here and before you know it, it's going to be time to cozy up with a hot chocolate, a good book and a sinfully yummy treat. And what better way to entertain yourself than with the eccentric and funny folks in Ann's second book in the Georgia series – Goin' Down to Georgia, Harlequin American Romance, March 2008.
Goin' Down To Georgia
Order Now

On the surface Magnolia Bluffs, Georgia is the perfect small Southern town. But Zack Maynard quickly discovers there's trouble afoot – vandalism and perhaps even murder.
Zack is a big-city California detective who arrives in Magnolia Bluffs to investigate the shenanigans going on at his family's real estate development project. And that means dealing with Liza Henderson, a widow and one of the partners…and very much a Southern lady. But Liza's not your typical belle. She's wacky, passionate, charming and unlike any woman Zack's ever met.
Their initial meeting isn't love – or even like – at first sight, but you know how things go when incredibly chemistry gets involved. Goin' Down to Georgia is a rollicking look at family, fun and love in small town America.
Contest ends: October 27, 2008