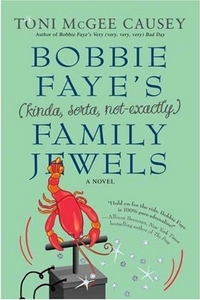 Survival Basket includes: A signed copy of the first book in the series, Bobbie Faye's Very (very, very, very) Bad Day, a Bobbie Faye "shuck me, suck me, eat me raw" t-shirt, and various Cajun spices / specialties (a small Community Coffee, hot sauce, spices, and two family recipes -- one for Red Beans & Rice and one for Shrimp & Corn Soup).
It had been a whole freaking month since Bobbie Faye Sumrall had blown up anything or been shot at, and that was almost a new record. Then her diva cousin Francesca waltzed up to where she manned the gun counter in Ce Ce's Cajun Outfitter and Feng Shui Emporium and everything just went to hell. Fast.
Francesca's mom has disappeared with exceptionally valuable diamonds swiped from Francesca's dad (difficult marriage) so of course Francesca broadcast to every insane psycho (family included) that Bobbie Faye could recover the ersatz family jewels.
Accused of one man's murder, Bobbie Faye's on the run as an unintentional Pied Piper to a rabid band of thieves. She has to find the diamonds, figure out the motives of the dead sexy FBI agent who's pressing her for more than just the jewels, all while racing to side-step her steamy (and steamed) detective ex-boyfriend before the deadline arrives and the diamonds disappear.
Bobbie Faye Sumrall is back in fighting form in this second installment of crazy, wacky adventure through Cajun country.
Amazon or Barnes & Noble or Book Sense
Contest ends: July 21, 2008