Cleo Coyle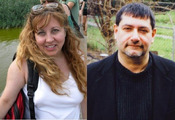 Blogging at Fresh Fiction
Cleo Coyle | Escape to Washington in the new Coffeehouse Mystery
December 7, 2015
How does a hard-working single mother and coffee shop manager go from befriending the First Lady and catering a glittering party at the Smithsonian Read More...
Cleo Coyle | Once Upon a Grind and a Magic Bean Necklace Giveaway
December 6, 2014
Do you have a favorite fairy tale? Mine is Cinderella, but I am no Disney princess. While I love pumpkins, Iíd rather turn one Read More...
Cleo Coyle | Billion Dollar Brew and a Latte Cup Giveaway
August 25, 2014
My amateur sleuth grew up much like I did, in a family of food-loving Italian Americans. By the age of eight, I was learning Read More...
Cleo Coyle | Billionaires Can Be Murder (with Recipes)
December 3, 2013
Wonderful reviews are coming in for my new culinary mystery Billionaire Blend Read More...
Cleo Coyle | Coffee. It Can Get a Girl Killed!
August 6, 2013
It's true. In all twelve of my culinary mysteries, coffee can get a girl killed. Today I'm happy to tell you—it Read More...
Cleo Coyle | Holidays are Murder—with Recipes
December 4, 2012
"Pluck" is a word I usually associate with chickens. On the other hand, Booklist was kind enough to describe my amateur sleuth as Read More...
Cleo Coyle | Fresh Brewed Murder
August 7, 2012
How do you keep things fresh? An important question for any author writing a long-running series. Read More...
Cleo Coyle | On Bosses from Hell, Thunder Thighs, and Making Crime Pay
September 20, 2011
Crime writing can be a challenge at times, but it can also be barrels of fun— double barrels. Where else can you get even Read More...
Cleo Coyle | Holiday Grind and Fun Recipes
November 5, 2010
What do you most look forward to tasting every holiday season? Pumpkin pie? Gingerbread? Candy canes? Thumbprints? Rum balls? Stollen? Latkes? When I Read More...
Cleo Coyle | Latte Cup Giveaway and My Recipe for Blueberry Firehall Pancakes!
August 14, 2010
Who loves pancakes? Raise your hand! Iíll bet you all have special memories associated with a tall, hot stack, drenched in butter and swimming Read More...
Pseudonym for Alice Kimberly.

CLEO COYLE is the New York Times bestselling author of The Coffeehouse Mysteries a long-running series of light culinary mysteries in which a single mom with a complicated love life helps the NYPD solve perplexing murders while managing the Village Blend coffeehouse, a century-old Greenwich Village landmark where coffee and crime are always brewing. The first book in the series, ON WHAT GROUNDS, is now in its 18th printing.
The newest release, BILLIONAIRE BLEND, was honored with a *Starred Review* by Kirkus Reviews, a "Top Pick" by RT Book Reviews, and praised as "a highly satisfying mystery" by Publishers Weekly. The previous release, HOLIDAY BUZZ, was a Top-10 New York Times bestseller.
Under the name Alice Kimberly, Cleo also writes the Haunted Bookshop Mysteries in which a prim young widow solves crimes with the help of a ghost that only she can hear--the spirit of a hard-boiled private eye who was gunned down in her quaint bookshop over sixty years before. There are currently five books in this popular, nationally bestselling series, and the first, THE GHOST AND MRS. McCLURE, is now in its 12th printing.
Cleo enjoys hearing from readers. Visit her website, where she has a message board for readers and posts fun recipes and coffee picks. When you drop by her site, be sure to sign up for her newsletter, which enters you in her weekly Free Coffee Drawings.
Cleo is actually a pen name for Alice Alfonsi, who grew up in a small town near Pittsburgh, Pennsylvania. After earning scholarships to study writing at Carnegie Mellon and American Universities, she began her career as a cub reporter for The New York Times. Now an author of popular fiction, she lives and works in New York City, where she collaborates with her husband, author Marc Cerasini to write The Coffeehouse Mysteries and Haunted Bookshop Mysteries for Penguin.
When not haunting coffeehouses, hunting ghosts, or rescuing stray cats, Alice and Marc are New York Times bestselling media tie-in writers who have penned properties for NBC, Lucasfilm, Disney, Fox, Imagine, and MGM. In their spare time they cook like crazy and drink a lot of java. You can learn more about Alice, her husband, and the books they write by visiting their website. Scroll down the left column of the site's Home Page and you will see links to a number of online interviews that Alice has given.
Series
Coffeehouse Mystery
Books:
Dead Cold Brew, January 2017
Hardcover
Dead to the Last Drop, September 2016
Coffeehouse Mystery #15
Mass Market Paperback (reprint)
Dead to the Last Drop, December 2015
Coffeehouse Mystery #15
Hardcover
Once Upon A Grind, September 2015
Coffeehouse #14
Paperback (reprint)
The Cozy Cookbook, April 2015
Paperback
Once Upon a Grind, December 2014
Coffeehouse Mystery #14
Hardcover
Billionaire Blend, August 2014
Coffeehouse Mystery #13
Mass Market Paperback (reprint)
Billionaire Blend, December 2013
Coffeehouse Mystery #13
Hardcover
A Brew to a Kill, August 2013
Coffeehouse Mystery #11
Mass Market Paperback (reprint)
Holiday Buzz, December 2012
Coffeeshop Mystery #12
Mass Market Paperback
A Brew To A Kill, August 2012
Coffeehouse Mystery #11
Hardcover
Murder By Mocha, August 2012
Coffeehouse Mystery #10
Paperback (reprint)
Holiday Grind, November 2011
Coffeehouse Mystery #8
Paperback (reprint)
Roast Mortem, August 2011
Coffeehouse Mystery #9
Paperback (reprint)
Murder By Mocha, August 2011
Coffee House Mystery #10
Hardcover
Holiday Grind, November 2010
Coffeehouse Mystery #8
Paperback (reprint)
Roast Mortem, August 2010
Coffeehouse Mystery #9
Hardcover
Holiday Grind, November 2009
Coffeehouse Mystery #8
Hardcover
Espresso Shot, October 2009
Coffeehouse Mystery #7
Paperback (reprint)
Espresso Shot, October 2008
Coffeehouse Mystery #7
Hardcover
French Pressed, April 2008
Coffeehouse Mystery #6
Mass Market Paperback
Decaffeinated Corpse, July 2007
Coffeehouse Mystery #5
Paperback
Murder Most Frothy, August 2006
Coffeehouse Mystery #4
Paperback
Latte Trouble, August 2005
Coffeehouse Mystery #3
Paperback
Through The Grinder, October 2004
Coffeehouse Mystery #2
Mass Market Paperback
On What Grounds, September 2003
Coffeehouse Mystery #1
Paperback