Asking a former librarian to tell you her favorite library is a lot like asking a mom who her favorite kid is. Impossible! I have been very fortunate to work and visit some of the coolest libraries in the world. Every single one of these jobs or tours has helped me write the library lover's mysteries, which has its ninth title, HITTING THE BOOKS, coming out on September 11th! It's so exciting to see this series and the characters within it develop with each new story, but I digress! My favorite library is…
Yeah, no, I can't choose so I'll tell you my top three – in no particular order.
First, there is the Beinecke Rare Book and Manuscript Library at Yale University in New Haven, Conn. I was fortunate enough to do a tour of duty there while I was in library school and it was one of the most transformative experiences in my education. Housed in an iconic building, they have a collection which has to be seen to be believed. Samples of their holdings include works by Benjamin Franklin, John James Audubon, George Eliot, the Mellon Collection of Alchemy and the Occult, the Romanov family photo albums, Gutenberg bibles, and more. Seriously, I'm pretty sure I could move into that building and live there forever. When I created my amateur sleuth Lindsey Norris, I made her an archivist from Beinecke just because I loved it so.
Second, is the Phoenix Public Library, also housed in an iconic building, it is where I worked part-time for twenty years in every department from children's and teen's services to government documents and law. My home was the Burton Barr Central Library and I spent many evenings gazing out over the city of Phoenix from the enormous reading room housed on the fifth floor. It really is an architectural marvel and the staff are some of the best and brightest in the industry. These are the people who give me so many of the day to day workings of library life that I frequently use in the fictional Briar Creek Public Library.
Third, was a job I only held for two years, but it was definitely the coolest environment. I was the research librarian at the Desert Botanical Garden in Phoenix, AZ. My days were spent in the middle of this lush desert garden, researching the ethno-botanical properties of the agave (it's used for more than making tequila) among other varied research tasks. My coworkers were two desert tortoises, Patches and Puddles, who would meander into the library to visit when they were out of hibernation. Patches was so named because the staff had to patch his cracked shell for him and Puddles got her name because there was a dip in her shell and when it rained she always had a puddle on her back. I left the job when I started my family, but it remains one of my favorite library experiences.
The world of libraries is so vast and varied. When I travel, I always visit the local library because as I learned during my library career, libraries really are the hearts of their communities. I think that's why I love writing the library lover's series so much. It gives me a chance to celebrate libraries and the people who love them.
Happy Reading,
Jenn McKinlay
It's murder by the book in the latest hit Library Lover's mystery from the New York Times bestselling author of Death in the Stacks.
When a stack of library materials is found at the scene of a hit and run, library director Lindsey Norris finds herself dragged into the investigation as the police try to link the driver of the stolen car to the person who borrowed the books. Before Lindsey can delve into the library's records, the victim of the hit and run, Theresa Houston, suffers another "accident" and the investigation shifts from driver negligence to attempted homicide.
A clue surfaces in the confiscated library materials that could crack open the case and it is up to Lindsey to piece it all together. But things are not as they seem in the sleepy town of Briar Creek and when the driver of the stolen car turns up dead, Lindsey, her staff and her library friends have to hit the books before the murderer gets the last word...
Mystery [Berkley, On Sale: September 11, 2018, Hardcover / e-Book, ISBN: 9780451492678 / eISBN: 9780451492692]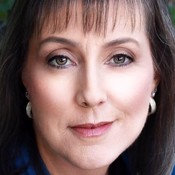 Jenn McKinlay took her first decoupage class when she was twelve years old. Since then, cutting and pasting have become a way of life. With two small children at home, she finds decoupage a fun craft as well as a very handy tool, especially when used to cover up doodles made in permanent marker on otherwise lovely furniture. And yes, they know her by name at her local Michael's Craft Store. She is the author of three previous novels under the name Jennifer McKinlay and lives in Scottsdale, Arizona with her musician husband Chris, their two sons, two cats, one dog and one fish.
No comments posted.