Finn would have noticed her even if she hadn't been wearing hot-pink lingerie. And nothing else.

He really would have. She was totally his type—brunette and curvy and, apparently, a little crazy. As evidenced by the fact that she was trying to sneak into a burning building. He did seem to be attracted to crazy. No matter how hard he tried not to be.

But maybe she wasn't actually trying to get back into the building. All he knew for sure was that the building was definitely burning and she was definitely acting sneaky. As she pulled away from the crowd, she moved slowly, looking over her shoulder and from side to side, as if checking to see if anyone was watching. She obviously didn't notice Finn. Because he was absolutely watching as she made her way across the street, now acting as if she were just casually strolling along. Toward a burning building. In nothing but a bra and panties.

It made sense that he hadn't seen her before now. For one, he'd been a little busy evacuating a hundred people, give or take, from the buildings on the block. For another, if she'd been huddled with the crowd, she could have easily been blocked by some of the other spectators. No one seemed inclined to leave, all choosing instead to stand around and watch the real-life drama unfold. She was short, and there were two women in enormous skirts that stood out several inches on each side, a woman dressed in a full-length fur coat and hat—in spite of it being a pleasantly warm September night—and a man dressed as a cow. He was on two legs, but otherwise he was clearly a cow. So there were plenty of big, distracting people to hide behind.

Which might all have seemed peculiar at any other scene, but considering that the burning building was the Birch Community Playhouse and that the onlookers had been in the middle of a production when the alarms went off, it wasn't so strange. Finn had no idea what the play was called or what it was about, but it explained the cow. He hoped.

He watched the woman stop at the east corner of the building, the one farthest from where the firefighters were working. Then he frowned as she slipped into the shadows along the side of the building and out of sight.

Dammit.

He started after her.
Opposites Attract #3
Actress Sophie Birch is used to having to look out for herself. So when her theater catches fire and a big guy scoops her up into his arms to save her, she's going to fight every step of the way. Even if he's a cop. And really sexy. And his arms feel oh-so-good.
Finn Kelly can't help but appreciate how good the woman in his arms looks in her sexy pink lingerie. Even if she's currently resisting arrest.
But as the two get to know each other, they're both surprised by the things Finn is willing to do to get closer to her. And when Sophie's estranged father arrives in town and starts causing trouble, the stage is set for disaster...unless Finn can convince her that, for once in her life, she has someone to lean on.
Romance Contemporary [Forever, On Sale: October 31, 2017, e-Book, ISBN: 9781455539703 / eISBN: 9781455539703]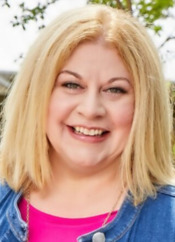 Erin Nicholas has been reading and writing romantic fiction since her mother gave her a romance novel in high school and she discovered happily-ever-after suddenly went a little beyond glass slippers and fairy godmothers! She lives in the Midwest with her husband who only wants to read the sex scenes in her books, her kids who will never read the sex scenes in her books, and family and friends who say they're shocked by the sex scenes in her books (yeah, right!).
1 comment posted.