Miranda Owen: For readers like me, who are unfamiliar with your books written as Madeline Baker, could you please describe what your historical romances are like?
Amanda Ashley: They all have Indian or half-Indian heroes. A few of them are gunfighters because I love bad boys. Several of the books are time travel romances because they are such fun to write. Of course, they are all set in the Old West - Arizona, Montana, the Dakotas - places like that. I did a lot of research on the Lakota, the Cheyenne, and the Apache, as well as a few other tribes, in an effort to make the books as realistic as possible.
Miranda Owen: I've always described most of your vampire romances as being "contemporary paranormal Gothic". I love Gothic historical romance and I always felt like your writing style was tailor-made for that type of story. You've written a few books with many of those same elements that make historical Gothics so delicious. Would you ever consider writing a Gothic historical series?
Amanda Ashley: I actually started one a few years ago, but it never got off the ground. I just couldn't make it work.
Miranda Owen: Although I love vampires, I admit that shape-shifters such as werewolves are my favorites. I very much enjoy your werewolf characters. I was particularly intrigued by the shifters in your latest novel FIRE IN THE BLOOD. Is it possible you'd write a series with werewolves or some other type of shape-shifter as the main characters in the future?
Amanda Ashley: Anything is possible! I wrote a short story titled DONOVAN'S WOMAN. The hero is a shape-shifter. I'm not sure what genre it is...sort of a fantasy set on other worlds, I guess. I loved the setting so much, I wrote two additional short stories – QUINN'S LADY and QUINN'S REVENGE. These books were great fun as the characters included witches and wizards as well as shape-shifters and vampires. I'd like to do another book one of these days.
Miranda Owen When you and Christine Feehan first started coming out with vampire romances, I remember being blown away because there wasn't really anything else like that at the time. Nowadays there are a billion different types of paranormal romance – including shape-shifters (not just werewolves anymore), witches, fae, wizards, steampunk, and many others. Vampire mythology now covers a wide spectrum as well – Knights Templar, aliens, vampires who live on human blood, vampires who live on blood from other vampires, genetic engineering, to name a few. Having written so many vampire romances, what do you love about vampires?
Amanda Ashley: I love that you can use any of the myths that fit your story, or make up your own. There's no limit to what you can go. Plus, there's just something wonderfully scary and romantic about vampires. For me, that fascination started with the movie, Dracula, starring Frank Langella. I thought he was amazingly sexy. I watched it several times while writing one of my books.
Miranda Owen: I really enjoy your Morgan Creek series and am so excited that another book in the series will be coming out in September. The first book in the series – AS TWILIGHT FALLS – grabbed my interest right away, as I found it to be reminiscent of the same kind of spooky strangeness like early films and TV shows from the 1960s like The Avengers had. What motivated you to write this series? Do you think you'd ever consider writing a series in a similar vein, but without creatures like vampires or werewolves in the mix, but maybe more X-FILES-ish?
Amanda Ashley: Funny you should mention the Morgan Creek series. I think that the favorite vampire I've written, besides Gabriel in EMBRACE THE NIGHT, is Rylan Saintcrow from AS TWILIGHT FALLS. He's the reason I wrote two other books – TWILIGHT DREAMS, out now, and TWILIGHT DESIRES, coming next year.
I've never thought about doing anything X-FILES-ish, although I loved the TV series. It's something to think about if I run out of vampire ideas.
Miranda Owen: When you first plot out a story, what sparks your imagination first – the story premise, or the characters?
Amanda Ashley: Since I don't plot my books ahead, it's always the characters that spark my imagination. I love dark, tortured heroes. The hero in the book I'm writing now doesn't sound like a hero in the beginning, when he goes into hospitals preying on those who are near death. In exchange for taking their blood, he gives them the gift of reliving the happiest moment in their lives. I'm really loving this book so far. Readers can get a peek on my web page on the In the Works page.
Miranda Owen: Is there any subject matter that you'd consider off limits, or a romance sub-genre that you would never consider writing?
Amanda Ashley: Lots of them. I don't use much profanity. Never the Lord's name in vain. NEVER the "F" word. My love scenes are mild and deal mostly with emotion and not the mechanics of the act itself. I'm not into anything erotic. I don't have three-some's or anything in that vein. I don't read that kind of thing and I will never write it. I miss the days when there were limits to what could and couldn't be done or said in the pages of a romance novel. I buy very few books these days because there are no restrictions at all.
Miranda Owen: In reader groups on sites like Goodreads, and on Facebook, there is some discussion about what makes a great romance hero. There is sometimes debate about whether a hero is exhibiting alpha-like qualities, or whether he's an alpha-hole (all the qualities of an alpha male but with negative connotations, like making decisions for the heroine "for her own good", being aggressive with the heroine, acting more like a father than a love interest, acting in a boorish or condescending manner, etc.). In your opinion, what makes a good romantic hero? Who are some of your favorites – both ones you've written and ones by other authors? Do you believe it's possible for a hero to be strong without exhibiting alpha-hole behavior?
Amanda Ashley: I don't know about the alpha-hole thing. I've never even heard that term before . I've gotten a few letters from readers who think some of my hero's are too alpha. Saintcrow might be one of those over-the-top alpha heroes. But I love him. I've already mentioned Gabriel and Saintcrow as two of my favorites. I also loved Micah Ravenwood from TWILIGHT DREAMS, and Drake from BOUND BY NIGHT. Heck, I love them all.
As for heroes from other books, I love Adam from Patricia Briggs' Mercy Thompson series, Charles from Patricia Briggs' Alpha and Omega books, and Thierry from Michelle Rowen's Immortality Bites series.
Miranda Owen: Who are some of your influences as a writer? What kinds of books do you enjoy reading? Who are some of your favorite authors?
Amanda Ashley: I'd have to say that Rosemary Rogers was probably the biggest influence when I first started writing. I think it was Sweet Savage Love that inspired me to write my first historical.
I enjoy romantic suspense and paranormal romances.
My favorite authors are Patricia Briggs, Charlaine Harris, Michelle Rowen, Lee Child, Jim Butcher, Kay Hooper, Rachel Lee, and C.S. Harris.
Miranda Owen: What are you currently working on? What are some of the things that you have planned for future books?
Amanda Ashley: As I mentioned, I'm working on a book about a vampire who preys on those near death. It's a book I started back in 2007 and put aside because I didn't have a plot. I wrote a few pages on it 2015, and dug it out again last year, when it just took off. I could write beginnings all day. It's filling up all those pages between the beginning and the end that slow me down, no doubt because I don't plot my books out. But I never have and probably never will.
Unlike a lot of authors, I don't have hundreds of stories waiting to be told. In fact, every time I finish a book, I always wonder if it will be my last. My critique group says I say that at the end of every book, and they're probably right. So, I won't know what my next book will be until I start writing it.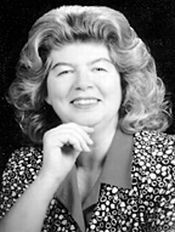 Amanda Ashley is one of those rare birds--a California native. She's lived in Southern California her whole life and, except for the earthquakes, loves it. She shares a home with her husband, as well as a fluffy Pomeranian named Lady, a wild house sparrow she raised from a baby named Tweety, and a tortoise who remains nameless. Amanda and her alter ego, Madeline Baker, have written over 70 books and short stories. Not bad for someone who started writing just for the fun of it. Her books have made the New York Times Bestseller List, the USA Today Bestseller List, and the Waldenbooks Bestseller and Mass Market lists.
No comments posted.