Miranda Owen: Each hero in your Victorian Rebels series is sexy but a little dangerous, but your heroines are all very different types of women, and the circumstances surrounding how each romance develops are wildly different. In THE DUKE, the hero and heroine have a unique love story and are at odds for a good chunk of the book. Did their unusual relationship make writing this book any more challenging than any of your previous books? Do you, as a reader, enjoy reading stories in which the hero and heroine have a somewhat antagonistic relationship for a portion of the story?
Kerrigan Byrne: I think that's a fantastic question! I'm not really one for conflict in my personal life, so actually writing a hero and heroine who are a bit at odds is kinda fun because it's so diametrically opposed to my laid back personality. What I enjoyed most about writing Imogen, the heroine in THE DUKE, is that she's a woman who is relevant to today. With everyone marching for equality and women's issues at the forefront of our minds, I find it exciting to write about a woman who challenges her hero's very idea of what it means to be a woman. I do enjoy reading about a somewhat antagonistic relationship, only until a woman crosses the line from strong to downright unreasonable, that's where some writers lose me, you know? But we love that Elizabeth/Darcy dynamic, don't we?
Miranda Owen: You've written stories in which the hero and heroine have a long and complex past, as well as ones in which they are strangers who develop a sudden and intense attraction. In THE DUKE, the two main characters experience a bit of both. Which do you prefer to write about?
Kerrigan Byrne: To be honest, I find it much easier to write about a couple who has a complicated past already. However I find it a little more fun to write a couple "from scratch" as it were. So, it really depends on what the couple, the plot, and the characters call for.
Miranda Owen: One of the subjects that comes up in my online book groups is "alpha vs. alphahole". I don't know if you've heard of this before, but the debate centers around whether a hero who has many alpha-like characteristics is by default an overbearing and insufferable jerk. I'm of the opinion that a hero can be commanding, confident, and strong without being condescending, abusive toward the heroine, and capable of avoiding the "pushing her away for her own good" mistake. What is your take?
Kerrigan Byrne: *wince* I grimace because I have kind of a thing for alpha holes. However, I feel like there is a very real difference between an alpha male and an alpha hole. For example, the Duke of Trenwyth is most definitely an alpha hole. Even though he's dealing with some awful post-prisoner-of-war PTSD, he's condescending, he's a snob, he's classist, and even an admitted hypocrite. He has a LOT of growing to do in his book. However, if you read The Hunter or The Highlander (the previous books in this series), the heroes of both books are very alpha without really being condescending or rude because that isn't a character flaw that belongs to them. So I share your opinion. There are alphas and there are alpha holes, and I happen to write both.
Miranda Owen: I've seen a few romances turned into manga adaptations or regular graphic novels – including books by Jane Austen as well as several paranormal romance series. Would you ever consider having your Victorian Rebels series into graphic novels?
Kerrigan Byrne: OMG. I would DIE. I feel like the Victorian Rebels all have a back story that would make super bad ass graphic novel stories! Someone get on this, will ya?
Miranda Owen: Two fun yet totally critical questions: Jane Eyre or Wuthering Heights? And Mr. Darcy or Mr. Rochester?
Kerrigan Byrne: Oh, gurl, you're making me pick? As much as I love a good Darcy, I've always been team Rochester. Call if Freudian if you want to, but I am a huge fan of older, complicated men. I cut my teeth on Victoria Holt and the Bronte sisters. That isn't to say I don't appreciate Jane Austen.
Miranda Owen: What are you working on right now? What do you have planned down the road? You seem to hint at a possible story for Mena's step-daughter Rhianna. Do you plan on giving her a book or novella of her own in the future?
Kerrigan Byrne: I just turned in book five in the Victorian Rebel's series (due out in August). It's titled THE SCOT BEDS HIS WIFE, and features Liam Mackenzie's younger brother, Gavin St. James. Then, book six is titled, THE DEVIL STEALS A BRIDE, which is about this shadowy figure The Rook, that has been getting closer and closer to these Victorian Rebels for the last few books. I'll give away a little secret here first about The Rook… What if the real Dorian Blackwell isn't dead? I think I need to give Rhianna a little time to grow up, but she's most definitely getting a story.
Miranda Owen: Do you plan on writing a story for Morley? He seems like such a Lisa Kleypas kind of male protagonist and an interesting character.
Kerrigan Byrne: I'm so glad you asked! Some very interesting revelations about Morley's past are going to come to light in THE DEVIL STEALS A BRIDE that will definitely segue into his book. The title I'm considering at the moment is THE THIEF TAKES A LADY or AN INCONVENIENT WEDDING. (what do you think?)
Miranda Owen: While on your website, I saw that you write a series – along with some other authors – about witches. Could you please describe it for readers who may not already know about it? The covers seem very fun and sexy, and I was wondering if there was a touch of humor in the series.
Kerrigan Byrne: Certainly! This is collaboration between some very dear friends and I where we all write about quadruplet sister witches who fall in love with the four horsemen of the apocalypse while doing their best to keep the apocalypse from actually happening. It is a light-hearted, sexy, and funny.
Miranda Owen: Since you write romances that include paranormal, historical, and contemporary suspense – is there anything you haven't tried writing that you might like to try in the future?
Kerrigan Byrne: I'm actually working on a series right now that is a Jack the Ripper meets Hannibal Lecter gothic mystery with a female protagonist who specializes in crime scene clean up. It's REALLY speaking to me, so I hope good things come of it.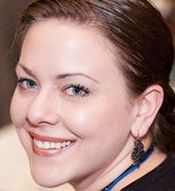 Kerrigan Byrne has done many things to pay the bills, from law enforcement to belly dance instructor. Now she's finally able to have the career she'd decided upon at thirteen when she announced to her very skeptical family that she was going to "grow up to be a romance novelist." Whether she's writing about Celtic Druids, Victorian bad boys, or brash Irish FBI Agents, Kerrigan uses her borderline-obsessive passion for history, her extensive Celtic ancestry, and her love of Shakespeare in almost every story.
She lives at the base of the Rocky Mountains with her handsome husband and three lovely teenage girls, but dreams of settling on the Pacific Coast.
No comments posted.