The first time I visited New Orleans, I fell head over heels in love with the city. And because this fanciful city was introduced to me by friends who lived there, friends who actually belonged to the famed Rex and Comus krewes, I had the rare privilege of being invited into the giant float dens, meeting the float builders, marching in one of the Fat Tuesday parades, and attending the white tie (not just black tie) Rex Ball.
New Orleans truly is The Big Easy and The City That Care Forgot. It's also a city that been mythologized and derided, and is filled with contradictions. It's eccentric, overindulgent, and just naturally possesses a dark side. And I just knew that New Orleans would provide the perfect setting and backdrop for my Scrapbooking Mysteries.
The tricky thing, of course, is how to capture the essence of New Orleans. How to bottle the magic and then spill it out onto the pages of my mysteries.
Well, I've tried very hard to do just that. Because at its heart, New Orleans is a spooky, highly atmospheric place that lends itself to a mystery novel setting. Think about it – you have the crumbling French Quarter with grande dame architecture, above-ground cemeteries, elegant Garden District homes, live oaks dripping with Spanish moss, massive Mississippi River, and fog-shrouded bayous.
A setting like New Orleans makes it exciting to create a total "sense of place" for readers. To depict the smell of chicory coffee at the Café du Monde, the aroma of fried oysters, and the sweet scent of magnolias at midnight. As a feast for the eyes, I focus on taut descriptions of narrow cobblestone streets with gaslights flickering overhead and dark blue-black bayous that stretch to the Gulf.
As a counterpoint to my spooky aura, my main character, Carmela Bertrand, is a savvy, focused, amateur sleuth who doesn't rely on "coincidences" or inept police work to solve crimes. She dives headfirst into New Orleans society and digs for information. In Parchment and Old Lace, Carmela gets pulled from a dinner at Commanders Palace to the murder of a bride-to-be in St. Louis Cemetery. As Carmela digs deep, she realizes the killer could be the conflicted groom, stalker attorney, jealous bridesmaid, or crazy mother-in-law to be. And as Carmela sorts through this dysfunctional group of suspects, snippets of antique lace and parchment become critical clues. It all comes to a head at a raucous casino party and ends with a frantic chase through an abandoned theme park.
PARCHMENT AND OLD LACE delivers a gripping story in a realistic, yes-you-will-feel-it setting. There are also scrapbook tips and recipes for Pecan Pie Muffins, Sweet Potato Casserole, and Big Easy Butter Chicken.
But just when you've settled back and assumed everything is safe in Carmela's world, footsteps sound behind you and the lonely toot of a tugboat whistle floats in from the Mississippi.
Gosh, I picked a fun career!
All my best,
Laura Childs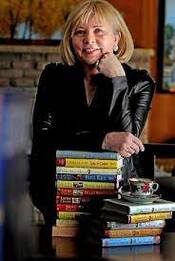 Halfway between a cozy
and a thriller – a thrillzy!
Laura Childs is the USA Today and New York Times bestselling author of the Tea Shop Mysteries, Scrapbooking Mysteries, and Cackleberry Club Mysteries. In her previous life she was CEO of her own marketing firm, authored several screenplays, and produced a reality TV show. She is married to Dr. Bob, a professor of Chinese art history, enjoys travel, and has two Chinese Shar-Pei dogs.
Scrapbooking Mystery #13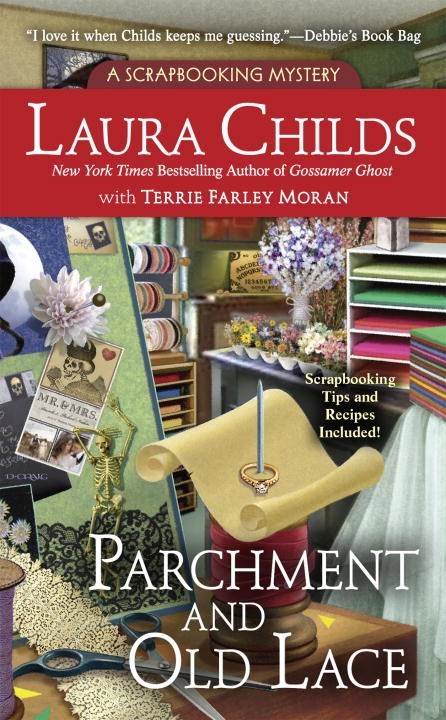 The New York Times bestselling author of Gossamer Ghost returns to the Big Easy and the historic Garden District, where scrapbook shop owner Carmela Bertrand discovers a bride-to-be murdered in the legendary Lafayette Cemetery…
Carmela couldn't imagine a finer evening than dinner at Commander's Palace with her beau, Detective Edgar Babcock. The food and the company are equally divine—with the exception of Isabelle Black stopping by to brag about her upcoming wedding. Resuming the romance with a walk in the evening air, the couple is interrupted once again—this time by a terrifying scream from inside the cemetery.
Having just seen Isabelle, Carmela and Edgar now find her lying across an aboveground tomb, strangled to death with a piece of vintage lace. Carmela would rather leave the investigating to Edgar, but she can't say no to Isabelle's sister Ellie, the tarot card reader at Juju Voodoo, when she asks her to help. As she untangles the enemies of Isabelle's past, Carmela hopes she can draw out the killer before someone else gets cold feet.
INCLUDES SCRAPBOOKING TIPS
Mystery Cozy [Berkley Prime Crime, On Sale: October 4, 2016, Mass Market Paperback / e-Book (reprint), ISBN: 9780425266694 / eISBN: 9781101617564]
1 comment posted.