Olivia Dade | 10 Best Erotic Romances (from Angie's List of Kickass Smut)

January 27, 2016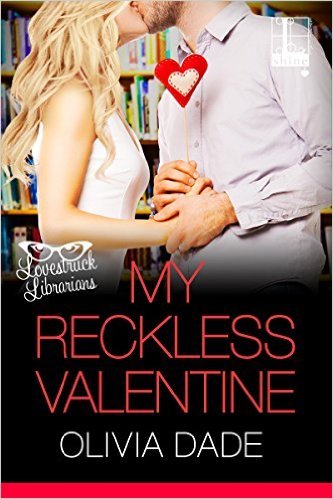 My Reckless Valentine
Olivia Dade
AVAILABLE
Lovestruck Librarians #2

January 2016
On Sale: January 19, 2016
Featuring: Angie Burrowes; Grant Peterson
ISBN: 161650935X
EAN: 9781616509354
Kindle: B00VQFKH6U
e-Book
Add to Wish List

Also by Olivia Dade:
All the Feels, November 2021
Spoiler Alert, October 2020
Ready to Fall, July 2016
Mayday, May 2016

The heroine of MY RECKLESS VALENTINE, Angie, wrote this annotated guide to some of her favorite erotic romances before meeting straitlaced Grant Peterson, her hero. I think she was planning to use the list in one of her library displays, but then changed her mind after—
Well, I don't want to spoil the book. Never mind about that.
Enjoy the list!
Olivia Dade
P.S. While MY RECKLESS VALENTINE is a bawdy romantic comedy, rather than an erotic romance, I still thought my readers might enjoy this glimpse into Angie's fevered brain.
P.P.S. Presumably, she would have censored some of her saltier language before using the list, but...really, there's no telling when it comes to Angie. So I redacted a few choice words on her behalf, substituting gentler alternatives in brackets.
P.P.P.S. These are all real books, by the way. I didn't make up a single title! Not even the one with horny blue aliens!
* * *
ANGIE'S LIST OF KICKASS SMUT
Ruby Dixon's ICE PLANET BARBARIANS
I'm starting strong, people. This series boasts giant, mate-hungry blue alien heroes with horns and enormous, ridged [manly protuberances].
Let me repeat that, in case you didn't catch it. ENORMOUS, RIDGED [MANLY PROTUBERANCES]. The hero in the first book greets the heroine by [providing an intimate massage] with his equally-ridged tongue. And the heroes also have little "spurs" above those AFOREMENTIONED ENORMOUS, RIDGED [MANLY PROTUBERANCES] that work as either [tumescent pearl] or [chocolate starfish] stimulators.
I expect someone to design a vibrator shaped accordingly. Now. Chop-chop.
Mia Hopkins's COWBOY OVERLOAD
Two cowboys. Silk rope. Various sex toys. Lots of lube. Oh, yeah. Ohhhhhhh yeeeeeeeeeeeeeeeeaaaaaaaaaah. I'm ready for my harness, cowpokes.
Liliana Lee's THE OBSESSION
Badass bitch heroine has a 30-dude harem. I mean… ::one-clicks::
Mariah K. Quinn's UNLOCK ME
Sexy, Irish chef stepbrother hero. BDSM. An entire hand going somewhere hands typically don't fit. Well, I guess we're stretchy down there for a reason, huh?
Tessa Dare's BEAUTY AND THE BLACKSMITH
I'll be straight with you: This is not an erotic romance. But the dude is so strong he [um…vaginally services?] the heroine standing up, without any additional support. In the middle of a smithy. When he's filthy and sweaty and lifting her up and down with nothing but the strength of his muscled arms.
So…yeah. New life goal: Colonial Williamsburg trip, because if their blacksmiths can do that, I'll rock a goddamn petticoat and cap. Not a problem.
Lauren Hawkeye's SEDUCED BY THE GLADIATOR
Gladiators. Gladiators. GLADIATORS. Did anyone else here truly start puberty when they witnessed Russell Crowe in a little miniskirt and breastplate? No? Just me? You're all [very naughty] liars. Plus, the heroine is a gladiator too, so that's right up my alley.
Not in a dirty way.
Well, kind of in a dirty way.
Joey W. Hill's THE VAMPIRE QUEEN'S SERVANT
A vampire heroine full of femdom badassery. If she isn't sexually satisfied, she can literally drain the life from her lovers.
So [heartily dismiss] Colonial Williamsburg. New life goal: Become a vampire queen. Should be easy enough. Tomorrow, I'll start looking for sparkly, brooding stalkers with great hair who can turn me.
Sierra Simone's PRIEST
Never looking at anointed oils the same way again. Sacrilicious.
Alisha Rai's GLUTTON FOR PLEASURE
Two tall, dark, handsome, and damaged twin brothers want the same good-girl chef. At the same time. Sweet. Funny. Like Cowboy Overload, a ménage à trois story. Because apparently lots of hot men work in pairs and target normal, everyday women, so WHY HASN'T THIS HAPPENED TO ME YET???
::sobs::
::reaches for vibrator::
::sobs again when realizes vibrator isn't ridged::
Rebekah Weatherspoon's SO SWEET
Made me laugh-snort, which most erotic romances don't. Also made me wonder where all the hot billionaires are hiding in rural Maryland. Does the dude in overalls at the feedstore secretly flog innocent virgins in his red BDSM room between business deals? I mean, in a sexy, non-criminal way?
If this is happening and no one has informed me, let me tell you something: You people are in deep [intestinal discharge].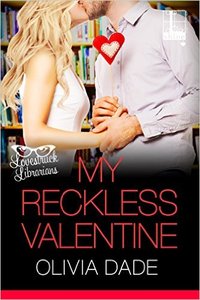 TEMPTATION FROM A TO Z
Library manager Angie Burrowes is in trouble again. Her superiors have never approved of her unconventional methods, but the latest warning is serious—another complaint from the administration or a patron, and she's fired. With a steamy Valentine's Day contest to conceal and her career on the line, the last thing Angie needs is a near-accident while driving home. At least, until she meets the tall, dark, and sexy stranger responsible for her very own spicy plot twist...
Straight-laced Grant Peterson has only one thing on his mind: making a good impression as the new Director of Branch Services at the Nice County Public Library. On the eve of his first day, however, a lusty encounter with Angie unleashes a desire unlike any he's ever known. Their tryst may be one for the record books, but when he learns he's Angie's new boss, will Grant need to check out on love?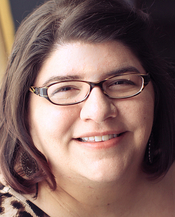 While I was growing up, my mother kept a stack of books hidden in her closet. She told me I couldn't read them. So, naturally, whenever she left me alone for any length of time, I took them out and flipped through them. Those books raised quite a few questions in my prepubescent brain. Namely: 1) Why were there so many pirates? 2) Where did all the throbbing come from? 3) What was a "manhood"? 4) And why did the hero and heroine seem overcome by images of waves and fireworks every few pages, especially after an episode of mysterious throbbing in the hero's manhood?
Thirty or so years later, I have a few answers. 1) Because my mom apparently fancied pirates at that time. Now she hoards romances involving cowboys and babies. If a book cover features a shirtless man in a Stetson cradling an infant, her ovaries basically explode and her credit card emerges. I have a similar reaction to romances involving spinsters, governesses, and librarians. 2) His manhood. Also, her womanhood. 3) It's his "hard length," sometimes compared in terms of rigidity to iron. I prefer to use other names for it in my own writing. However, I am not picky when it comes to descriptions of iron-hard lengths. At least in romances. 4) Because explaining how an orgasm feels can prove difficult. Or maybe the couples all had sex on New Year's Eve at Cancun.
During those thirty years, I accomplished a few things. I graduated from Wake Forest University and earned my M.A. in American History from the University of Wisconsin-Madison. I worked at a variety of jobs that required me to bury my bawdiness and potty mouth under a demure exterior: costumed interpreter at Colonial Williamsburg, high school teacher, and librarian. But I always, always read romances. Funny, filthy, sweet--it didn't matter. I loved them all.
Now I'm writing my own romances with the encouragement of my husband and daughter. I found a kick-ass agent: Jessica Alvarez from Bookends, LLC. I have my own stack of books in my closet that I'd rather my daughter not read, at least not for a few years. I can swear whenever I want, except around said daughter. And I get to spend all day writing about love and iron-hard lengths.
So thank you, Mom, for perving so hard on pirates during my childhood. I owe you.
Comments
No comments posted.

Registered users may leave comments.
Log in or register now!